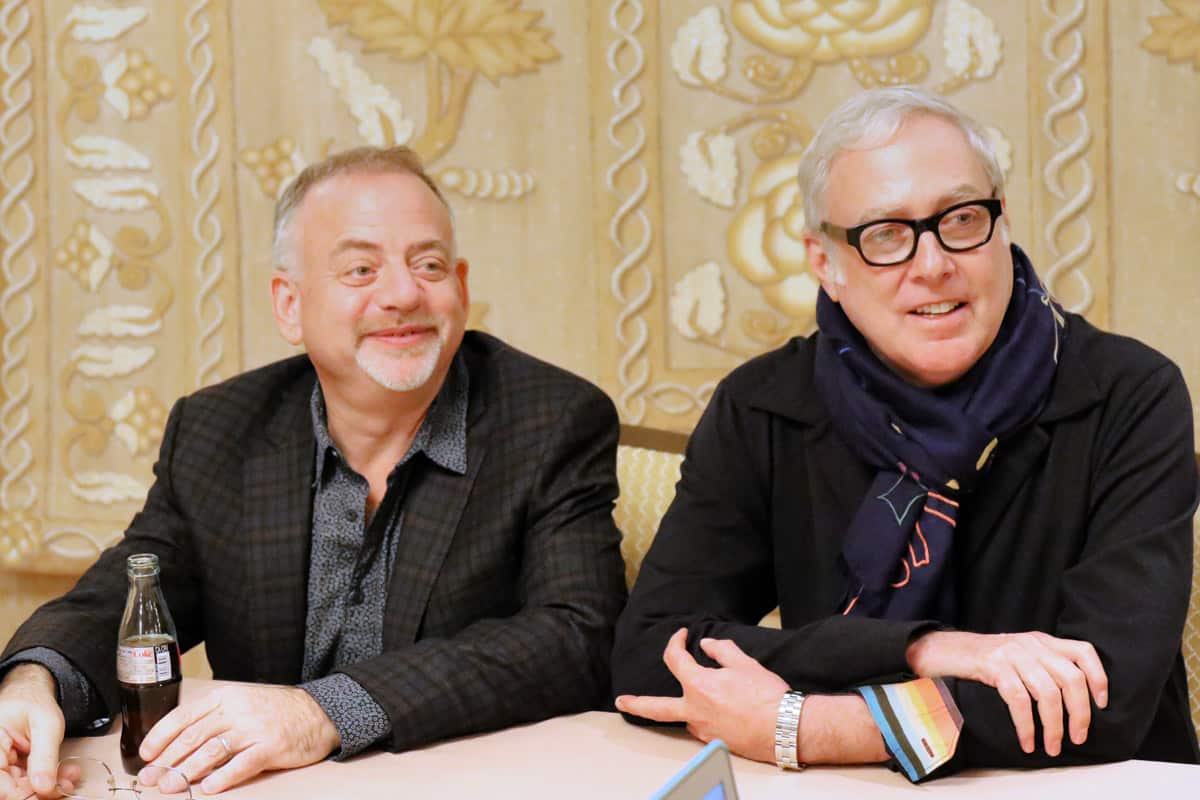 Get ready, I'm about to throw a lot of general opinions at you! I promise, I'll bring it all back to Mary Poppins Returns in a minute.
Related posts: 
I'm not sure what other people think about this, but I always think that music is the most important part of a movie. This can include singing, but I really mean the film's score, the instrumentals behind scenes that should communicate the mood, emotions and tone of what you're seeing on screen.
Further, I think that a good score can elevate a mediocre movie to a much higher level, and a bad score seems to do its level best to ruin a movie.
But do you know what I think the best indicator of a great movie with a perfect score is? It's when I listen to the instrumental tracks on the movie soundtrack after seeing the film.
If it brings me right back to the movie; if it makes me feel a deeper connection with the film, the characters, the story and the plot, that's how I know the score is perfect and perfectly suited for the movie.
All of this to say something you probably already know: The music in Mary Poppins Returns is magnificent! Almost all the credit for that goes to Marc Shaiman and Scott Whitman, the composer and lyricist for Mary Poppins Returns.
Buy the Mary Poppins Returns soundtrack here:
Proof: Take a look at this clip from a wonderful part of the movie, the Royal Doulton Bowl:
I had the opportunity to sit down with Marc Shaiman and Scott Whitman and talk to them all about the process of making music for Mary Poppins Returns. It was honestly one of my very favorite interviews of the day!
I was extra-thrilled that I had another chance to chat with Marc Shaiman much later that day at the Mary Poppins Returns premiere.
I wanted to tell him how much I loved and appreciated the continuity, the way he carried all sorts of musical themes throughout the movie and expertly wove them into the Mary Poppins Returns  soundtrack. I was so excited to talk to him that I know my words were not even close to being that articulate. But he was nice enough to shake my hand and listen to me babble for a minute.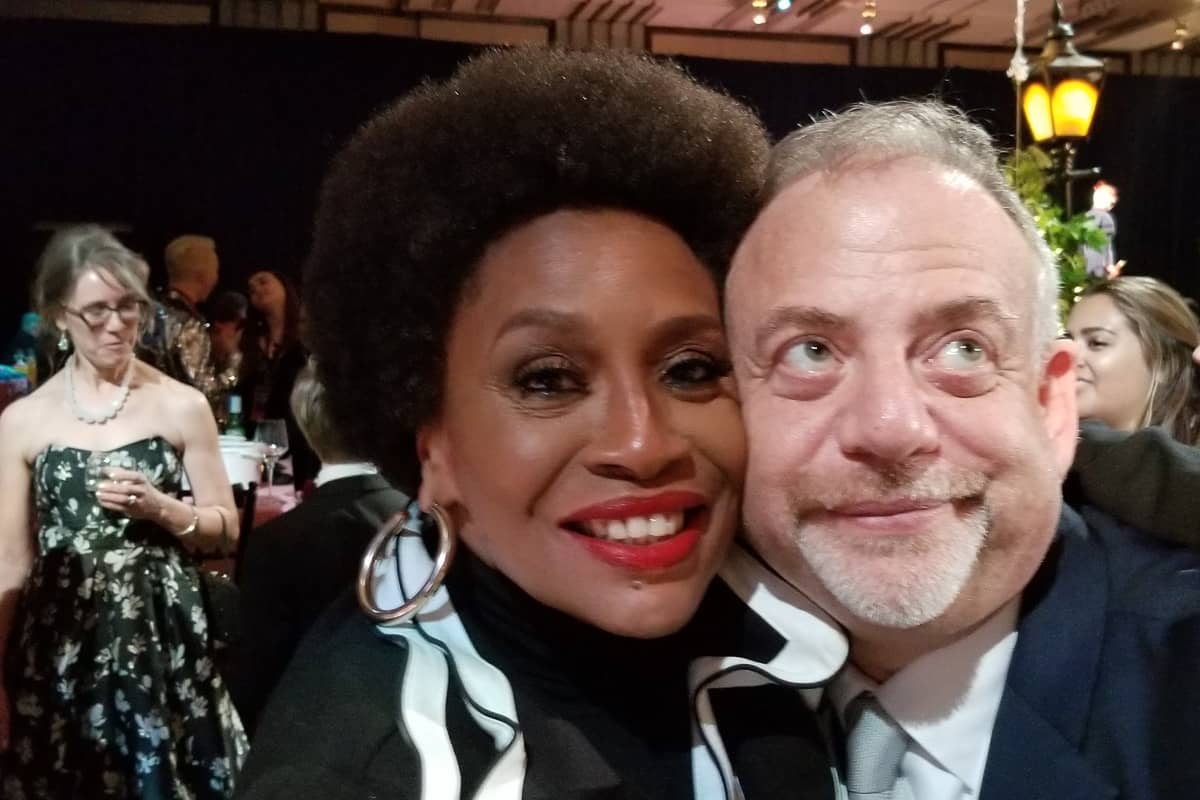 Then I had a second chance to talk to him when I approached Jenifer Lewis about something else and he came up behind her. I said they were adorable and they had me take their picture and text it to Jenifer's daughter. Jenifer's daughter then told me all about how those two are best friends while they all had me giggling over their collective cuteness.
After all that, I'm not sure how I managed to not get a picture with the guy. I have big regrets about that!
So I didn't get a picture with Marc Shaiman, but the interview with him combined with the extra opportunity to tell him how much I admired him was truly worth so much more! I'm so excited to expand on the music in Mary Poppins Returns and share everything Marc Shaiman and Scott Wittman told us!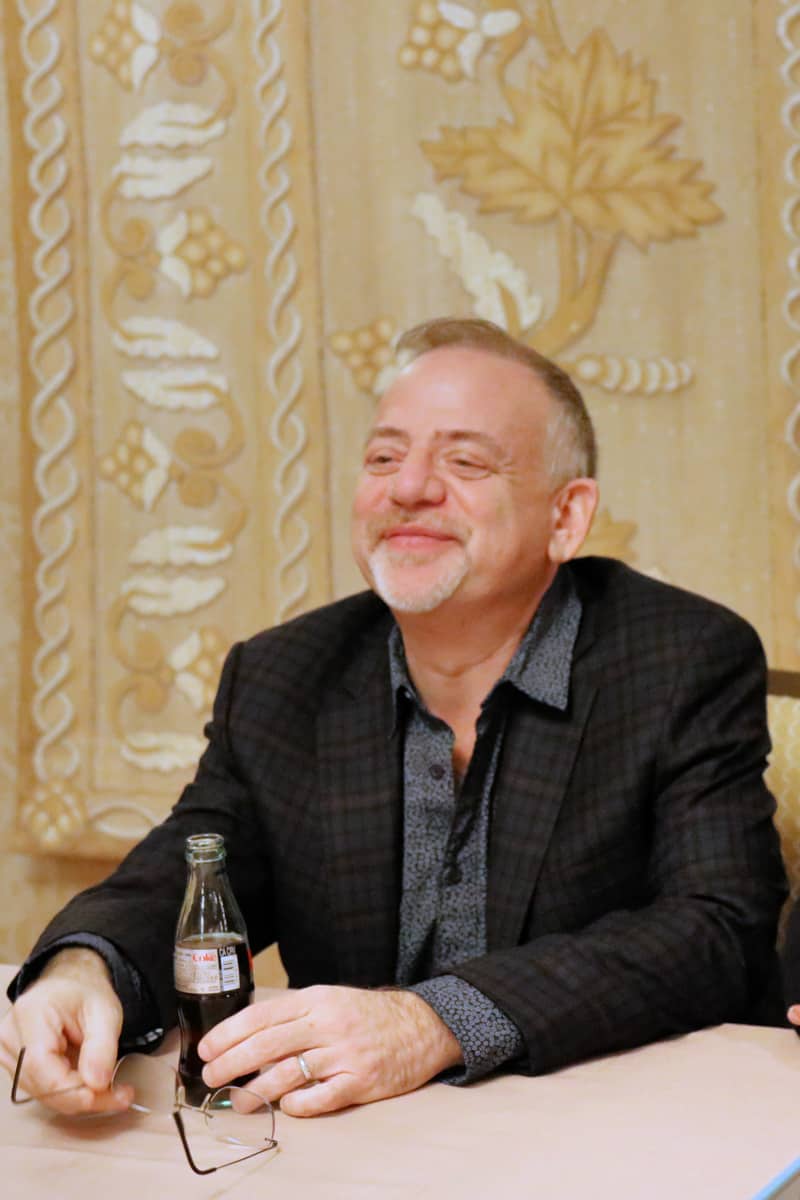 How did you stay true to the original Mary Poppins movie while finding inspiration to come full circle in Mary Poppins Returns? 
Scott Wittman: We went back to the books (by PL Travers), and there were so many more adventures in all the stories. So many of them just cried out to be sung. 
Lin (Manuel Miranda) said it great; he said, "Our movie rhymes with the first movie." That's a huge compliment. 
All the material was in the books, and then we had Emily and Lin right from the beginning, so we got to sculpt all of this material on them.
Marc Shaiman: We knew we had it right when it sounded like it was in the same neighborhood of Mary Poppins. The first movie was like our teacher. Our parents.
When you grow up with that, there's going to be something about what we wrote that would come from that. Would sound similar. You can't try to copy, or even write something so close; that would only make us pale in comparison. Yet we couldn't help but find ourselves in the Mary Poppins vernacular. Musically and lyrically. 
We had a great four months working with Rob Marshall and his partner John and his screenwriter David Magee. We really started from the beginning of the movie. They had the idea that it would be about Michael Banks, a recent widower. then we just pieced it together scene by scene. 
Scott Wittman: Even before we wrote a word…
Marc Shaiman: That was fantastic because we only had to talk about it. But then we did that in autumn through Christmas. Then after New Year's it was time for us to go in the room. And we'd just just sit in the room for four days and just sing,
Marc and Scott: "Paralyzed with fear. Paralyzed with fear."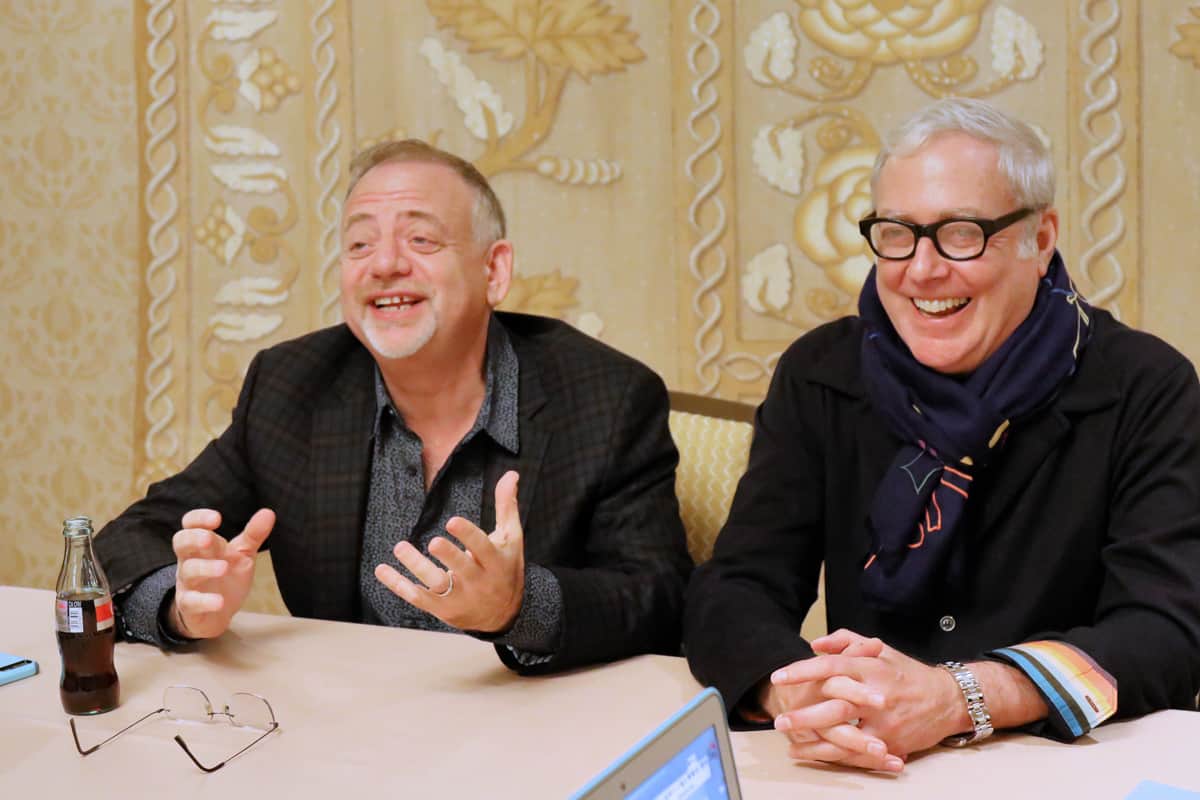 Did any songs not make it into the film?
Scott Wittman: Yes! It's interesting, because in Mary Poppins, Richard Sherman had musicalized a sequence that got cut. We tried to musicalize the same sequence. And it got cut. 
Marc Shaiman: It was when Mary Poppins' birthday falls on a full moon, the animals in the zoo become the spectators and the humans are in the cages. so we wrote a song called "The Anthropomorphic Zoo." The Sherman Brothers wrote a song called "The Chimpanzoo."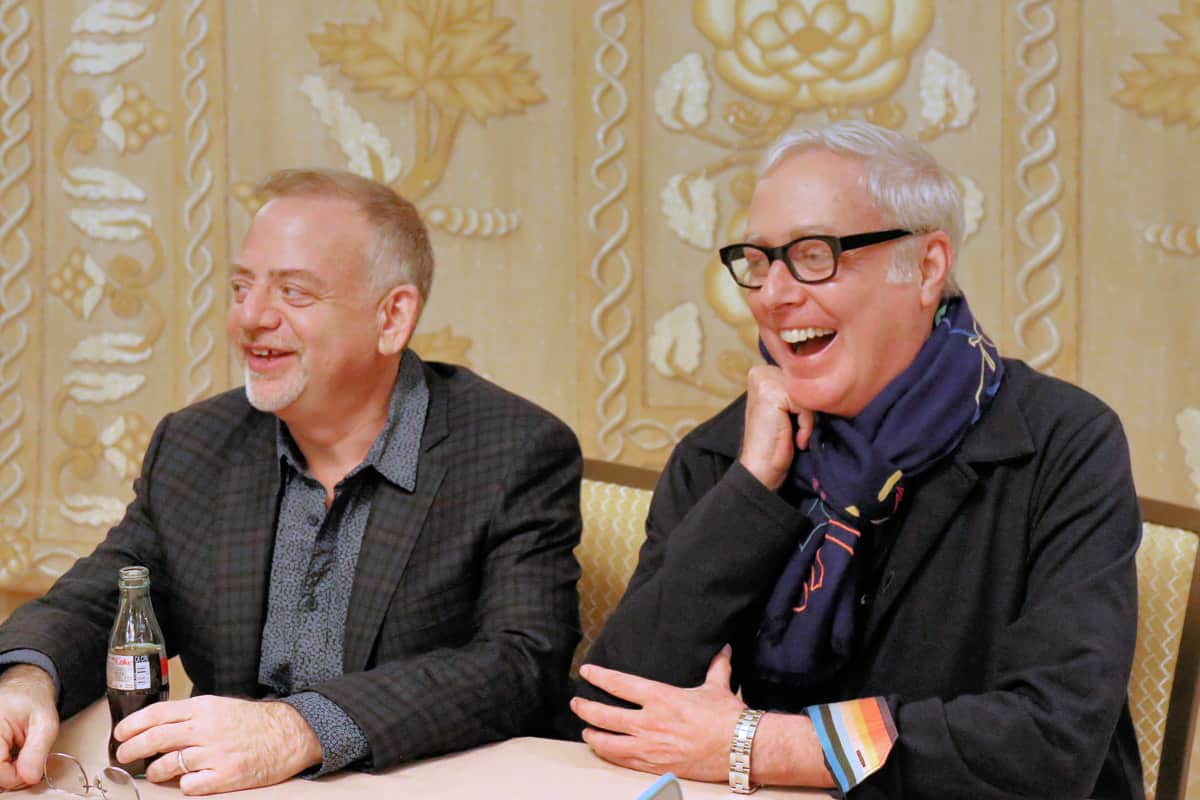 When you're writing a song for Mary Poppins Returns and you're writing to a singer's abilities, how do you keep it with the theme of the movie? 
Marc Shaiman: You're juggling. Just multitasking creatively, and you've got the director. The director is the final say. And Scott and I sometimes do have different ideas about where it might go. Then there's the performer. 
But then there's Emily. It's nice that her voice sits in  a slightly different place than Julie Andrews. That would be another reason why people ask, "Are the original songs sung in the movie?" It would be unfair to the performers to ask them to actually sing a song that Julie Andrews sang, or that Dick Van Dyke sang.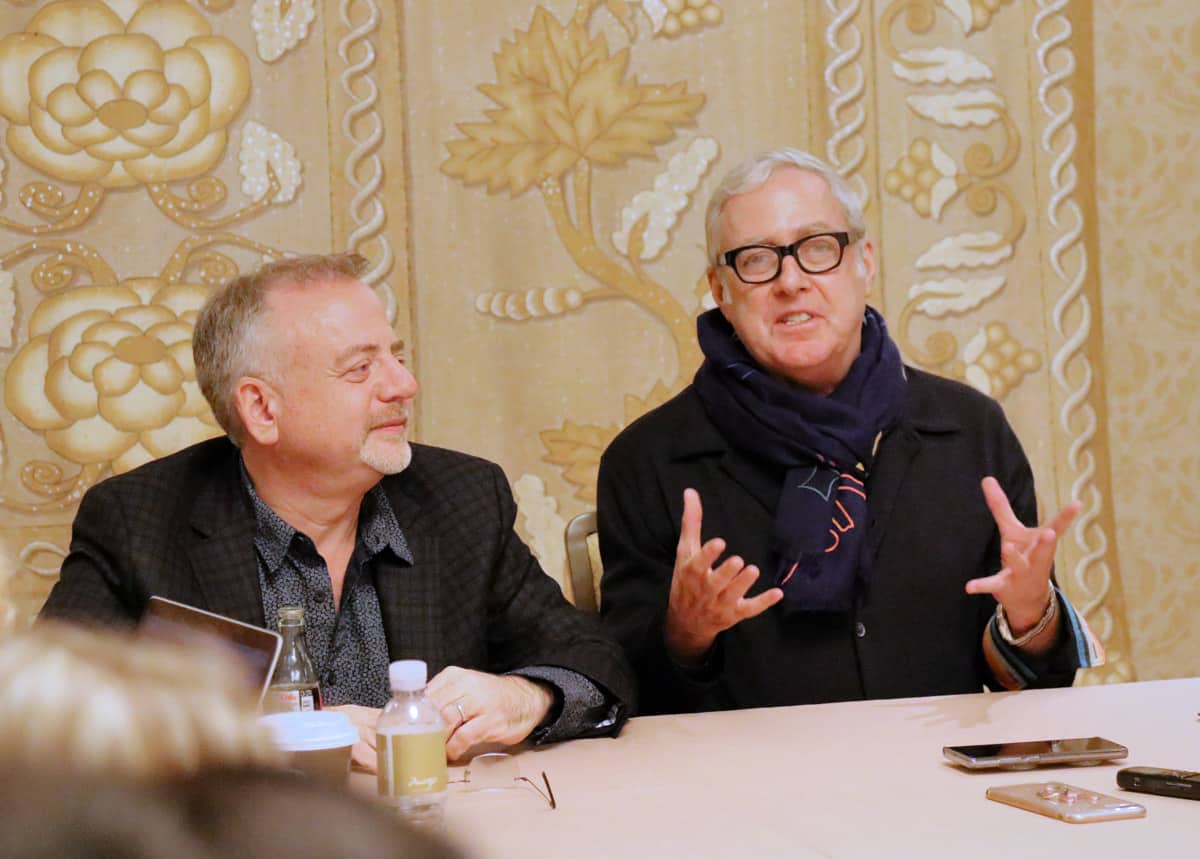 How was making Mary Poppins Returns different from what you've done before? 
Scott Wittman: It really was a dream, it's a wish your heart makes. That four months we were in a hotel room in New York, just thinking about it. It's the best time I've ever had  in a hotel room. Creatively! 
That was sort of a magical experience because Rob is such a person of the theater, and we come from the theater. It was like working on a Broadway musical.
Marc Shaiman: I've worked with hundreds of directors, but Rob is singular in his vision and he's straightforward. The blinders are up. So it gives you a confidence. The ship won't go down. 
We would write songs and then we'd demo them. We write the lyrics together where we just phrase-associate with each other for days until we have it all written down. Then I scotch tape all those phrases to the piano…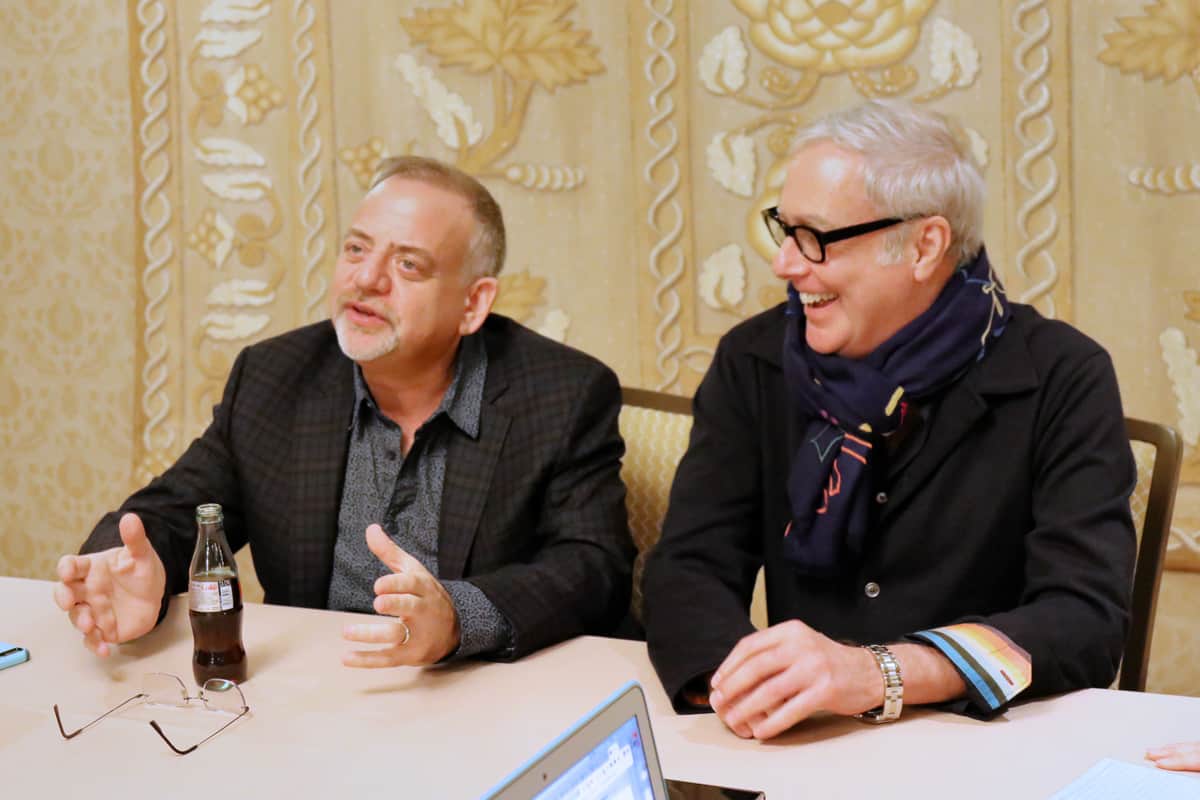 Scott Wittman: And just pray that something goes right. 
Marc Shaiman: This movie was a whole other experience because Rob hired us because he knew I also score films. It's a different kind of beast. A different kind of muscle to exercise. 
So I also had him know that melodies for the songs could form a solid score. Not just sort of a wisp of a melody here or there. But a real foundation.
We wrote, "Can You Imagine That" which was our fourth attempt to write for that slot. We kept writing songs and Rob would go, "That's great. Remember, it's the first time Mary Poppins has sung on screen in 54 years." 
So we'd go back and write another song. After we wrote that one, Scott said, "Now remember, play it like a score, too."
So besides singing it, a la Mary Poppins, I  sat down and played it. And that's what you hear as the main theme of Mary Poppins Returns throughout. If you slow it down and put slightly different chords on it, it creates a whole other atmosphere. 
Scott Wittman: It becomes Mary's theme.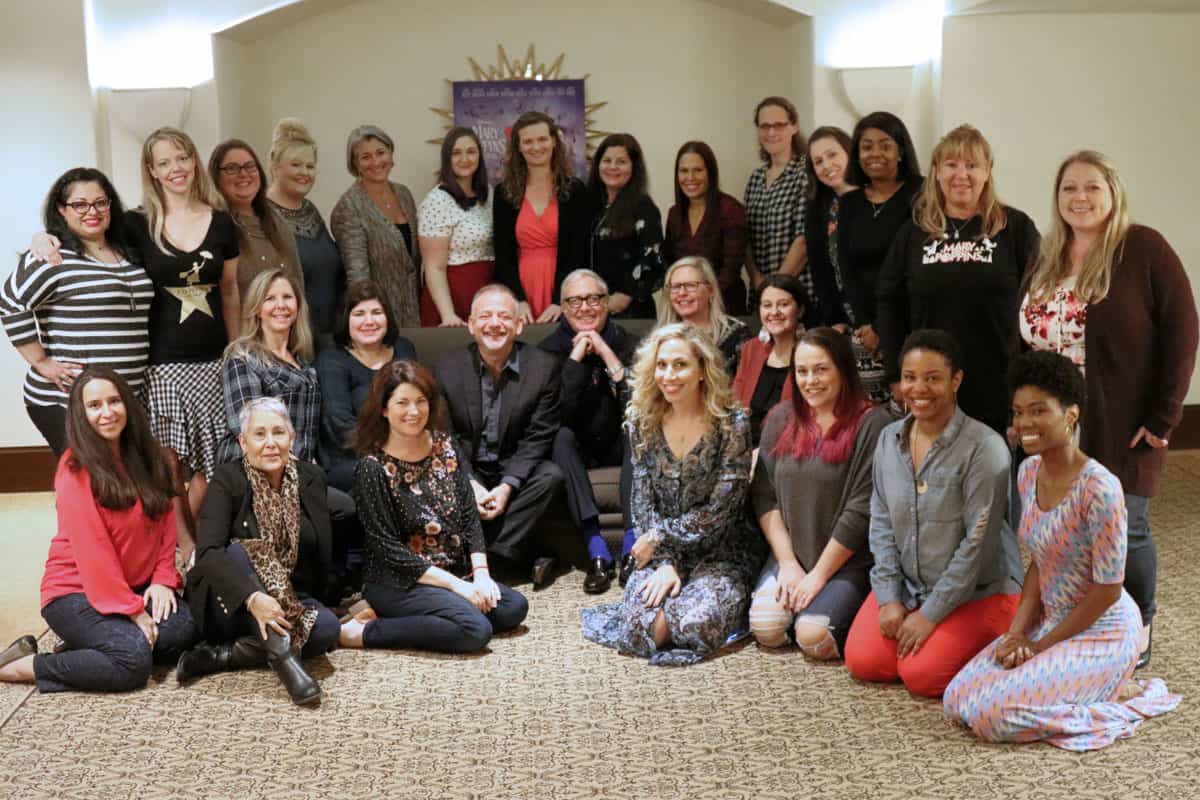 Mary Poppins Returns is in theaters everywhere now! Get your tickets and see local showtimes now!
Follow these social media accounts to stay on top of everything Mary Poppins Returns:
Like Mary Poppins Returns on Facebook
Follow Walt Disney Studios on Twitter
Follow Mary PoppinsReturns on Instagram
Mary Poppins Returns has arrived in theaters! See more details and information about your local showtimes here!
Watch the newest Mary Poppins Returns trailer: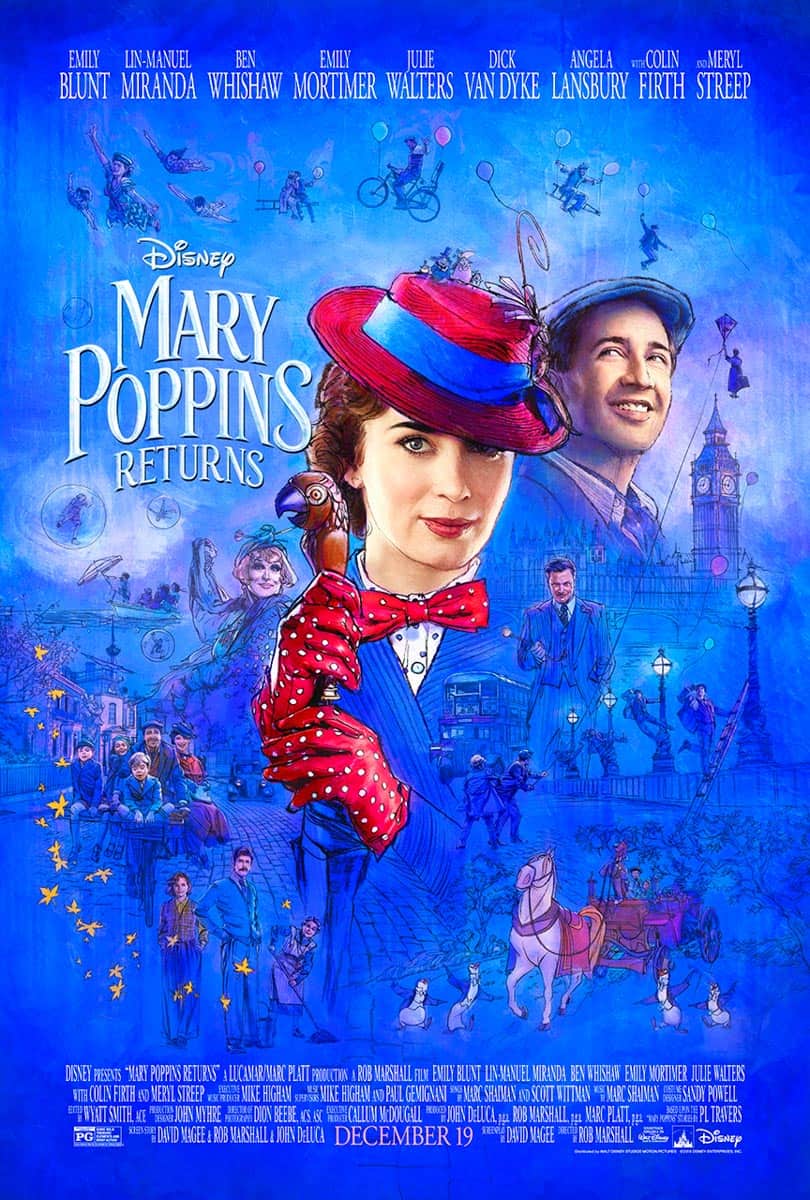 About Mary Poppins Returns
In Disney's "Mary Poppins Returns," an all new original musical and sequel, Mary Poppins is back to help the next generation of the Banks family find the joy and wonder missing in their lives following a personal loss.

Emily Blunt stars as the practically-perfect nanny with unique magical skills who can turn any ordinary task into an unforgettable, fantastic adventure and Lin-Manuel Miranda plays her friend Jack, an optimistic street lamplighter who helps bring light—and life—to the streets of London.

"Mary Poppins Returns" is directed by Rob Marshall and the screenplay is by David Magee. The screen story is by Magee & Rob Marshall & John DeLuca and it's based upon the Mary Poppins Stories written by PL Travers.

The producers are John DeLuca, p.g.a., Rob Marshall, p.g.a. and Marc Platt, p.g.a. with Callum McDougall serving as executive producer. The music score is by Marc Shaiman and the film features all new original songs with music by Shaiman and lyrics by Scott Wittman and Shaiman.

The film is set in 1930s Depression-era London, almost 25 years after the original Mary Poppins took place. The grown Michael Banks works for the same financial institution that employed his father. He still lives at 17 Cherry Tree Lane with his three children, Annabel, John and Georgie, along with Ellen, their housekeeper.

Jane Banks continues in her mother's honor as she campaigns for workers' rights and offers a helping hand to Michael's family.

When the Banks family suffers a personal loss, Mary Poppins magically returns to their lives. With Jack's help, she brings joy and wonder back into their home at Cherry Tree Lane.

The film also stars Ben Whishaw as Michael Banks; Emily Mortimer as Jane Banks; Julie Walters as Ellen; Pixie Davies, Nathanael Saleh and introducing Joel Dawson as the Banks' children, with Colin Firth as William Weatherall Wilkins; and Meryl Streep as Mary's cousin, Topsy. Angela Lansbury appears as the Balloon Lady, a treasured character from the PL Travers books and Dick Van Dyke appears as Mr. Dawes, Jr., a retired chairman of the bank that's now run by Firth's character.