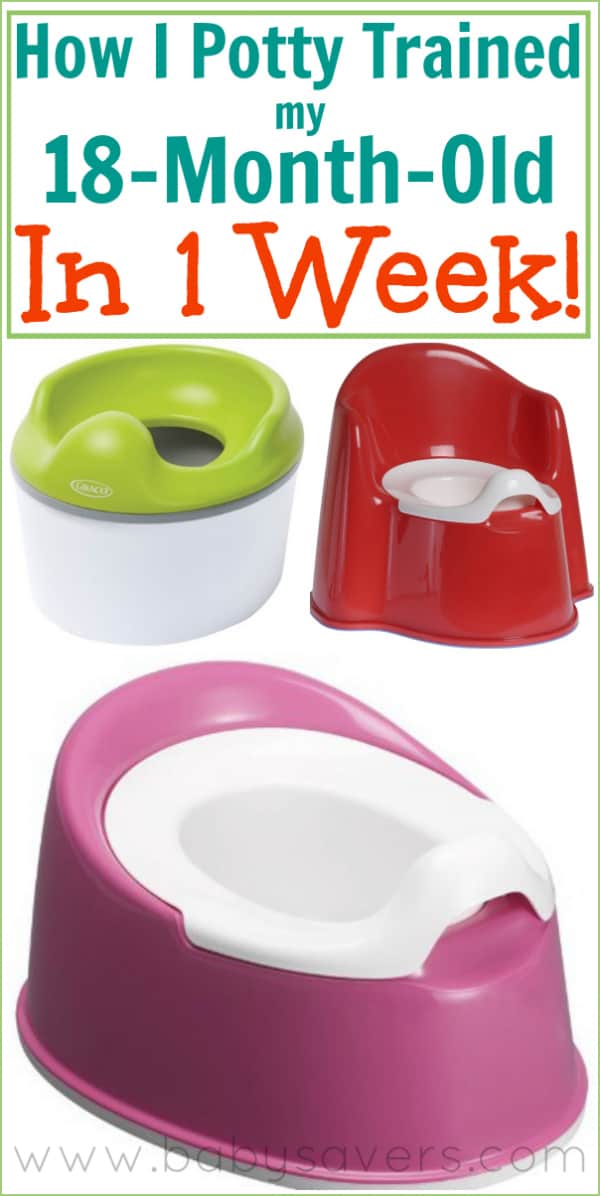 Welcome new visitors! This is part 2 of the true story of how I potty trained my 18 month old daughter in just 1 week.
You'll want to check out part one of the series before reading below to get an idea of how we started out and what DIDN'T work for us if you attempt the same type of early potty training with your own little one!
Share this post by pinning it on Pinterest!
Piper's potty training got off to a rocky start, (read part 1 to learn about our first two days of potty training) but after a weekend spent in training pants at Grandma and Grandpa's house, I was ready to get Piper out of diapers for good! If you remember from the first part of my story on How I Potty Trained my 18 Month Old, I decided that we needed to start fresh on Monday with a new plan:
Piper had a new, smaller potty seat to use.
I was stocked on 100% apple juice and clean sippy cups to give her plenty of opportunities to use her new potty seat.
I was committed to keeping my mouth shut and not asking Piper if she needed to use the potty.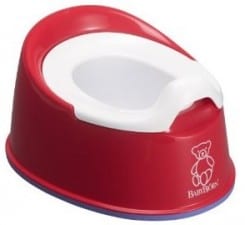 I had ordered Piper's new Baby Bjorn Smart Potty and it arrived early Monday morning, just in time for us to kick off our new potty training plan!
I gathered Piper and Haiden and opened the box. I made a huge deal over Piper's "brand new potty." I vocally admired it's shiny red color. I explained that it was a smaller, Piper-size seat that would sit right next to Haiden's bigger potty. I said it was the "perfect little potty" for a little girl.
All that talk felt a bit ridiculous, but I 100% reinforced that this new item was a potty especially for Piper! After that, I set the seat up next to Haiden's potty chair and stepped away from both of them.
Piper had worn a fresh diaper during breakfast, and it was dry when I took off her pajamas to change her clothes for the day. I put her in a cozy long-sleeve shirt, baby legwarmers and socks. I didn't put underwear on her so she didn't have to worry about anything getting in the way if she decided to use the potty seat.
Side note: The best part about potty training (besides the end!) is the super cute BabyLegs that you can put on your little ones to keep their legs warm 🙂
About 10 minutes after I got her out of her diaper, Piper had an accident on the floor. I turned it into a teachable moment and simply told her, "Piper, don't go potty on the floor. Next time, go pee-pee on your new red potty!" I made sure to be as upbeat as possible and keep the entire message positive. No scolding, no admonishing.
After taking off her soggy legwarmers, I gave her a cup of juice, cleaned up the carpet (carpet cleaners made for pet stains work the best — I know from experience!) and let her continue playing.
I continued with our morning routine while anxiously waiting for Piper's next move. Miraculously, I saw her toddle over to her new potty, sit down and almost immediately use it!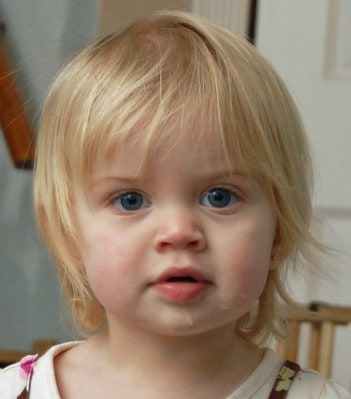 She stood up, peeked inside and said, "pee pee pee pee!" I jumped up and down, clapped my hands and said, "Yay, Piper! Haiden, Piper went peepee on the potty!"
Haiden's such a good big brother; he was more excited than I was! I also gave Piper (and Haiden*) a chocolate chip and said, "Piper, you get a chocolate chip for using the potty!"
I continued to give Piper more juice as soon as her cup was empty. Piper literally returned to the potty every 10 to 25 minutes throughout the morning. Each time she used the potty she got a chocolate chip and hugs, high-fives and positive reinforcement. She also didn't have a single accident that morning!
At noon, I pulled a pair of cotton underwear on her and brought her to her high chair for lunch. She did have an accident over lunchtime, but I know that's because she couldn't physically get to her potty on her own.
When I realized what had happened, I told her, "tell Mama if need to use the potty!" I continued to stay encouraging and positive and brush off the accident as a minor incident.
After lunch, I changed her into a diaper and put her down for naptime. In my opinion, the early stages of potty training only involve staying dry during the waking hours. I truly believe "holding it" during naptime and overnights is a longer process, and I have no issues with using diapers or training pants for the sleeping hours.
When Piper woke up from her nap, her diaper was dry. I took her back to the room with her potty seat, took off her diaper and let her decide what to do. There were books, toys and plenty of other distractions, but she went right to her potty and used it again!
After much cheering and a chocolate chip, I finally started to feel confident that Piper understood the potty training basics, and we were on our way to letting go of diapers forever! The next few days went incredibly well with Piper drinking lots and lots of fluids and using the potty as she wanted to.
I continued to keep her underwear off to make it as easy on her as possible. We had a few accidents here and there, but it wasn't anything I couldn't handle, and she was definitely using the potty far more than not!
One thing that I found amusing was that Piper decided completely on her own that she didn't want to wear diapers anymore.
During naptime on the second day of potty training, I walked into her room and found her holding her diaper and telling me she had to "go pee pee".Unfortunately, she had already went in her crib, but a waterproof crib pad had saved her mattress from the mess.
The next morning, I found Piper in her crib with her pajamas unzipped. She was trying to get her diaper off again. After that, we started using Pull-Ups or other training pants for naptime and overnights to acknowledge that she was a "big girl" who didn't need diapers anymore.
By the third day, I knew that we had nailed potty training, and I'm convinced the key was to let Piper decide when she needed to use the potty. She's an independent little girl, and I could tell that it made her feel so proud when she was the one who decided to use the potty.
I fully admit that we still have accidents from time to time. We went through exactly the same thing in the earlier months of potty training my son, Haiden.
At least all this potty training experience comes with some lessons learned, and I'm more than willing to pass them along to you!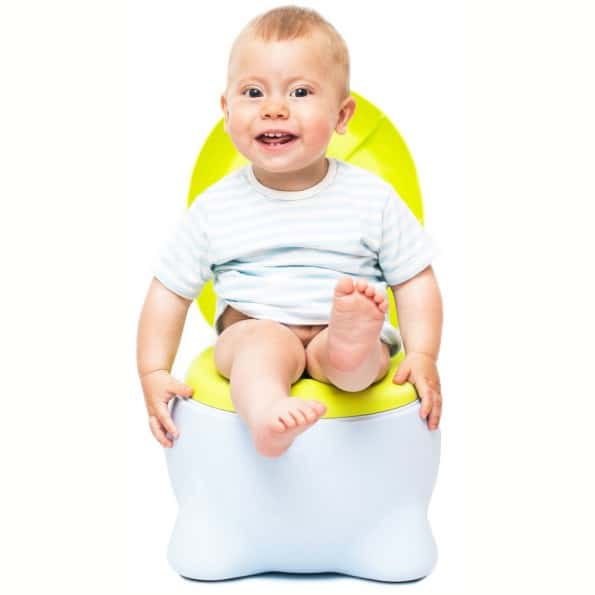 Potty Training, 18 Months, Lessons Learned
I've come to realize that the following situations create the most "risk" of an accident:
Drinking too much water/milk/juice
Being away from home
Being sick
Staying up later than usual
As I was writing that list, I realized that I'm trained just as much as Piper and Haiden are ☺.
Since I've learned to recognize the situations where a child might go somewhere other than a bathroom, I've become remarkably prepared for any situation.
I have extra underwear and clothing in my car and in our diaper bag. I have an amazing little travel potty seat that makes it easier for both of them to use big toilets. I'm also on high-alert during those times and I'm aware of every single public restroom in the vicinity!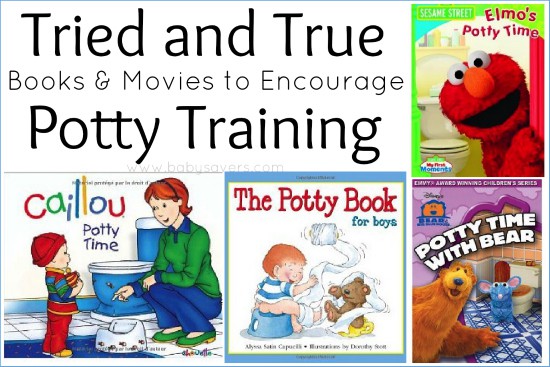 I mentioned in part 1 that I also found several potty-training books at our library. I didn't use them to "train" piper to use the potty. Rather, my husband and I incorporated them into our usual routine just to give her another way to get the message.
While I brought home 3 DVDs and several books from the library, both little ones didn't care for a few of them, leaving me with this list of their favorite potty books and DVDs:
You can find a more comprehensive list of potty training media in Tried and True Books and Movies to Encourage Potty Training.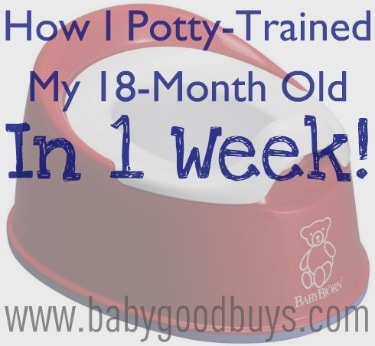 I truly hope that information helps you in your own adventures in potty training 18 months.
While it's was an intense time with a shaky start, I can honestly say that potty training Piper at 18 months has left both of us feeling proud of ourselves!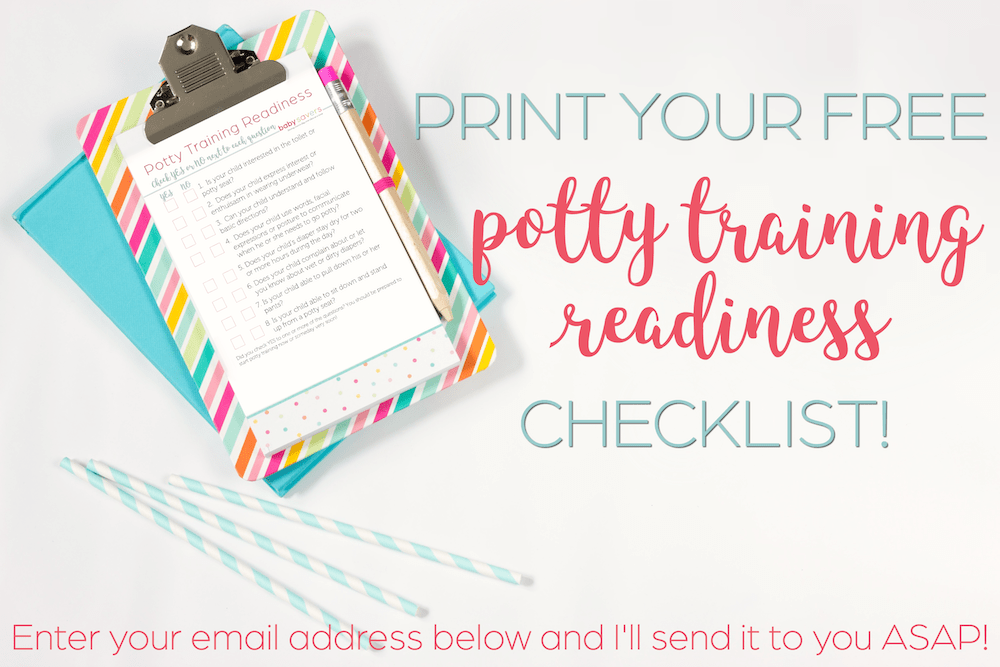 *Giving Haiden a chocolate chip every time Piper used the potty turned out to be a great-but-unplanned strategy on my part! Haiden didn't feel left out, and he became an amazing cheerleader for Piper's potty use.
After all, wouldn't you be cheering your sister on if you were rewarded every time she used the potty?
Be sure to check out my other articles about potty training at any age (not just potty training at 18 months!):
If you're potty training at 18 months and your little one doesn't want to stay on the potty, try entertaining her with bubbles! Check out my list of 7 complete recipes for homemade bubbles!