Not sure if you want to go to Galaxy's Edge? Trust me, you do! These 10 reasons why you must visit Star Wars Galaxy's Edge at Disney World contain all the insider tips to have the best time on the planet of Batuu! Learn what you need to see, what you should do and what you should eat while at Galaxy's Edge!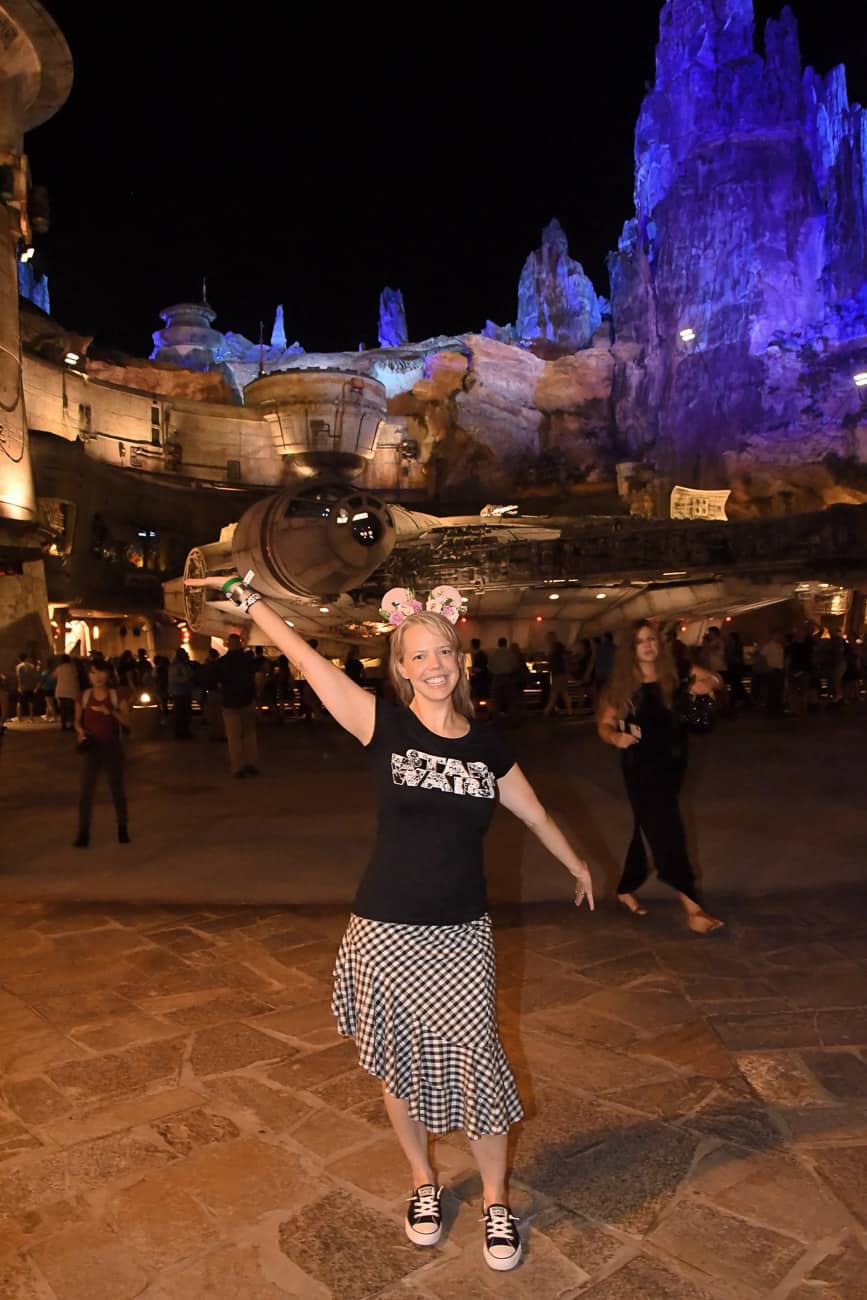 Have you been thinking about taking your family to Star Wars Galaxy's Edge at Disney Hollywood Studios? I was one of the lucky visitors to spend a few hours there while I was participating in the Permission to Hustle mastermind. I was especially lucky because I went to Galaxy's Edge on the second day it was open to the public!
Being one of the first people to visit Galaxy's Edge definitely made the experience feel special, but I want to say right now that I didn't get a super-VIP treatment. Everything I did and everything I'm suggesting is available for every visitor. No special treatment needed!
Our group of 22 was allowed entrance into Galaxy's Edge a few minutes early to make sure we didn't have to wait in line for the Millennium Falcon Smugglers Run ride. That ride is extra popular, and the accommodating Disney World cast members knew we had to get back to our resort for our conference.
There was a trade-off for skipping the longest line at Galaxy's Edge: a crazy early wake-up call. We arrived at Hollywood Studios at 5:45am to get in just a few minutes early.
Getting on the ride for the first run at 6:00am meant we had just about two hours to explore the rest of Galaxy's Edge. I did my very best to pack it all in during the time that I was there.
10 Reasons to visit Star Wars Galaxy's Edge at Disney World
There are way more than 10 reasons to visit Galaxy's Edge, but I swear, you'll be convinced once you read just one or two. It's truly an incredible experience, and here are the reasons why you should go:
10. The photo ops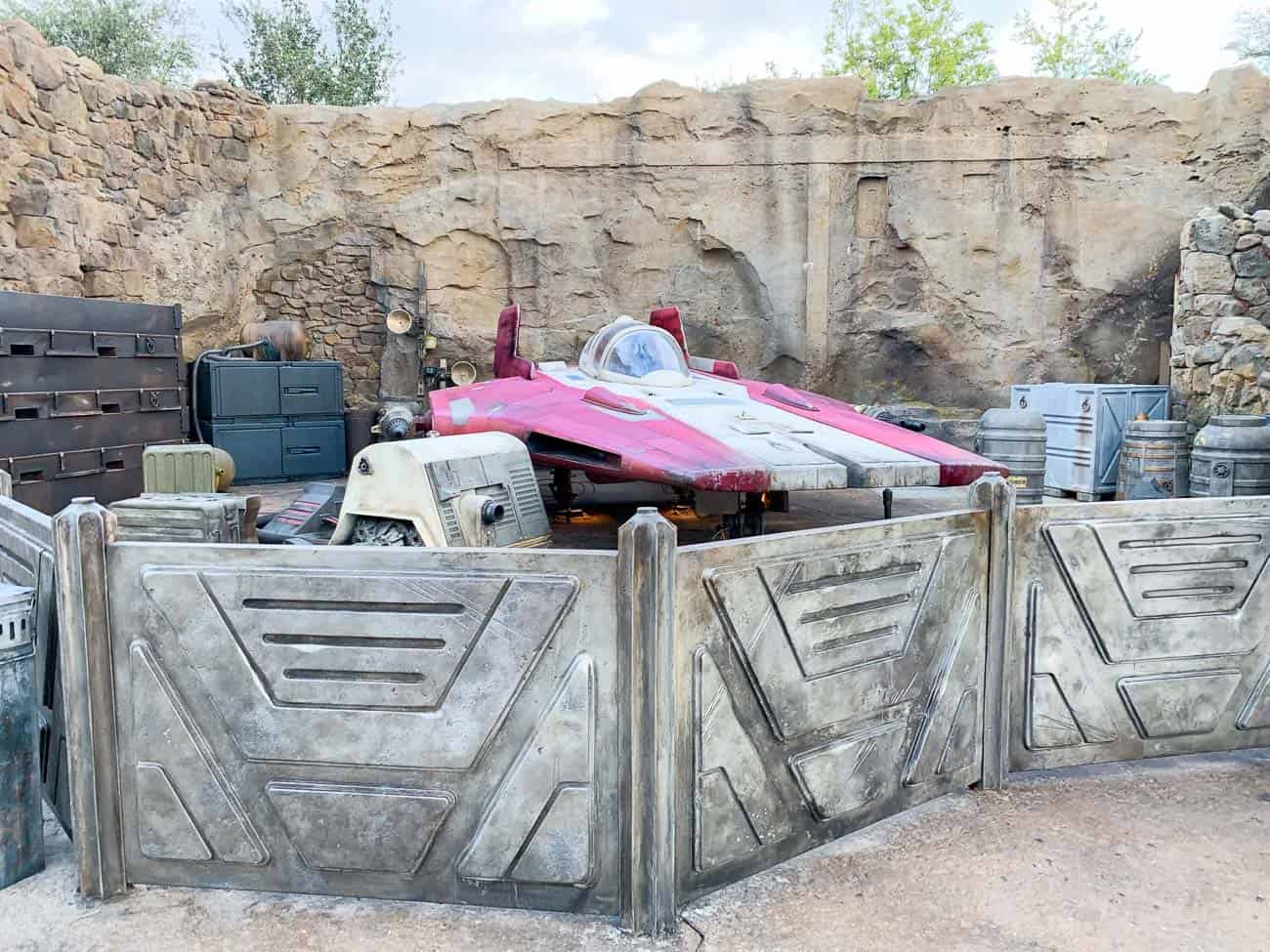 I'm not joking when I say there are more photo ops than you can imagine at Galaxy's Edge. I know I only scratched the surface in the few hours I was there. From the junky piles of droids and droid parts to the various land and sky vehicles parked all over the space, you're going to take picture after picture.
View this post on Instagram
There are also so many textured building, backdrops and "Instagram walls" in Galaxy's Edge that are perfect for social media sharing. This photo was taking near the Galaxy's Edge exit, and I only wish I had taken the time to straighten my skirt before getting a friend to snap my pic!
Galaxy's Edge photo tip #1: If you have a real camera and not a phone, teach your travel companions how to use it before hitting the park. It's going to be busy and you're going to want to hurry through your poses and looks if you can find little spaces to yourselves. You're not going to want to mess with camera settings and cross your fingers that they get a good picture. Instead, set it up and make sure they know what they're doing.
Galaxy's Edge photo tip #2: If your companion doesn't know how to use your camera or you don't like the shot she's getting, go back to the basics and use your phones. The quality from most recent phones is so good I promise you'll be happier than if you get bad shots from an expensive camera!
9. The Coke Products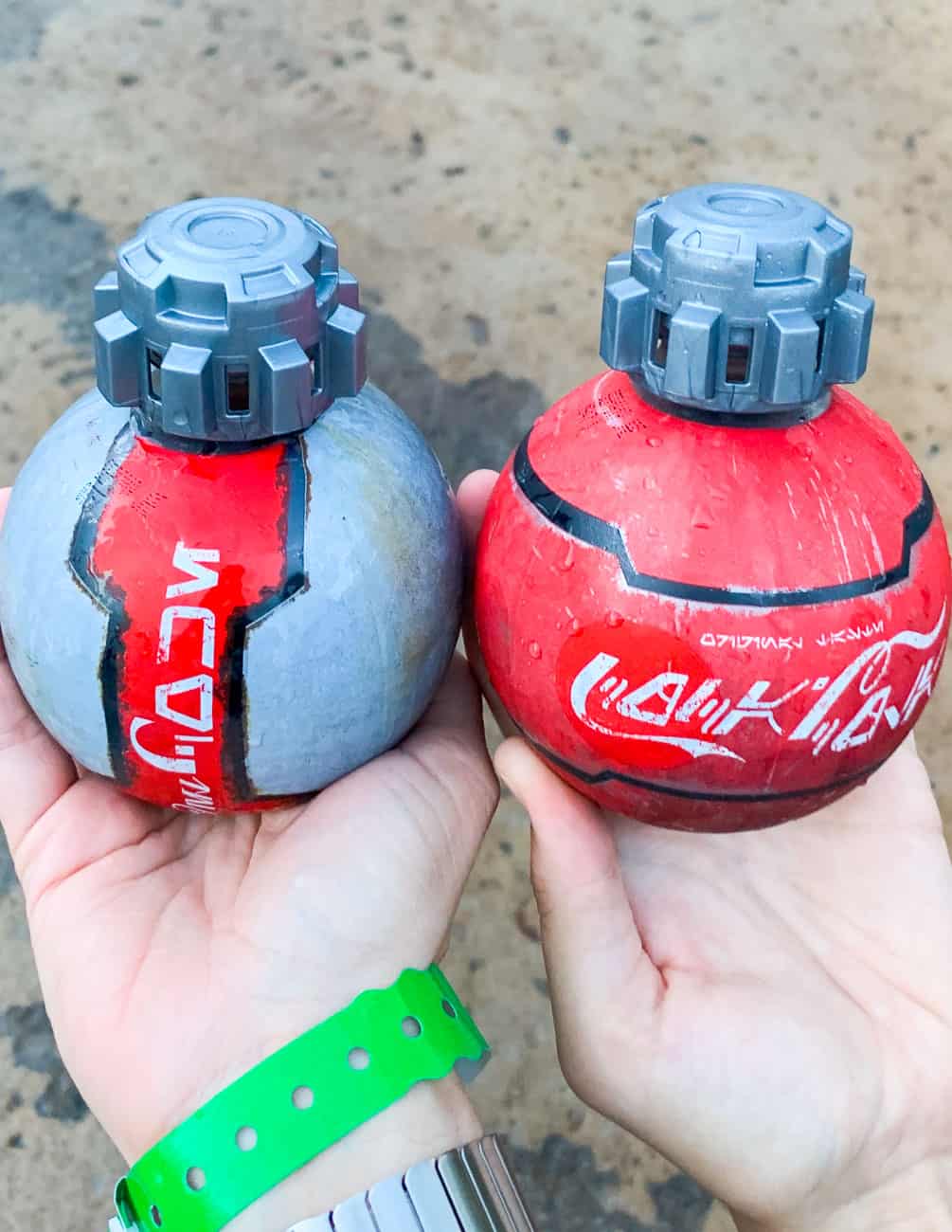 Yes, you read that right. The Coke products sold at Galaxy's Edge are a reason in itself to visit the park. The bottles are in the shape of Thermal Detonators, straight out of Return of the Jedi.
I've never wanted to take a picture of my Diet Coke more than I did while I was holding my own special Galaxy's Edge bottle, and there were people all over the place doing the same thing.
8. Seeing Galaxy's Edge at night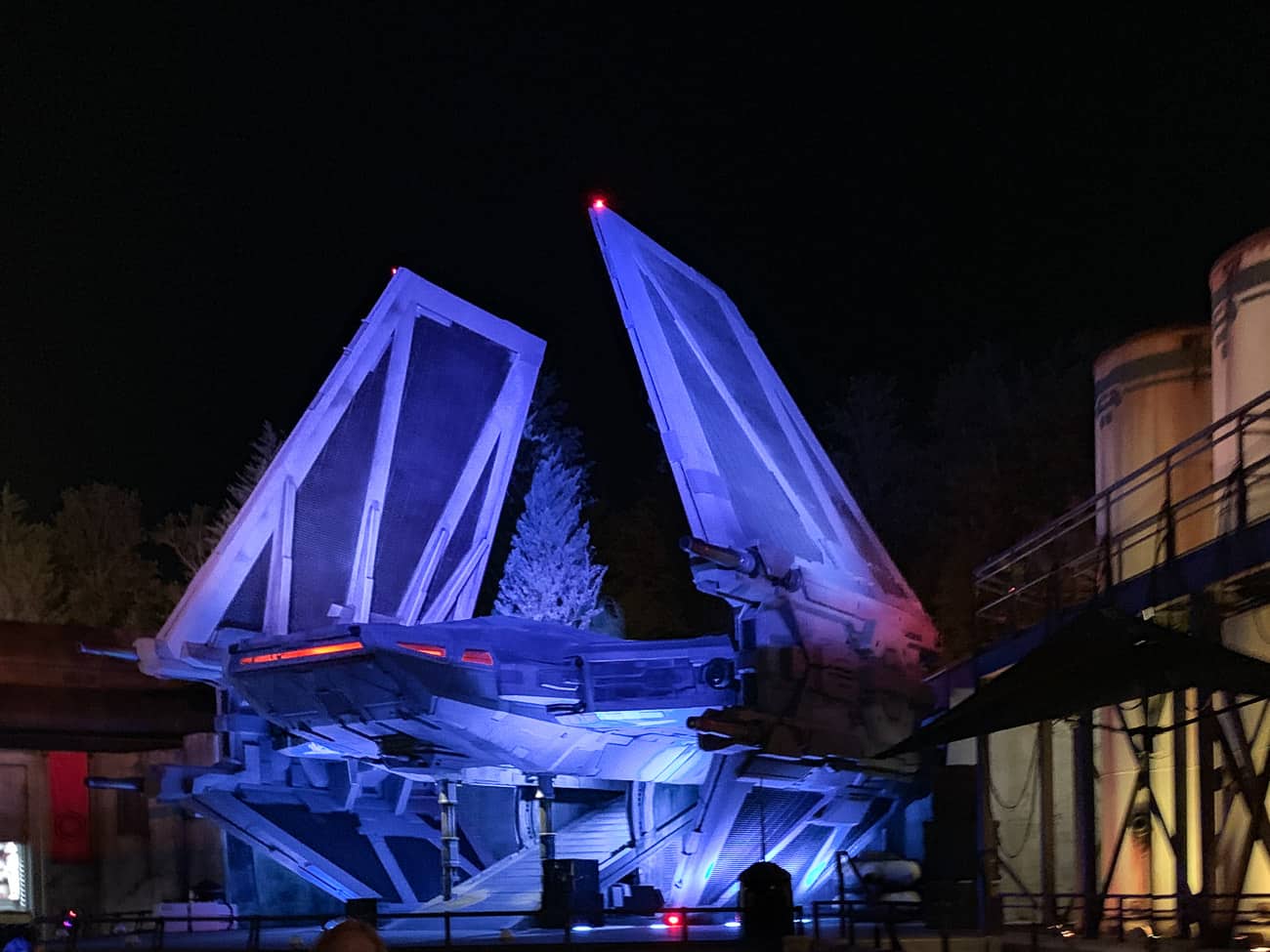 Or see Galaxy's Edge in the very early morning, because it's pretty much the same thing! We got to Galaxy's Edge at 5:45am, while it was dark. But we left after 8:00am, when the the sun had started rising.
The way the various structures are lit up in the dark are gorgeous. It also gives the space a very mysterious, slightly dangerous feel. Once the land is lit from the sun, you can take in so much more and get much better photos.
Visiting Galaxy's Edge during daylight hours and nighttime hours are two entirely different experiences, so definitely try to be there for both!
Galaxy's Edge daytime/nighttime tips: If you can time your visit, try your best to get there before the sun comes up or about an hour before the sun start's setting. I have a feeling the setting sunlight on everything in Galaxy's Edge would give you some incredible photo ops!
7. Getting Pictures of Stormtroopers (or selfies if you're lucky)
I don't care how often you can see them now. A Stormtrooper sighting is always special! It's hard enough to get a clear picture of one when they're always on the move, so try to seek them out during daylight hours.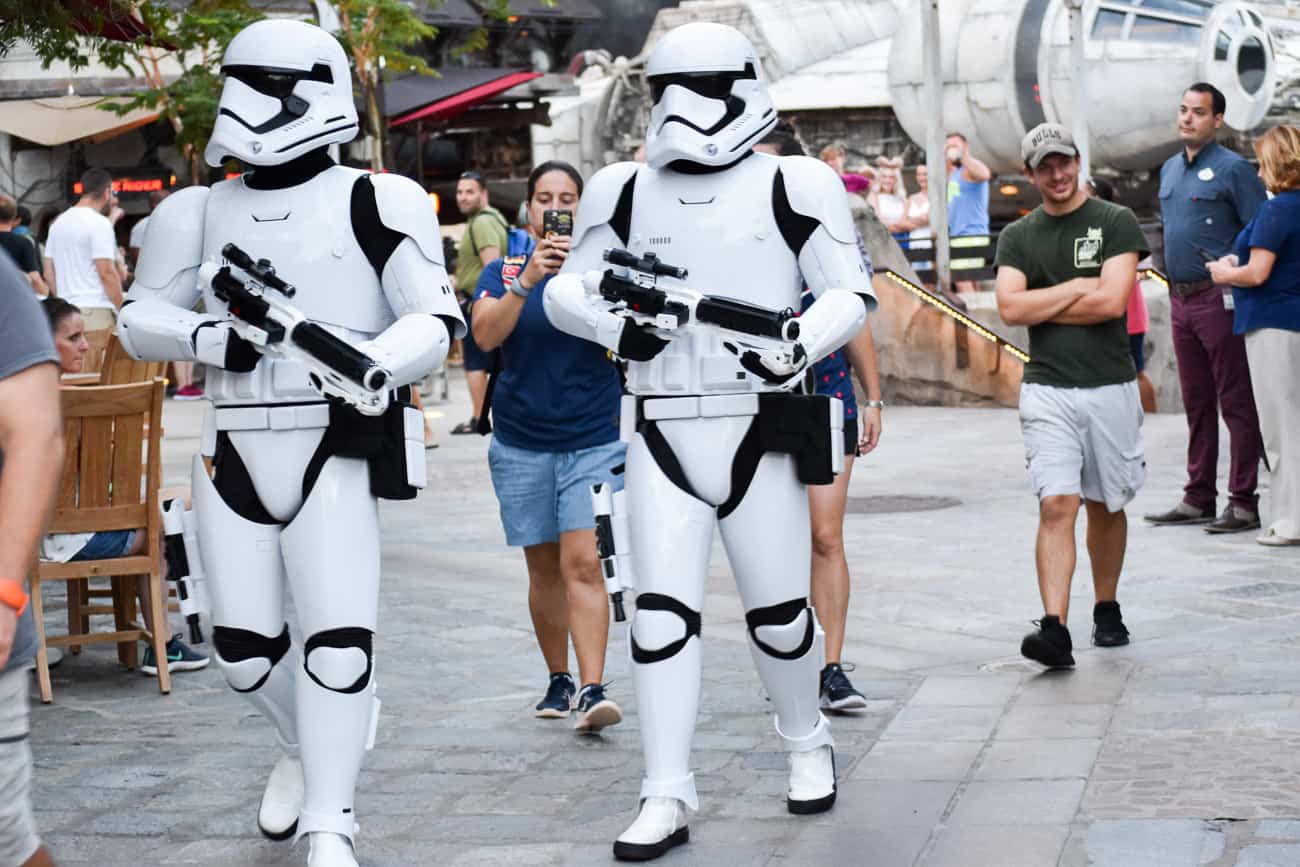 Stormtrooper selfie tip: It's pretty much impossible to get a selfie with a Stormtrooper at Galaxy's Edge because they're too busy working. They're not going to stop for an unimportant photo. But I learned too late on this last trip that the fact that they're working gives you a unique selfie opportunity:
The Stormtroopers are constantly scanning the crowds and the environment looking for threats. Turn on your camera in selfie mode, then position yourself so you'll get a Stormtrooper in the near background. Start taking photos on burst mode when your Stormtrooper gets close to you and you'll capture a selfie with him!
6. Blue Milk
Blue Milk had a cult following long before there was a real concoction you could buy at Galaxy's Edge.
While Blue Milk is available at Oga's Cantina (see #4 on this list), you'll have to wait for a table or a spot at the bar to get it.
Instead, hit up the Bubo Wamba Family Farms Milk Stand to get your choice of Blue Milk, Green Milk or both!
What does Blue Milk taste like? It's a creamy, fruity drink, that's far more like a slushie than a glass of milk.
Fun Blue Milk fact: Lactose-sensitive Star Wars fans rejoice! Both the Blue Milk and Green Milk at Galaxy's Edge are dairy free.
5. The Droid Depot
Building my own droid isn't something I had the opportunity to do, but I wish I would have had the time for it!
For less than $100 you can take home your very own droid. It also takes some time to chose parts and assemble it. If you don't want to spend the time or money, you can skip the line and observe other people doing it.
It's pretty incredible to watch heaps of droid parts pass through the space on a fast-moving conveyer belt, and it's fun to see how much joy the participants are getting out of the experience.
If I had been at Galaxy's Edge with my family, I would have balked at the price before going in Droid Depot. But once I saw the experience and how cool the custom assembled droids actually were, I'm pretty sure I would have paid the price to make a droid as a souvenir.
4. Oga's Cantina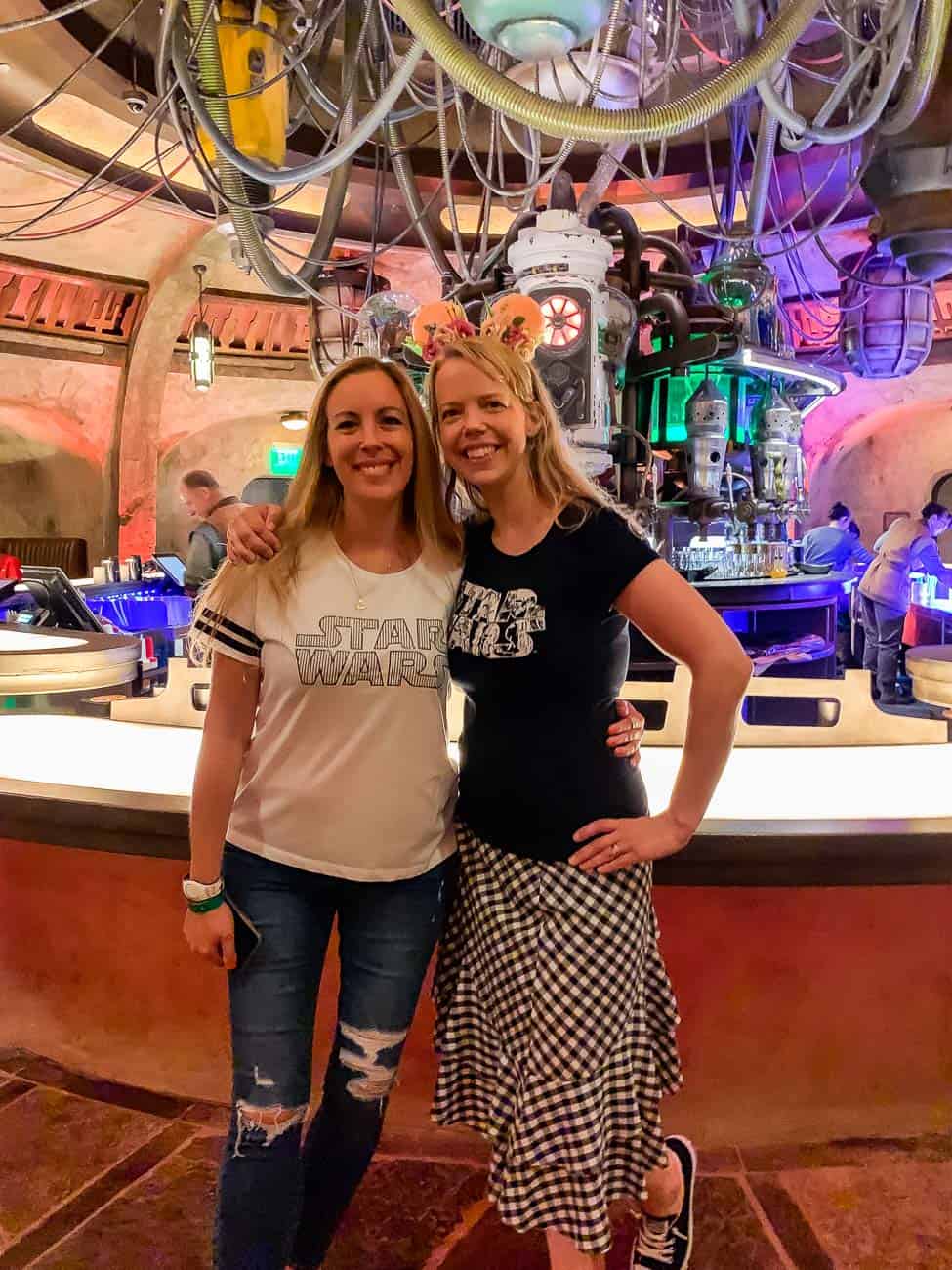 Often just known as "the Cantina" when talking about Star Wars, Oga's Cantina is truly a can't-miss experience for any Star Wars fan.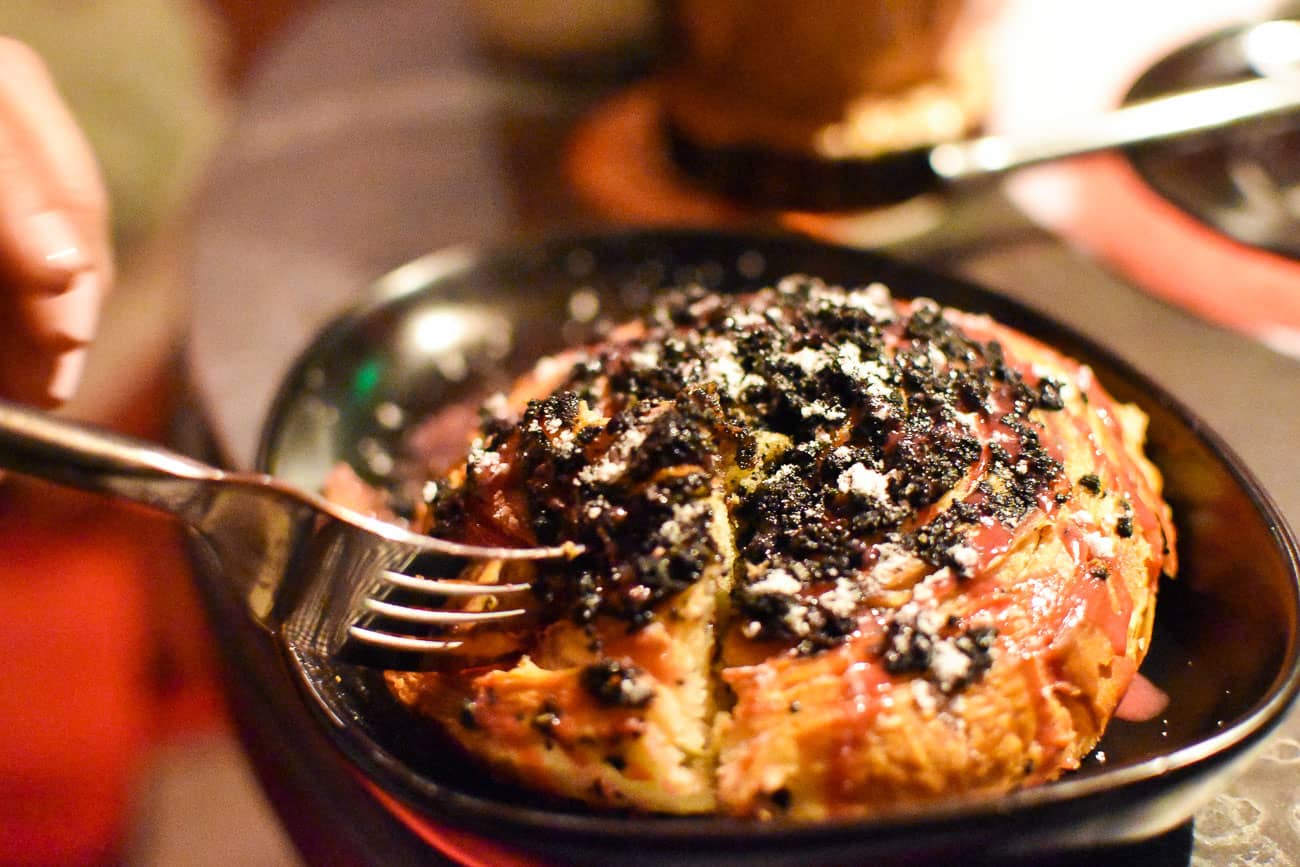 First, the food is all 100% themed. You won't see a cinnamon roll with raspberry glaze on the menu, you'll see a Mustafarian Lava Roll. (spoiler alert: it's delicious!). You can also get a delicious Cliff Dweller non-alcoholic drink that comes in a souvenir Porg mug.
The mug is adorable and it's ceramic. It's definitely a keepsake souvenir!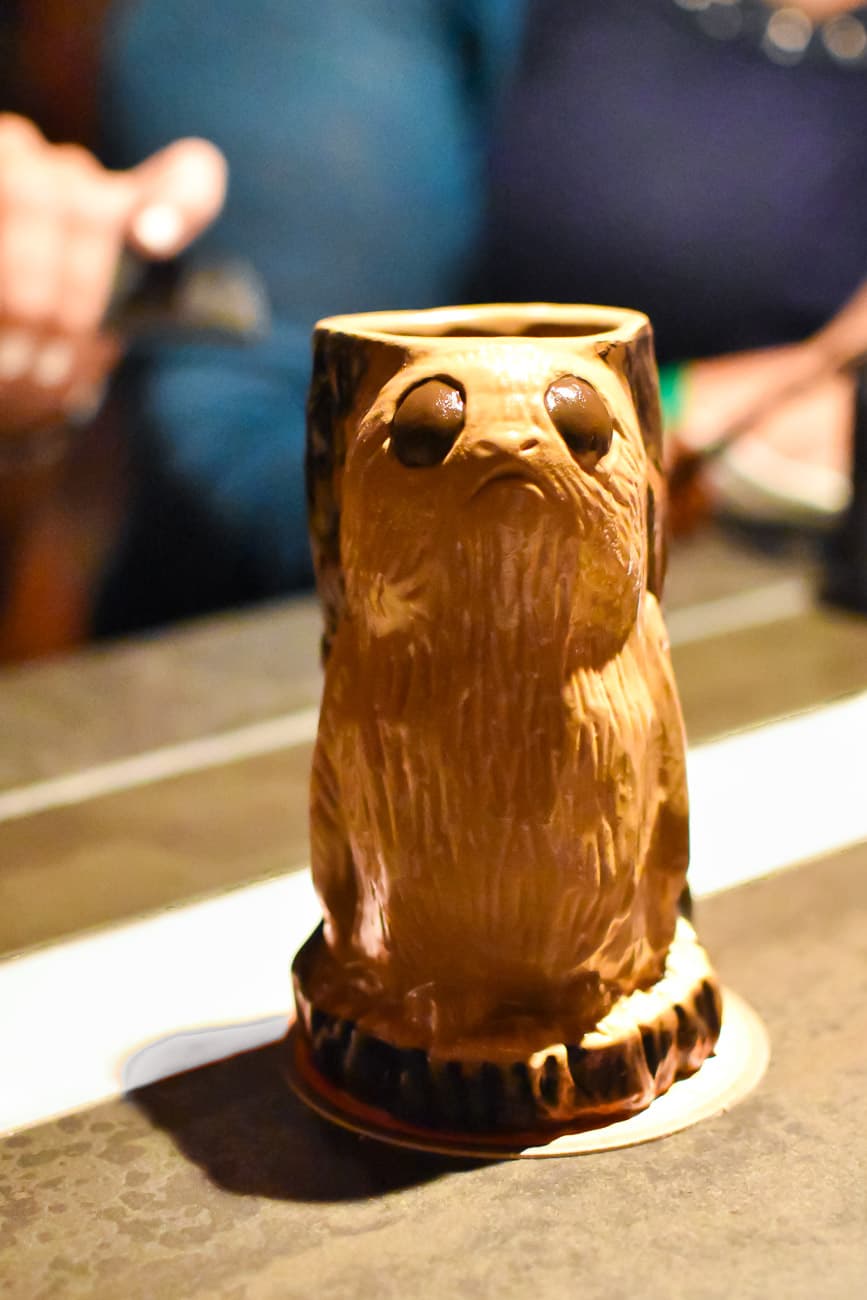 Oga's Cantina tip: The cantina at Galaxy's Edge isn't a place to linger after you're done eating, so come prepared. Read the menu before you arrive, then order food, drinks and the check as soon as your server comes to your table.
The service isn't super quick, but that will give you time to take it all in and snap some photos while you wait. Once you get your food and take pictures of it (you're definitely going to want to put those on Instagram!) you can eat and make room for the next group of people.
3. The Millennium Falcon Smuggler's Run Ride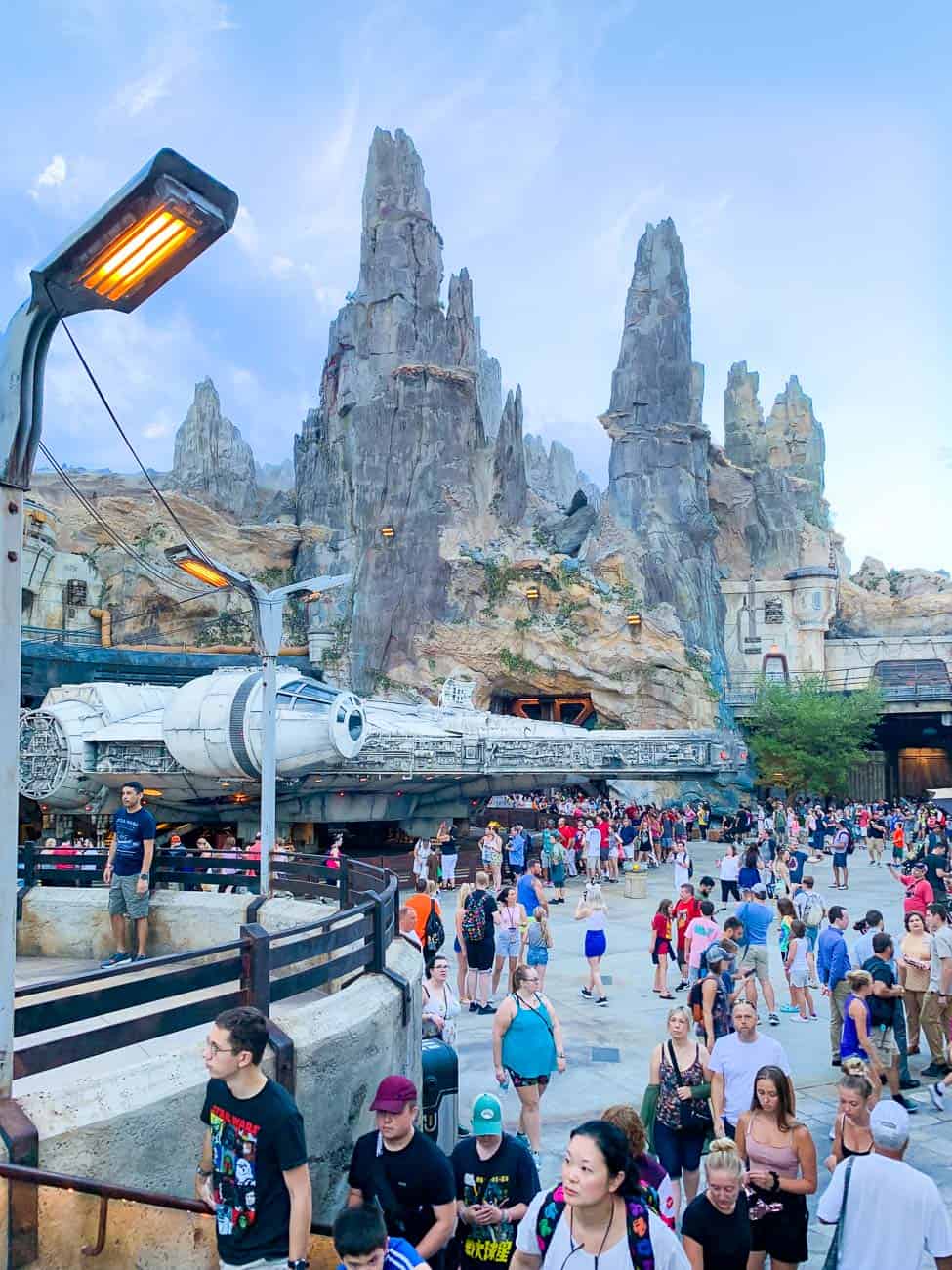 A note about wait times for Smuggler's Run: Now that the park has been open, it's safe to say that the lines for this ride have settled down to a manageable amount. Even though I'm in Minnesota and the ride is in Florida, I've been keeping an eye on Smuggler's Run average wait times, and they're generally 50 minutes or less.
The line is a Star Wars experience in itself, so it's definitely worth the time spent for the combination of the ride, the photo ops and the elements leading up to it.
Yes, I think the popular, super-fun ride comes in third place. Keep reading to understand why! Smuggler's Run takes place within the life-size Millennium Falcon as riders play the part of smugglers for the resistance.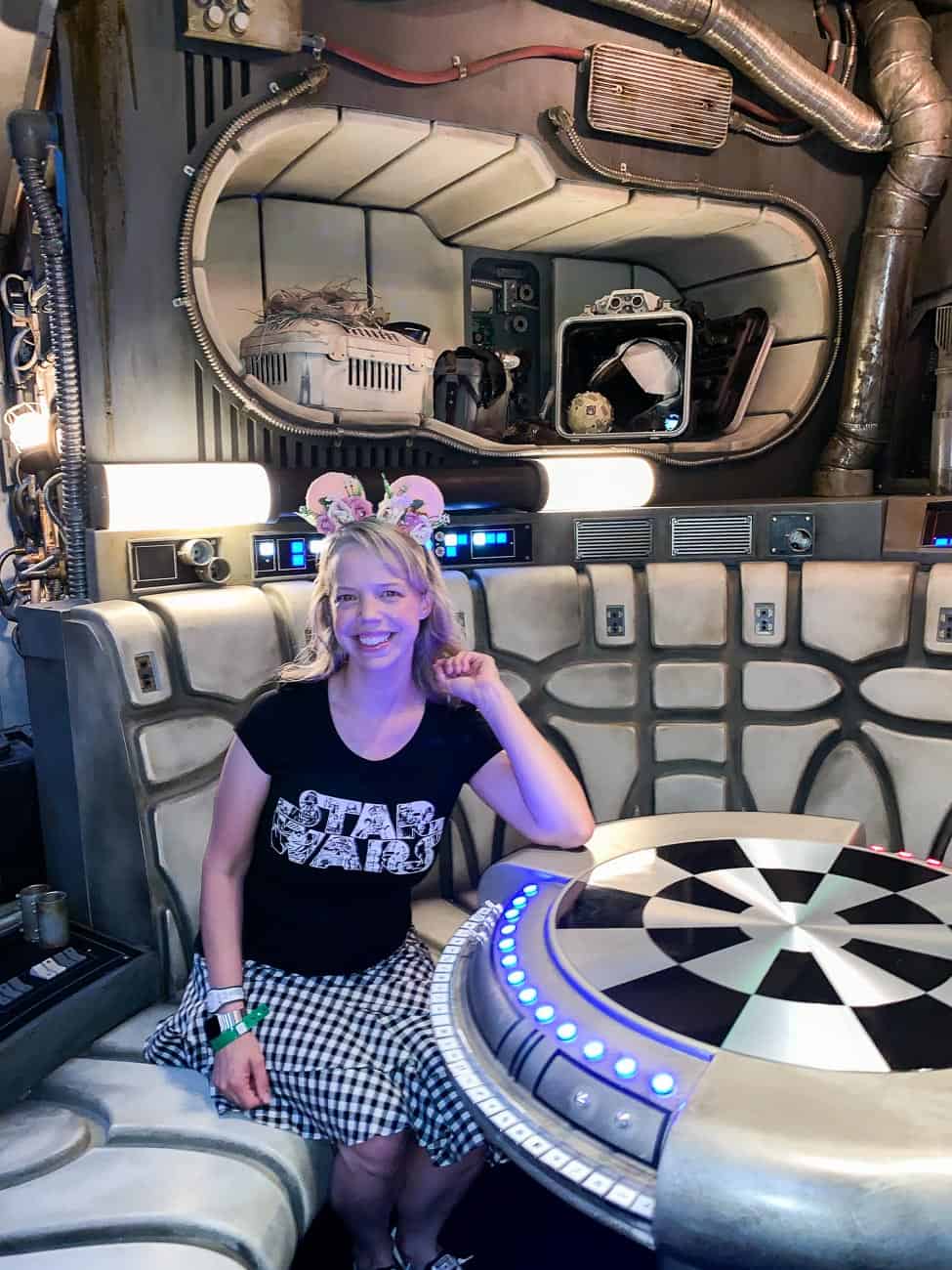 This ride is truly incredible. Even the space while you wait is an experience! Just before you board the ride you'll be able to wander around an actual room of the Millennium Falcon and take pictures. Once you're on the ride, you take your assigned position as a member of the crew and follow directions barked at you from a captain in the back.
Smuggler's Run is a high-intensity thrill ride that will leave you feeling like an actual member of the Millennium Falcon's crew.
2. The Black Spire Outpost Marketplace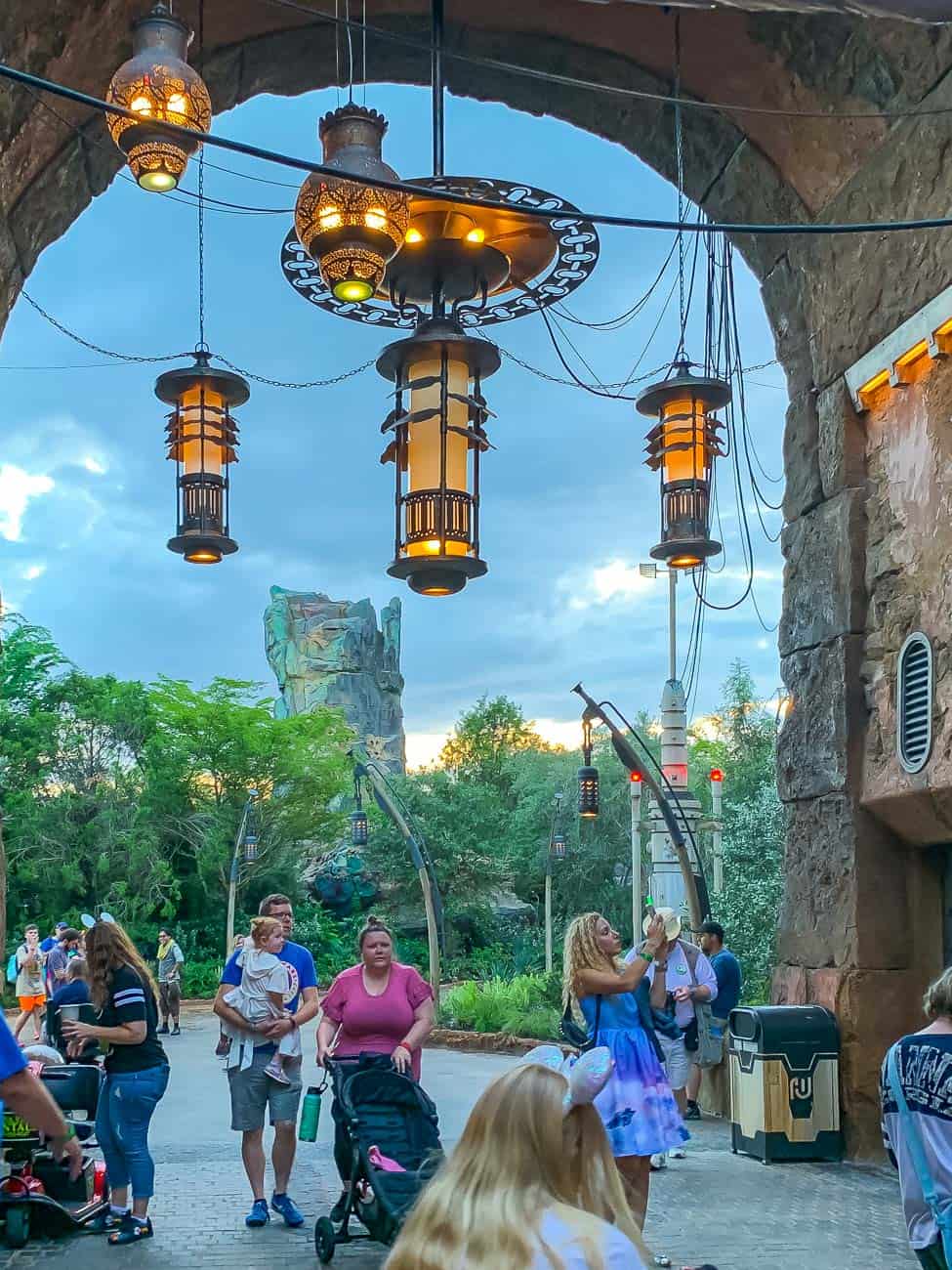 Walking through the Black Spire Outpost Marketplace was actually my favorite experience at Star Wars Galaxy's Edge. Yes, even more than the Smuggler's Run ride and eating at Oga's Cantina!
The Marketplace is a floor to ceiling visual masterpiece. Look up in the stores and you'll see the most amazingly creative light fixtures fashioned from gaskets, blankets, boxes and more.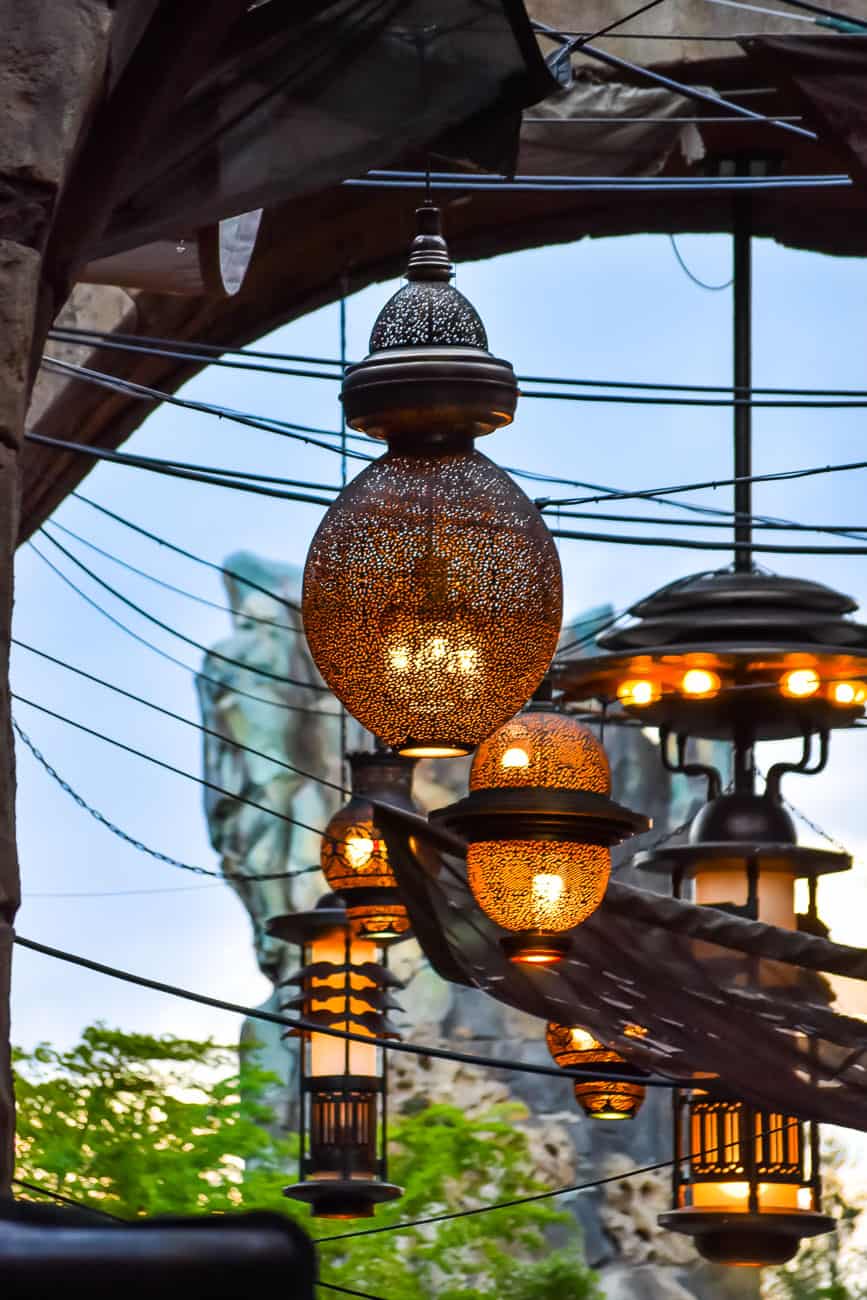 Look around and you won't see merchandise you'd expect to find in a store on earth. You'll only see merchandise that's authentic to Batuu.
By the time I got to the Black Spire Outpost Marketplace I was running out of time. I honestly didn't have the opportunity to go into most of the stores. Yet it was still my very favorite part of the park. I can't wait to go back and explore all of it!
1. Star Wars Galaxy's Edge is an immersive experience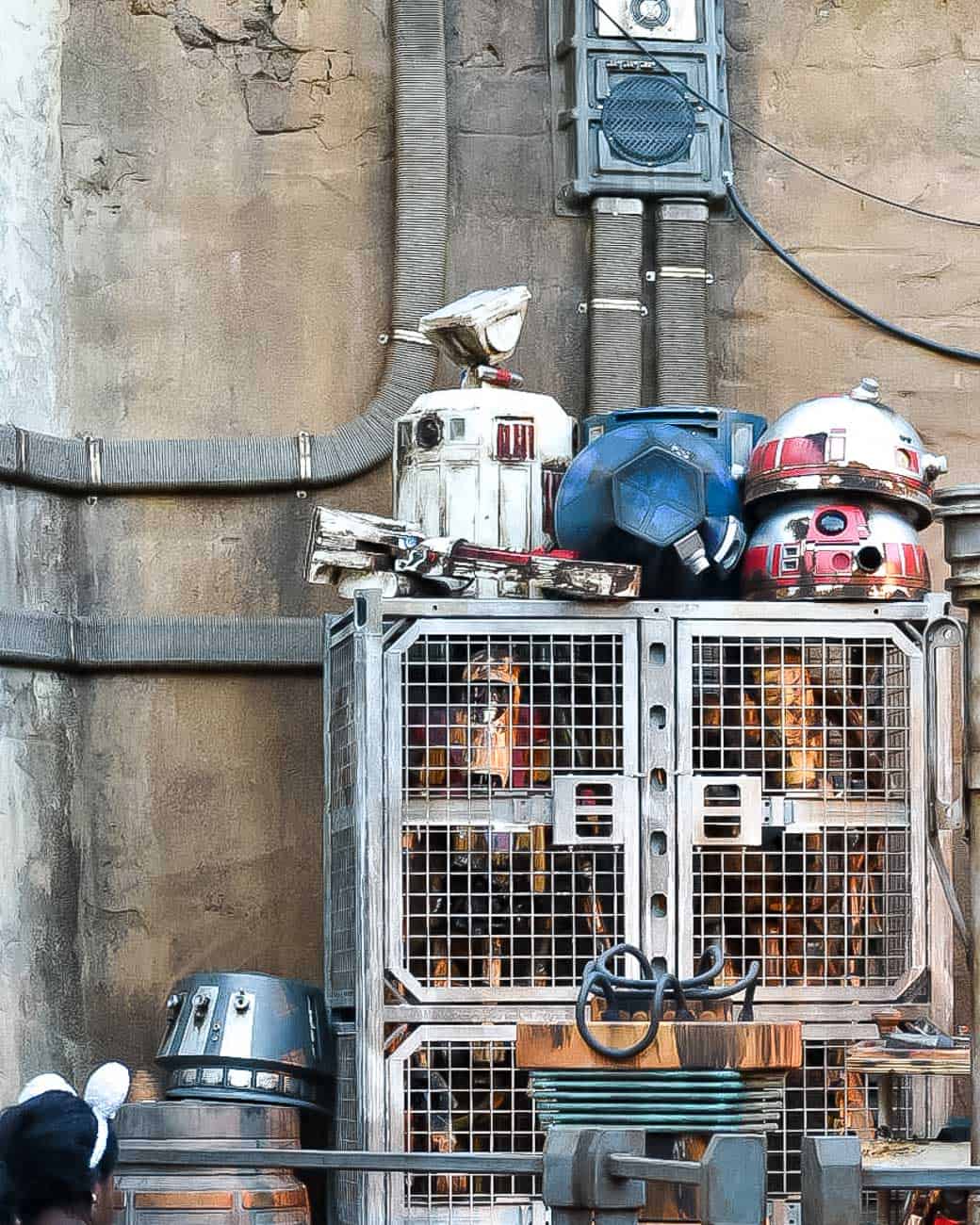 Ok, "immersive experience" sounds impressive, but what does it really mean? It means that Disney designed Galaxy's Edge to feel like every visitor is actually on Planet Batuu. Not visiting a movie set. Not visiting a Star Wars commercial, but actually being a part of the planet and everything within it.
Fun fact: you won't find the Star Wars logo or the word Star Wars anywhere in the park. There are intentionally no reminders of the world outside of Galaxy's Edge.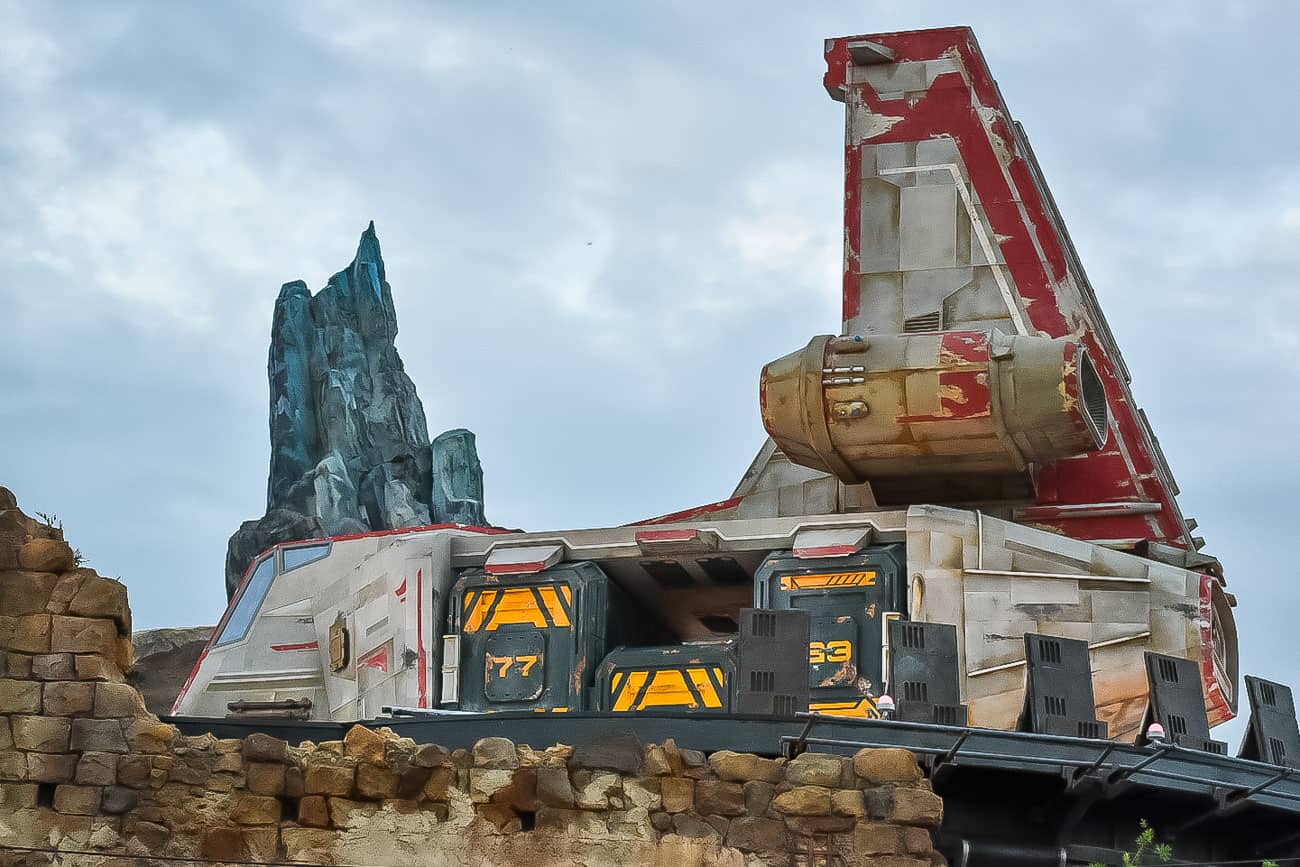 Everything from the junk-like droid piles to the stores to the drinking fountains contribute to the whole experience.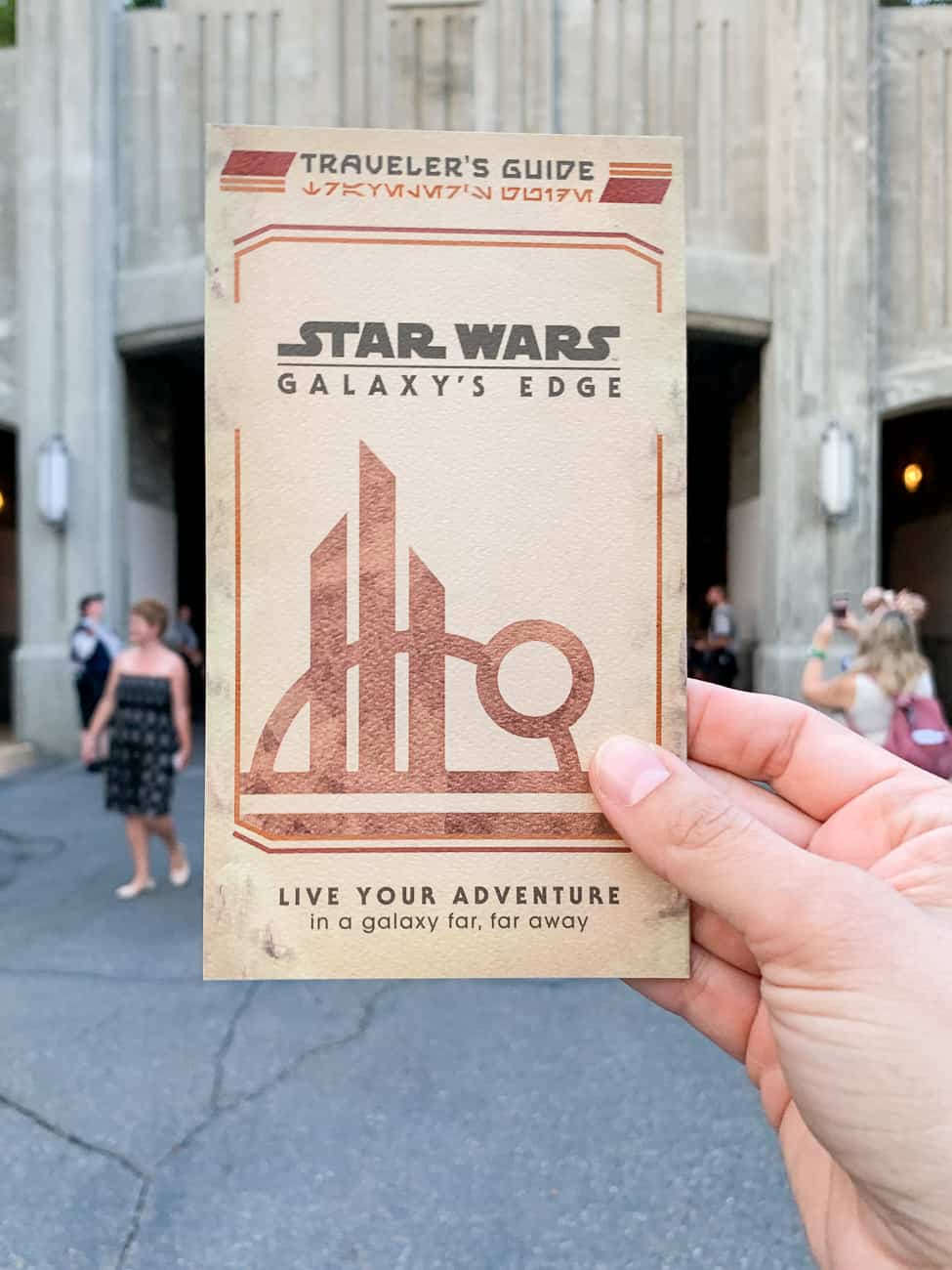 Ready to plan your Star Wars Galaxy's Edge Visit?
On top of that whole list of reasons to visit Star Wars Galaxy's Edge at Disney World, here's one more: the nest ride, Star Wars: Rise of the Resistance, is set to open in December!
I can't wait to bring my family to Galaxy's Edge and watch them take in the entire place for the first time. I know they're going to love it, and I'm sure you will, too!
Want more Disney World? Check out these posts:
Want more Star Wars? Here's more to read: