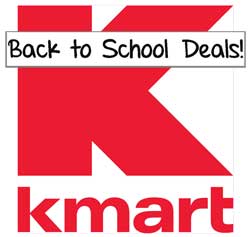 Here are Kmart's current Back to School Deals:
$0.25 and Under Items
2-pocket folders are $0.10 each, limit 4
Crayola Crayons (24 ct) are $0.25 each, limit 4
$0.75 Deals:
Roseart Colored Pencils (12 ct)
Roseart bold markers (10 ct)
Papermate pens (10 ct)
Index cards, 3×5″ (300 ct)
Microban 5″ pointed scissors
$1.50 Items
Elmer's Xtreme glue stick
Pilot EasyTouch pens (2-3 pack)
Bic assorted highlighters (10 ct)
Mechanical pencils (10 ct)
Cadoozles pencils (6 pack)
Select fashion or licensed notebooks
$3.50 Items
Ticonderoga yellow pencils (24 ct)
Avery 1″ Comfort Touch binder
$7 Items
Expo dry erase starter set (4 markers, eraser & cleaner)
Sharpie assorted markers (12 ct)
Other Back-to-School Deals
Licensed character backpacks and book totes are all $10
Save 40% on all fashion backpacks and messenger bags.
Spend $100 at Kmart this week and Shop Your Way Rewards members will earn 10,000 bonus points ($10 value). See your local ad for more details.
See all the Back to School Deals!