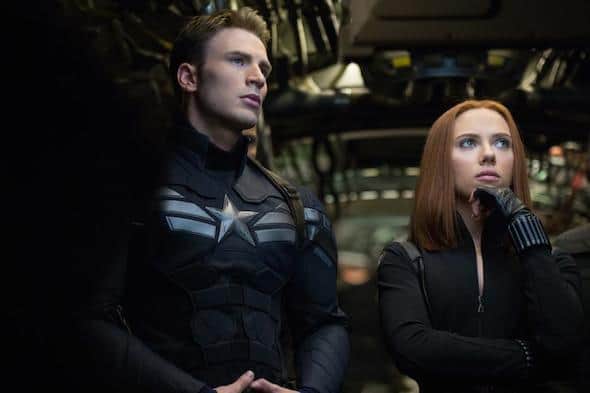 Ever since I went to the Iron Man 3 premiere almost a year ago I've been sharing bits of information about another Marvel movie: Captain America Winter Soldier.
If you've been following along, not only did I attend the Hollywood red carpet premiere of Iron Man 3, I also had the fabulous experience visiting the set of Captain America: The Winter Soldier! That set visit allowed me to:
Be one a handful of bloggers and websites to debut an amazing Captain America 2 trailer
Interview the Captain America: The Winter Soldier prop master and have my picture taken with Captain America's Shield
Watch Chris Evans, Scarlett Johansson and other Captain America Winter Soldier cast members film a scene for the the movie
Meet Chris Evans, do a quick group meet-and-greet and have my picture taken with him!
Visiting the Captain America: The Winter Soldier set (or any movie set) is one of those things that I never dreamed I'd do. Seriously, I'm from Minnesota. I had a career in corporate accounting. Now I'm a stay-at-home mom. None of those things fit with someone who visited the set of the next big movie, met a seriously handsome movie star, had some professional photos taken then left to get ready for a Hollywood movie premiere.
Just writing all that makes me sigh. I truly loved and appreciated every moment, and I'm so thankful to Disney and Marvel for making that amazing day happen!

While I was on the Captain America: The Winter Soldier Set, I got to see Chris Evans and Scarlett Johansson film this scene that took place on the Quinjet:

If you aren't able to see the above video, you can view it directly on Fandango.
The actor standing next to the radar screen providing information and answering questions is Frank Grillo. He plays Brock Rumlow in Captain America: The Winter Soldier and he could not have been nicer to the 25 bloggers who crashed the set. Here's a photo of him on the set (picture courtesy of Marvel):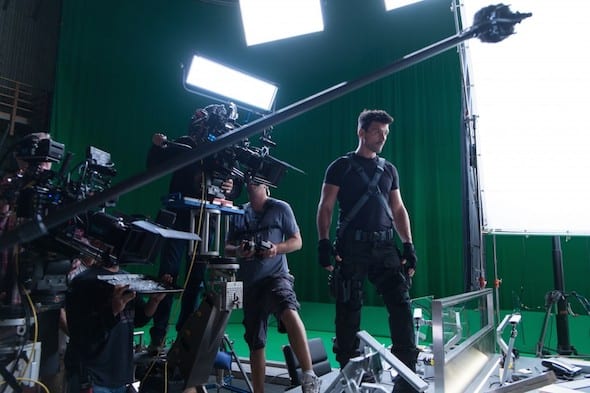 Our group understood that we needed to be quiet and respectful of everyone doing their jobs all around us. It's no secret that you shouldn't talk in the background while something is being filmed! Yet one thing that surprised me again and again during the experience was how nice everyone was! Just a few examples:
Frank Grillo came over and spoke to our group several times during filming breaks. He offered us food and beverages, he answered questions, but most of all he joked around and did a great job making us feel not only accepted but welcomed on the set.
The makeup artist on set was super-friendly. She stopped a group of bloggers on their way back from a restroom break and chatted with them for several minutes. She even said that she would have done our makeup for the Iron Man 3 premiere if she'd had the time!
Russell Bobbitt, the property master for Captain America Winter Soldier and Iron Man 3 was incredibly friendly and definitely made an effort to connect with us. You can read more  about him and Captain America's shield.
We had been informed that we would have the opportunity to meet Chris Evans and have a photo taken with him, so most of us spent the entire set visit just waiting for that moment to arrive. When it did, he approached us and we crowded around him while he spoke. The set visit had taken place just a week after the 2013 Boston Marathon bombings, and he immediately asked if any of us were from Boston. There were no Boston bloggers in our group, so he tried to talk to us about basketball. After a few nervous giggles and blank stares, Chris Evans said, "Know your audience, Chris!" and a blogger from the back called out, "How do you feel about babies?" Which was particularly funny to this group of mommy bloggers!
Chris kind of stuttered through his answer to the baby question and deflected the answer stating he didn't know how his girlfriend felt about babies, and then it was time for pictures!
We gathered ourselves into small groups and I was happy to find myself with a handful of friends. I would have been happy of a picture of myself, Chris Evans and a bunch of strangers, but it's nice to capture the memory with a group of ladies I know and love!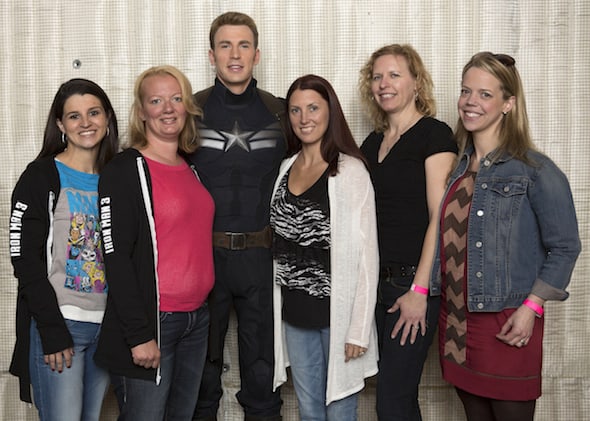 Pictured from left to right: Mellisa from MomLuck, Laura from Wheel n Deal Mama, Chris Evans (Captain America), Toni from A Daily Dose of Toni, Chrisa from ThriftyJinxy.com and me (Marybeth of Babysavers.com).
Captain America: The Winter Soldier opens in less than a month, and movie presale passes just went on sale today! You can visit the Fandango Captain America: The Winter Soldier page and order your advance tickets today!
You can currently buy Captain America on DVD or stream it from Amazon, Netflix and Redbox Instant. Then get ready, because Captain America: The Winter Soldier is being released in theaters everywhere on April 4, 2014!
Keep up with all the news about Captain America: The Winter Soldier:
Disclosure: Thanks to Disney for covering my travel expenses for my participation in this press trip. All opinions are honest and genuine. Please see my disclosure policy for additional details.