The best free Harry Potter pumpkin stencils with a variety of characters, scenes, wands, spells and more! With skill levels from beginner to expert, you'll find your favorite printable pumpkin templates to make a magical Halloween Jack-o-lantern.
Keep reading to get all the pumpkin patterns featuring everything Harry Potter!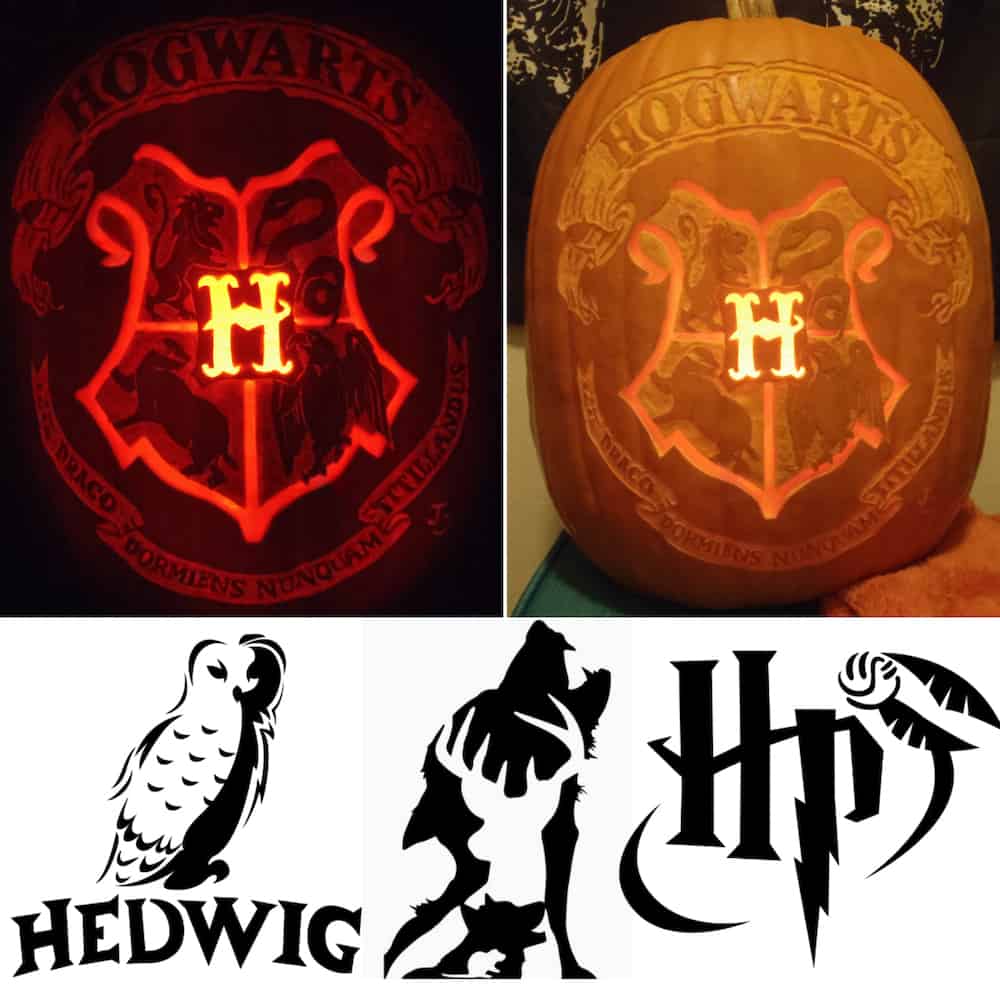 We're a big Harry Potter household. I read all the books out loud to Haiden and Piper a few years ago, and Piper has read them all again at least two times each!
James and I went to The Wizarding World of Harry Potter at Universal Studios Hollywood last year. We were so excited, we bypassed everything else to hit those rides as soon as we got to the park!
We're such big fans, and I've also noticed a lot of people looking for Harry Potter pumpkin stencils.
I had some of them shared on my huge list of 700 free printable pumpkin templates, but there are so many more out there to share!
If you want even more pumpkin patterns or some great no-carve pumpkin ideas, you're in the right place!
We have over 130 Disney pumpkin stencils, 13 Baby Yoda pumpkin stencils, Hamilton pumpkin carving patterns, 31 Disney Villain pumpkin templates. Check out 87+ cat pumpkin carving stencils and more than 700 free pumpkin carving stencils! You can also check out over 50 no-carve Disney pumpkins!
How to use these Harry Potter pumpkin stencils
Carving your Harry Potter pumpkin for Halloween isn't as complicated as you might think.
How do I know this? I had a lesson with a professional pumpkin carver who taught me how to carve a pumpkin using a template, print or stencil.
Pumpkin carving supplies
First, you don't need a pumpkin carving kit, even for complex designs. In fact, you're better off using a handful of quality tools that will last you for years.
We used to buy a flimsy kit every year that broke before the end of the Halloween season. When I got home from my pumpkin carving lesson a few years ago, I was overflowing with the need to buy just a few lasting tools. We still have them all, and they're showing no signs of wear.
Pumpkin carving tools
These are the recommended tools to make the best pumpkin possible:
If you don't have time to wait for a delivery from Amazon, you can always do free in-store pickup at Michaels. Order your items by clicking on the images below.
Supplies
In addition to those tools, you'll also need a few supplies to make carving your pumpkin easier than ever.
These are the items you'll need:
A pumpkin that fits your printed stencil
Your Harry Potter pumpkin template
A ballpoint pen
A fine-point black Sharpie (or another dark color)
It's always so much easier to order things like this from Amazon, but if you're tight on time, most are also ready for pickup at Michaels stores.
Just add the items below to your cart and you'll likely have your pumpkin carving supplies by the end of the day!
Step by Step Instructions for Pumpkin Carving
1. Clean your pumpkin.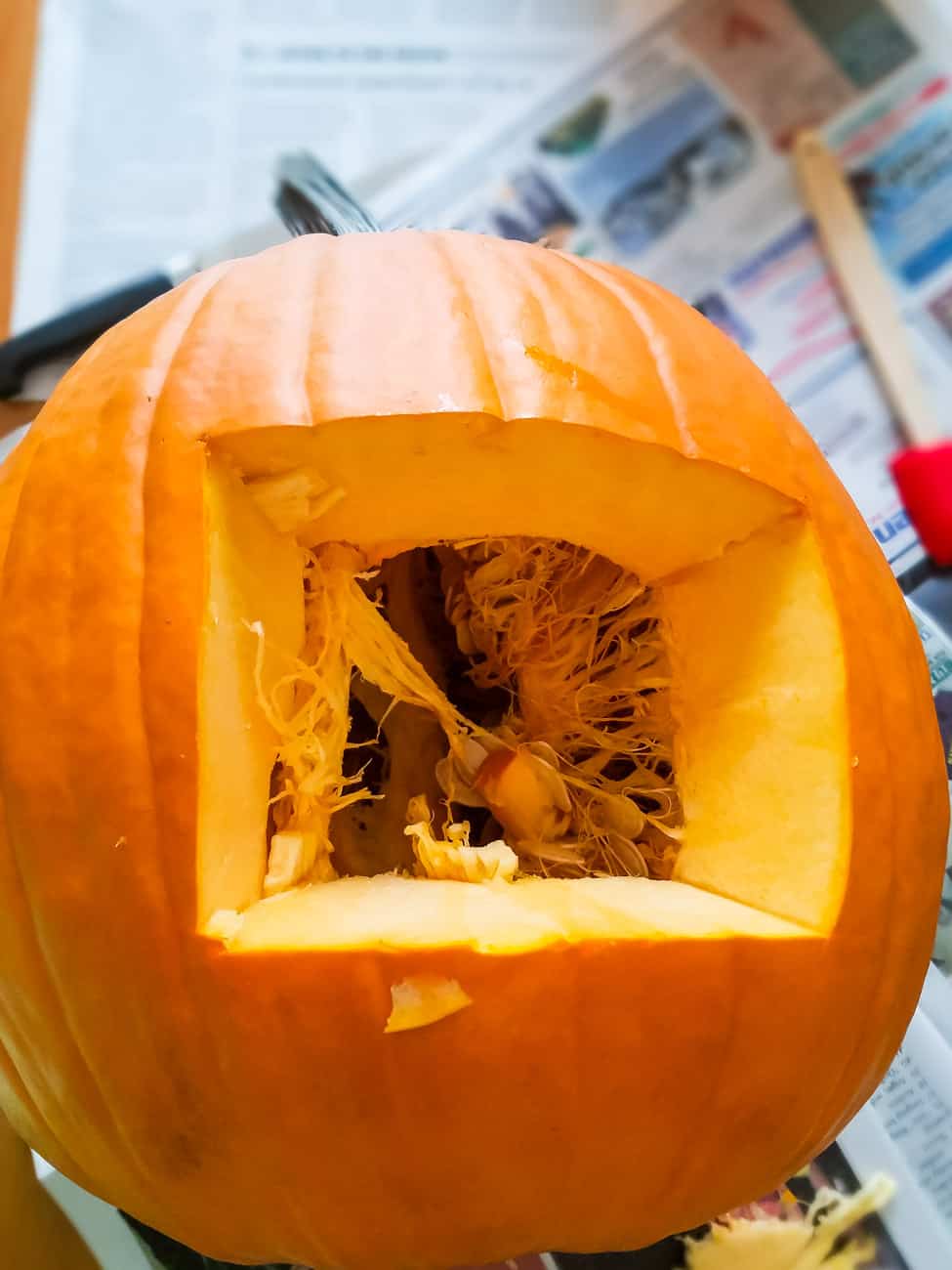 Don't remove the stem. Instead, cut a square door between 6 and 8 inches across in the back of your pumpkin instead of removing the stem. Hold the pumpkin over a garbage can and use a hard, flat tool to scrape out the pulp. Use an antibacterial wipe to clean the outside.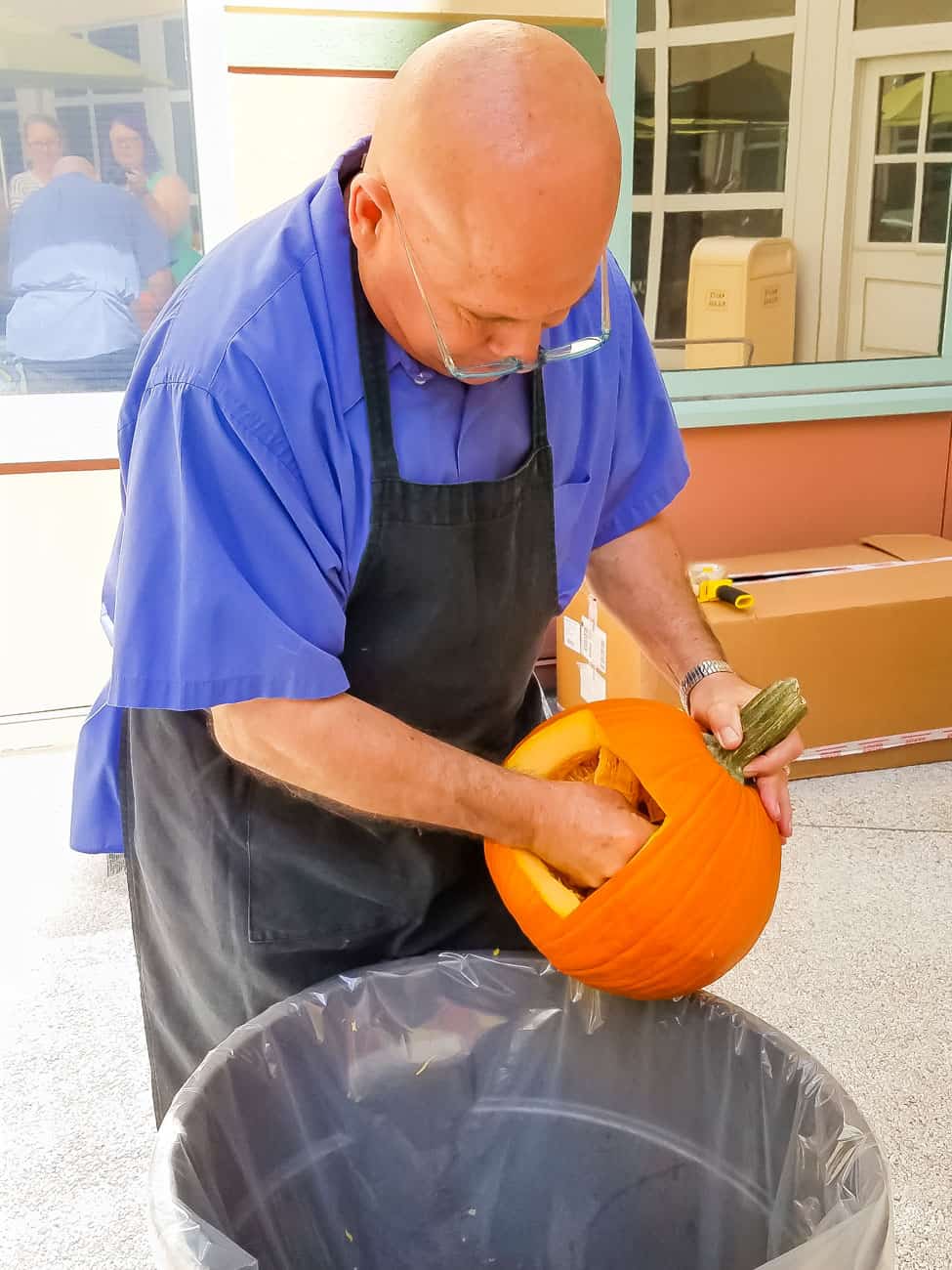 2. Print your template.
Print out your favorite Harry Potter stencil onto 8.5″x11″ paper.
3. Trace and transfer.
Put your printed stencil on top of a piece of carbon transfer paper and pin it to your pumpkin using the pushpins. Use a ballpoint pen to firmly trace over every line on your stencil. This will transfer the design to your pumpkin.
Remove the template and the carbon paper and trace over all carbon lines with your permanent marker.
4. Scrape the template's grey areas.
If there are grey areas in your pumpkin design, use the ribbon tool for wide sections to scrape the top layers of the pumpkin off without cutting all the way through the flesh. Use the linoleum cutter for narrow areas. This will allow some light through without the same intensity as the fully cut parts.
5. Carve your pumpkin.
Use your sharp, pointed knife or blade to carefully cut along the marked lines on your pumpkin.
6. Clean the outside of your pumpkin.
Use a wipe to clean excess Sharpie lines and carbon transfer dust off your pumpkin.
7. Light your pumpkin.
Use a small, bright flashlight, a LED push light or a corded light bulb to light your pumpkin from the inside.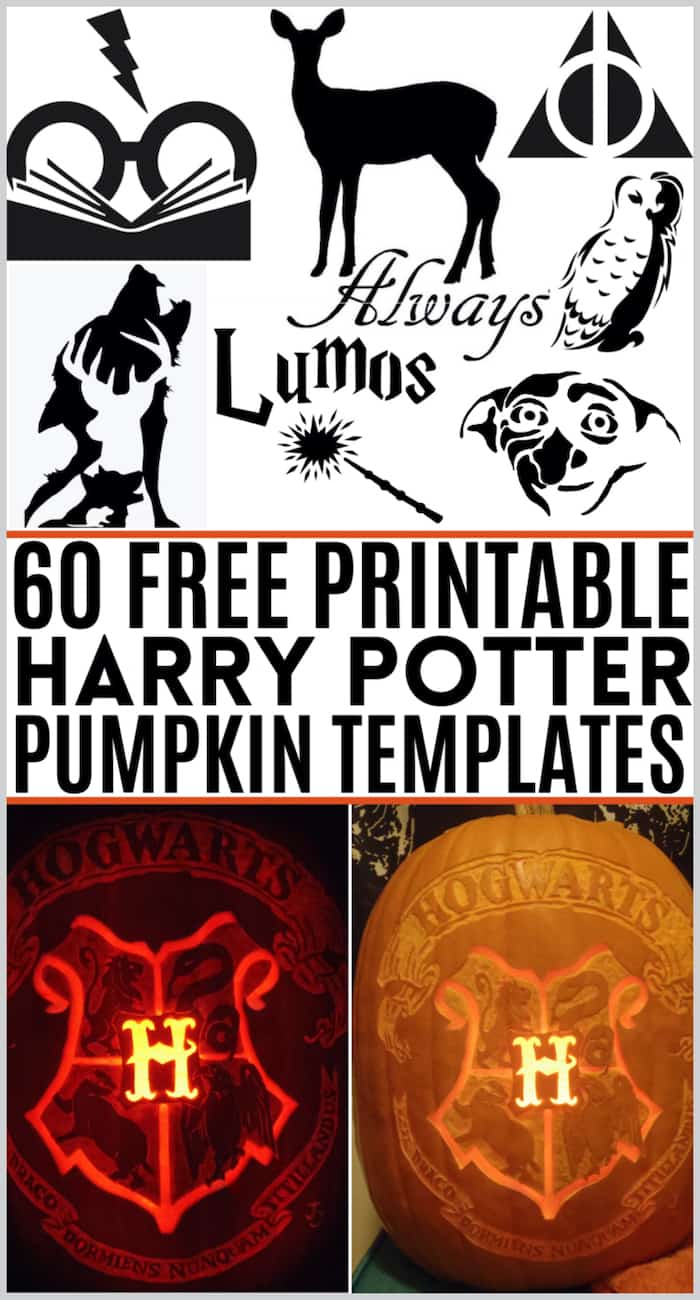 Harry Potter Pumpkin Stencil Ideas
I've put these free printable templates into a few different categories so you can find what you're looking for.
If you need something simple, there are plenty of easy printables for beginner pumpkin carvers.
There are classic designs, silhouettes, logos, text, wands and props and more. We have them all!
Harry Potter pumpkin stencils
This Harry Potter pumpkin pattern has extra detail and instructions for how to cut out his glasses.
This Harry Potter pumpkin template is easier than the first one, but your pumpkin also won't have as many details.
I love this abstract Harry Potter pumpkin stencil!
I really like this pumpkin pattern with Harry Potter's face.
Here's a silhouette pumpkin stencil of Harry Potter holding his wand.
You can also download this free Harry Potter stencil.
Hermione pumpkin templates
Download this Hermione pumpkin template!
Here's a full-size Hermione stencil. Note that the image isn't inspired by the movies.
Here's another great Hermione pumpkin pattern.
Ron Weasley stencils
This character-inspired silhouette of Ron Weasley would be perfect cut out of a pumpkin.
Here's a stencil of Ron Weasley from the movies.
Dobby pumpkin stencil
I love how this Dobby stencil works on pumpkins!
Draco Malfoy printable pumpkin pattern
Download this silhouette of Professor Severus Snape standing over Draco Malfoy.
Albus Dumbledore pumpkin pattern
You can get these silhouette printables of Dumbledore and Fawkes the phoenix. Use them together on the same pumpkin or split them up.
Snape pumpkin template
Download this Severus Snape printable pumpkin pattern.
I love this Snape pumpkin template! Download this stencil and follow these directions: White – don't cut, Grey/Dots – remove pumpkin skin without cutting, Black – cut out.
He Who Shall Not Be Named: Voldemort pumpkin stencil
Use this printable for the outline of both Voldemort and Nagini the snake.
This Voldemort stencil is far more dtailed and much more scary.
Professor McGonagall Pumpkin Template
Here's one of the few Minerva McGonagall pumpkin stencils. Use these instructions: White – don't cut, Grey/Dots – remove pumpkin skin without cutting, Black – cut out.
Bellatrix Lestrange pumpkin
Download this stencil and follow these directions: White – don't cut, Grey/Dots – remove pumpkin skin without cutting, Black – cut out.
Neville Longbottom pumpkin stencil
Here's a rare Neville Longbottom stencil. Carve your pumpkin with these instructions: White – don't cut, Grey/Dots – remove pumpkin skin without cutting, Black – cut out.
Get another version of the Neville template here.
Pumpkin stencils of other Harry Potter characters
Here's a great pumpkin template with Harry Potter, Hermione and Ron.
Carve a dementor pumpkin (or several pumpkins) with this stencil.
Hogwarts castle stencil
Cut out the black parts of this stencil and you'll have an awesome Hogwarts pumpkin.
Hogwarts Crest pumpkin stencils
Carve all four houses into your pumpkin with this Hogwarts Crest stencil.
This one is for advanced pumpkin carvers only. Use this Hogwarts crest stencil to make an impressive pumpkin.
Here's one that's much easier! Get this Hogwarts crest stencil here.
Hogwarts Houses pumpkin stencils
Get the Gryffindor House stencil here.
The Ravenclaw stencil can be downloaded here.
Download the Slytherin pumpkin stencil here.
You can get the Hufflepuff house stencil here.
Patronus pumpkin carving patterns
Check out this amazing pumpkin stencil of a dementor with Harry's stag patronus inside it.
Use this stencil of a doe patronus and the text Always.
Hedwig pumpkin stencils
Download this Hedwig pumpkin stencil.
This owl pumpkin stencil is perfect for creating a Hedwig pumpkin.
Pumpkin templates for Harry Potter objects
Download this outline of Mr. Weasley's flying car.
Make a Quiddich pumpkin with these printable stencils of broomsticks, a quaffle and the golden stitch.
Use this 9 3/4 stencil to carve a Kingscross Station platform pumpkin.
Here's a very simple pumpkin stencil of the golden snitch.
Carve a Marauders pumpkin with these stencils! Get Wormtail, Prongs and Padfoot pumpkin patterns in their animal forms: a stag, a dog and a rat.
This Wormtail, Prongs, Padfoot and Mooney pumpkin stencil is fantastic.
Print these stencils for the Sorting Hat, a quill and Hedwig the owl.
Are you a fan of Professor Lupin? Use this werewolf pumpkin stencil to carve your tribute to him.
This phoenix pumpkin stencil is perfect for your Fawkes pumpkin.
Print and use this stencil for the Goblet of Fire.
Are you a Slytherin? Use this stencil of The Dark Mark to show your house.
This Dark Mark pumpkin stencil has the following instructions: White – don't cut, Dots – remove pumpkin skin without cutting, Black – cut out.
Get this pumpkin pattern for the Sorting Hat.
Here's a stencil of The Deathly Hallows that will work perfectly on a pumpkin.
Text and logos from Harry Potter
Use this pumpkin carving pattern to cut out the Harry Potter logo.
Another Harry Potter logo stencil can be found here.
I love this HP logo with the golden snitch.
Here's another HP logo pumpkin stencil.
Get this Lumos stencil that includes a sweet wand.
10 points? Show your support with Roar Roar Gryffindor stenciled on pumpkin.
Download and print the logo for The Ministry of Magic.
Do you support S.P.E.W.? Get the stencil for Hermione's cause, the Society for the Promotion of Elfish Welfare.
Everyone's favorite musical act also has a logo! Download the pumpkin stencil for The Weird Sisters.