We're sharing all the Disney pumpkin stencils you need for Halloween this year! Disney fans will love these free Disney pumpkin carving templates with characters, classic cartoons, Disney World and Disneyland snacks, Star Wars characters and Marvel favorites!
Disney pumpkin stencils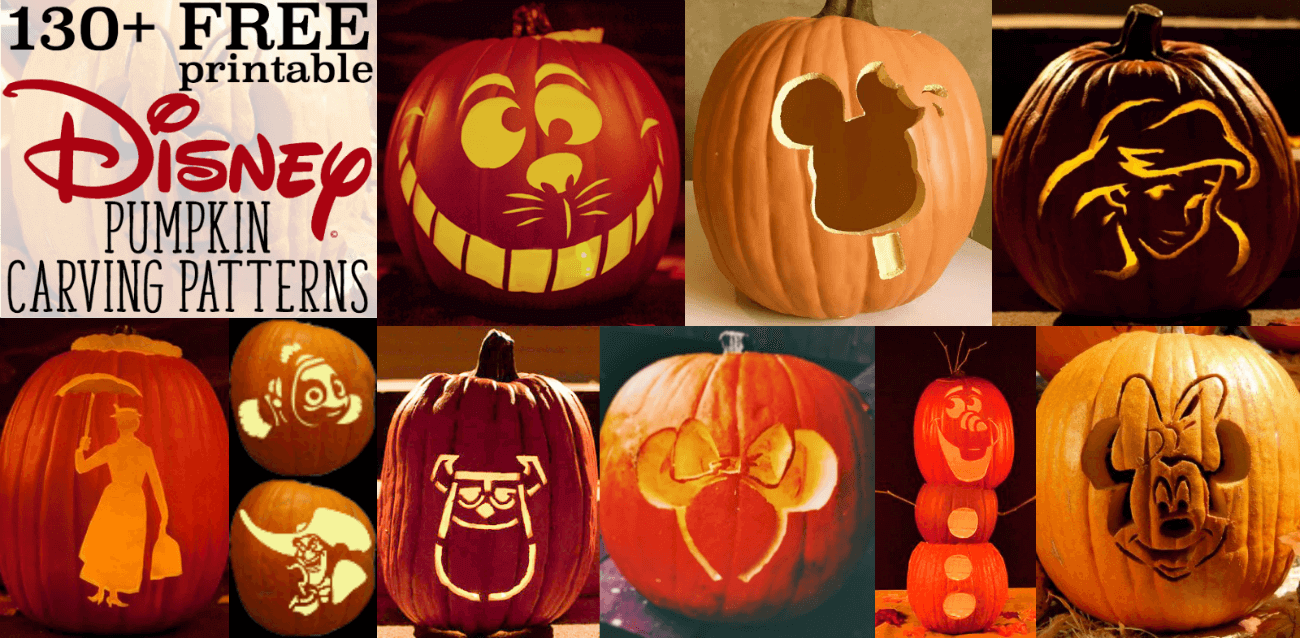 Marybeth's note: this Disney pumpkin carving article was updated with more links, images and content in October 2023. I'm just keeping everything fresh for you!
This is a big post with a lot of content! Use the links in the table of contents below to jump to the section you're looking for, or just scroll down, enjoy the pictures and see everything we've rounded up.
Who's getting ready for Halloween? I'm feeling like I'm the most prepared that I've ever been for this holiday.
My kids have their costumes. We have a plan for where they're going to trick-or-treat. We know where and when the trunk or treats are.
I haven't made any Halloween party foods yet, but I still have time!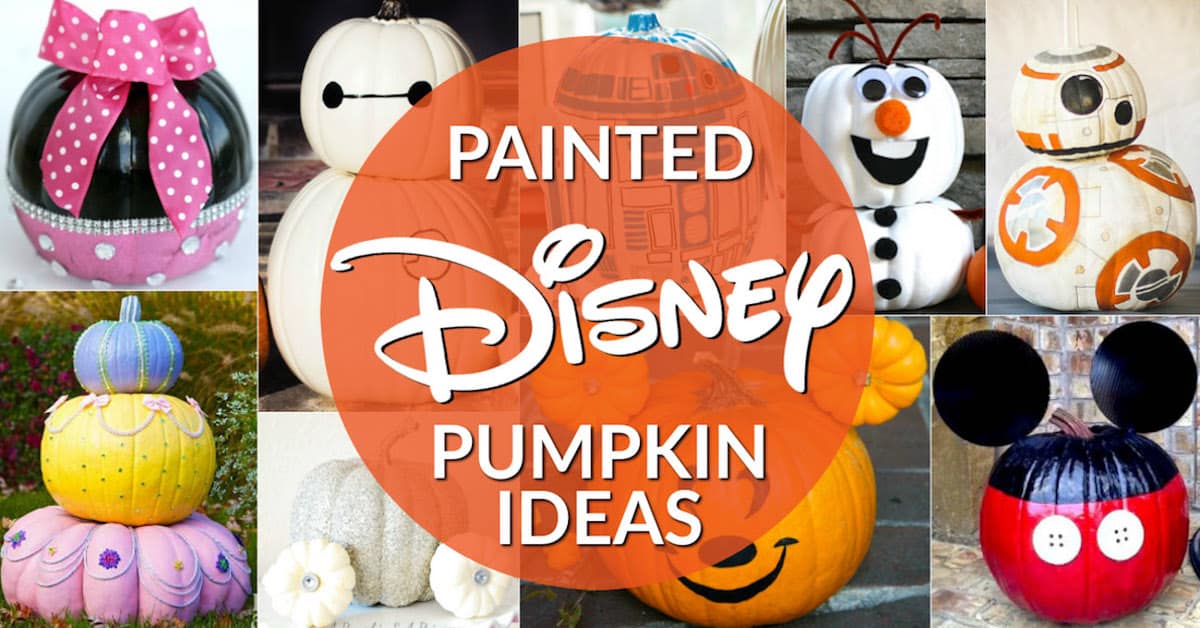 Related: Don't miss all these Disney painted pumpkins!
A few years ago I put together a post with over 700 free pumpkin carving patterns. I didn't know it when I published it, but that article has been one of the most popular ones on the site ever. It's even been pinned over 3 million times on Pinterest!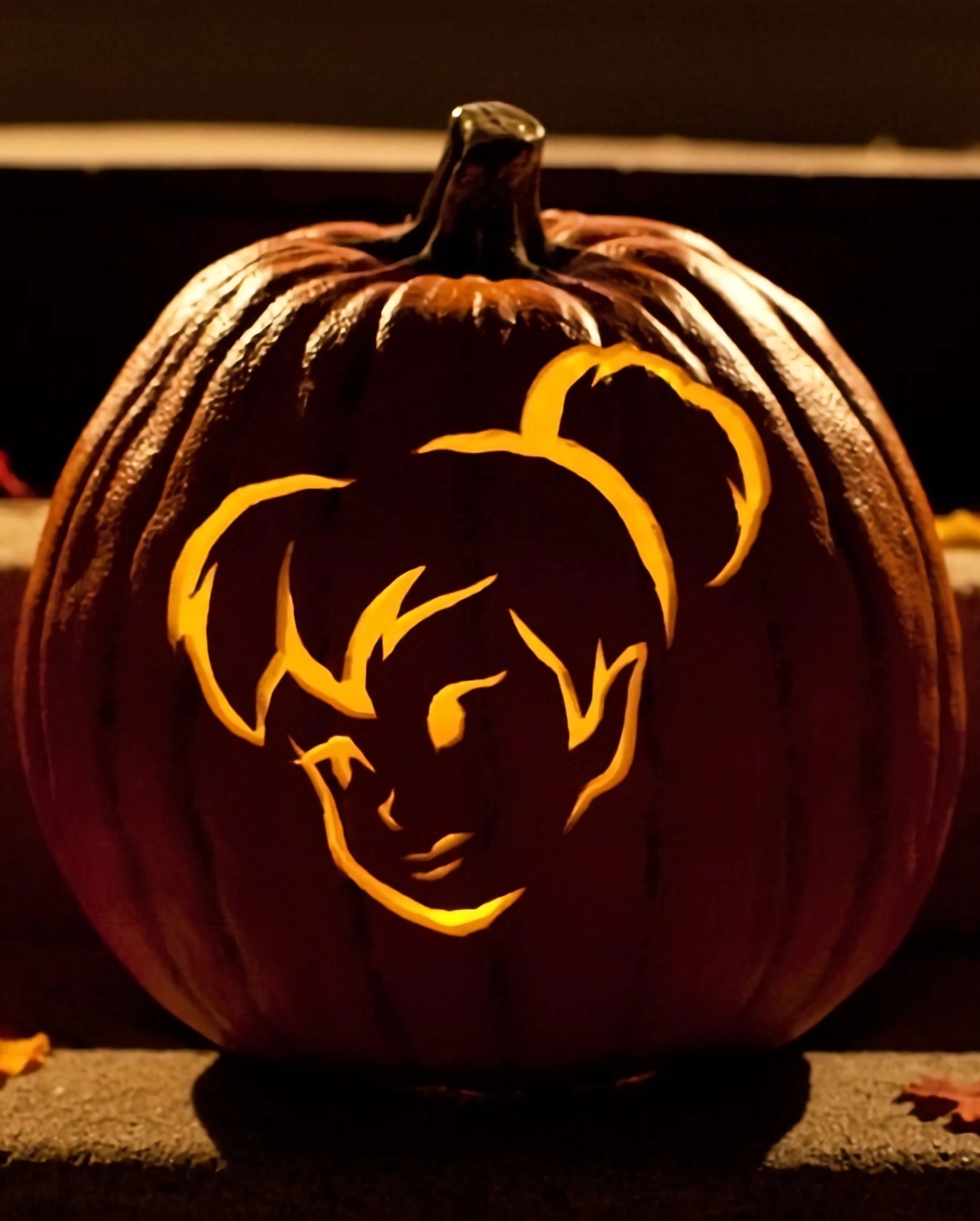 I think it's because of that article that I'm more interested than ever in unique pumpkin designs and patterns! Of course, since I love Disney, and I started seeing an array of unique Disney pumpkin stencils.
There really wasn't an easy place where I could find all of them, so I'm making one. This is now the ultimate place to find Disney pumpkin stencils! I have over 130 of them for you.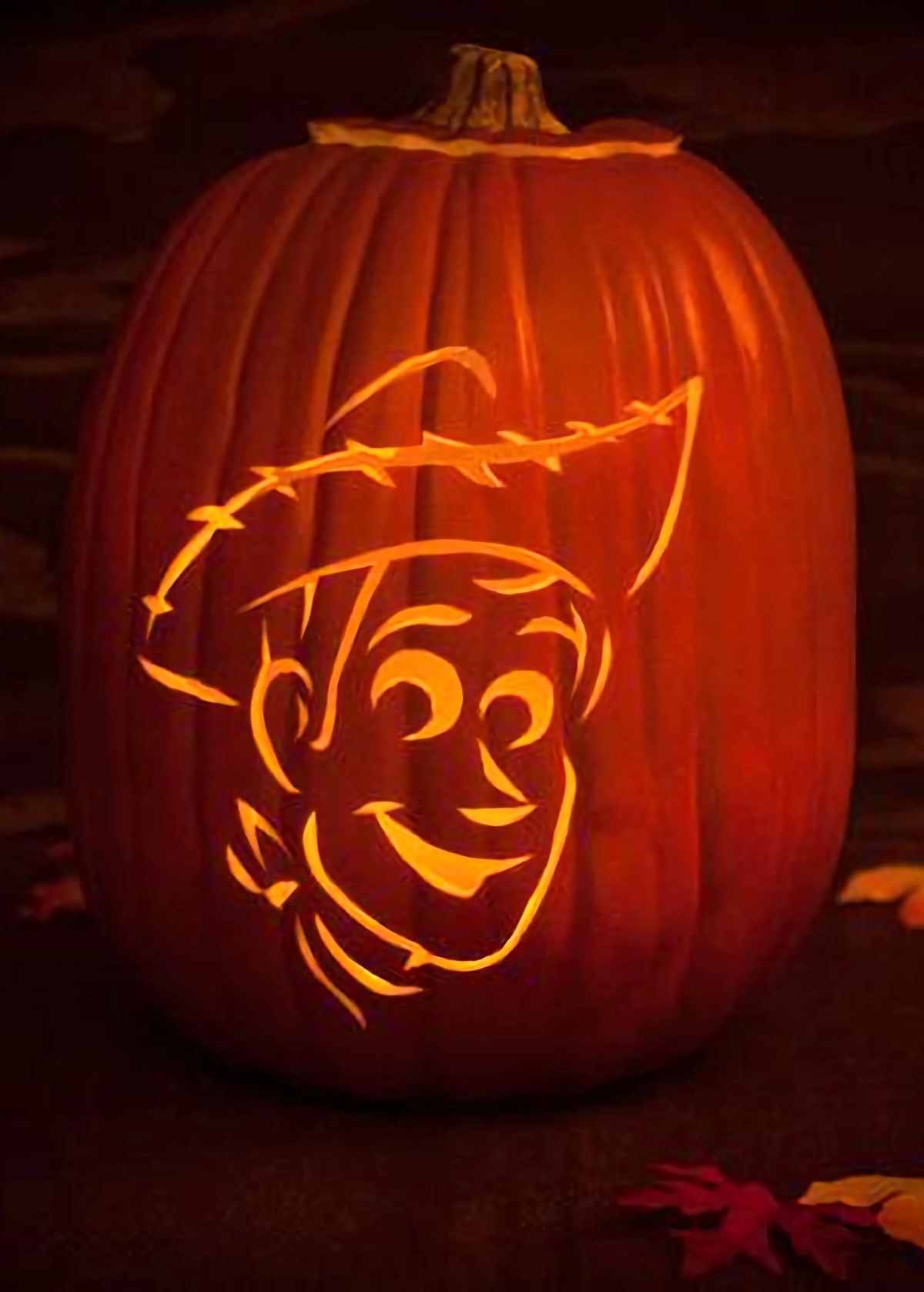 You can also print out my original 13 Hamilton pumpkin carving patterns, 87+ cat pumpkin carving stencils, over 60 Harry Potter pumpkin stencils, 100 Pokemon pumpkin stencils, and plenty of free printable Venom pumpkin stencils!
Check out this video with amazing Disney pumpkin carving stencils:
Scroll down to see all 150+ Disney pumpkin stencils!
You'll be happy to see I've broken down the assortment of Disney pumpkin stencils into sections to make it easier to find what you're looking for.
Below you'll find Disney princess pumpkin stencils, Toy Story stencils, Star Wars printable pumpkin patterns, Marvel pumpkin stencils and so many more!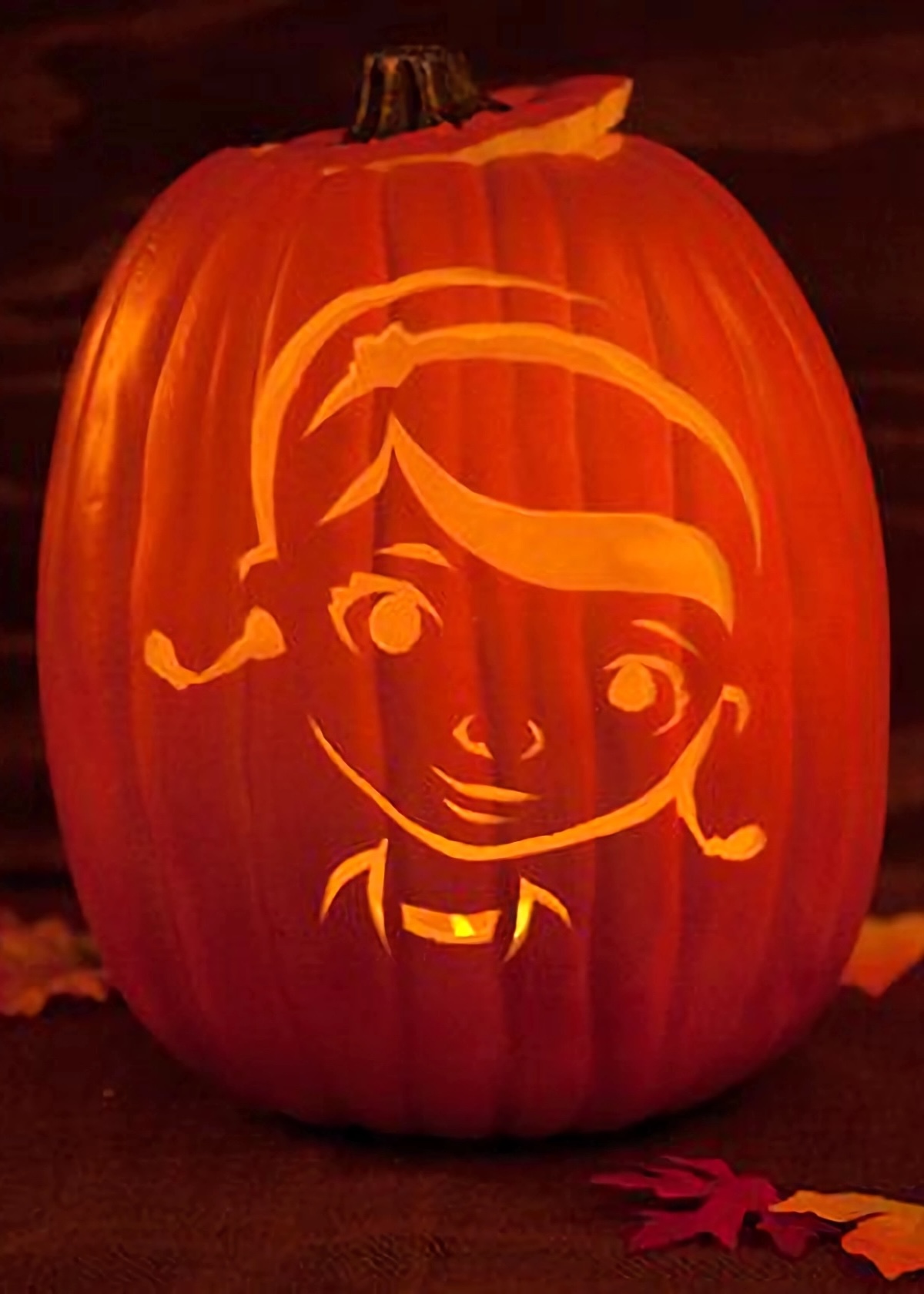 Pumpkin carving tools
My #1 advice before you start using these Disney pumpkin stencils: make sure you have the right pumpkin carving tools for the job.
Speedball Linoleum Cutter Assortment
J.A Henckels 5-Inch Pro Serrated Knife
I worked with a real master pumpkin carver last year and he said that graphite transfer paper is the best for tracing your pumpkin stencil onto your pumpkin.
He also said that a linoleum cutter and a quality serrated knife are two of the best tools for creating your jack-o-lantern!
These pumpkin carving tools would also work great for your Disney pumpkin stencils:
The Ultimate Pumpkin Carving Kit

Halloween Sculpting Kit (21 Tools) for Jack-O-Lanterns

Messermeister 3-Piece Pumpkin Meister Carving Kit

Dakota Products Pumpkin Gutter & Carving Tool

Wood and Brass Pro Pumpkin Carving Tool Kit

Ray Villafane Professional Pumpkin Carving Tools

Even after all that advice, I'm so in love with my Cricut smart cutter I'll probably use it to cut out our Disney pumpkin pattern this year. Read my Cricut Explore Air 2 review to see why I love it so much.
You're also going to need safe lighting for inside your amazing Disney pumpkin. The master pumpkin carver recommended a light bulb on a cord for the brightest illumination from within the pumpkin. This one is only $3.99 and it should last for several years!
If you don't have an outlet or if you'd rather go the battery-operated route, here are more options for lighting your pumpkin: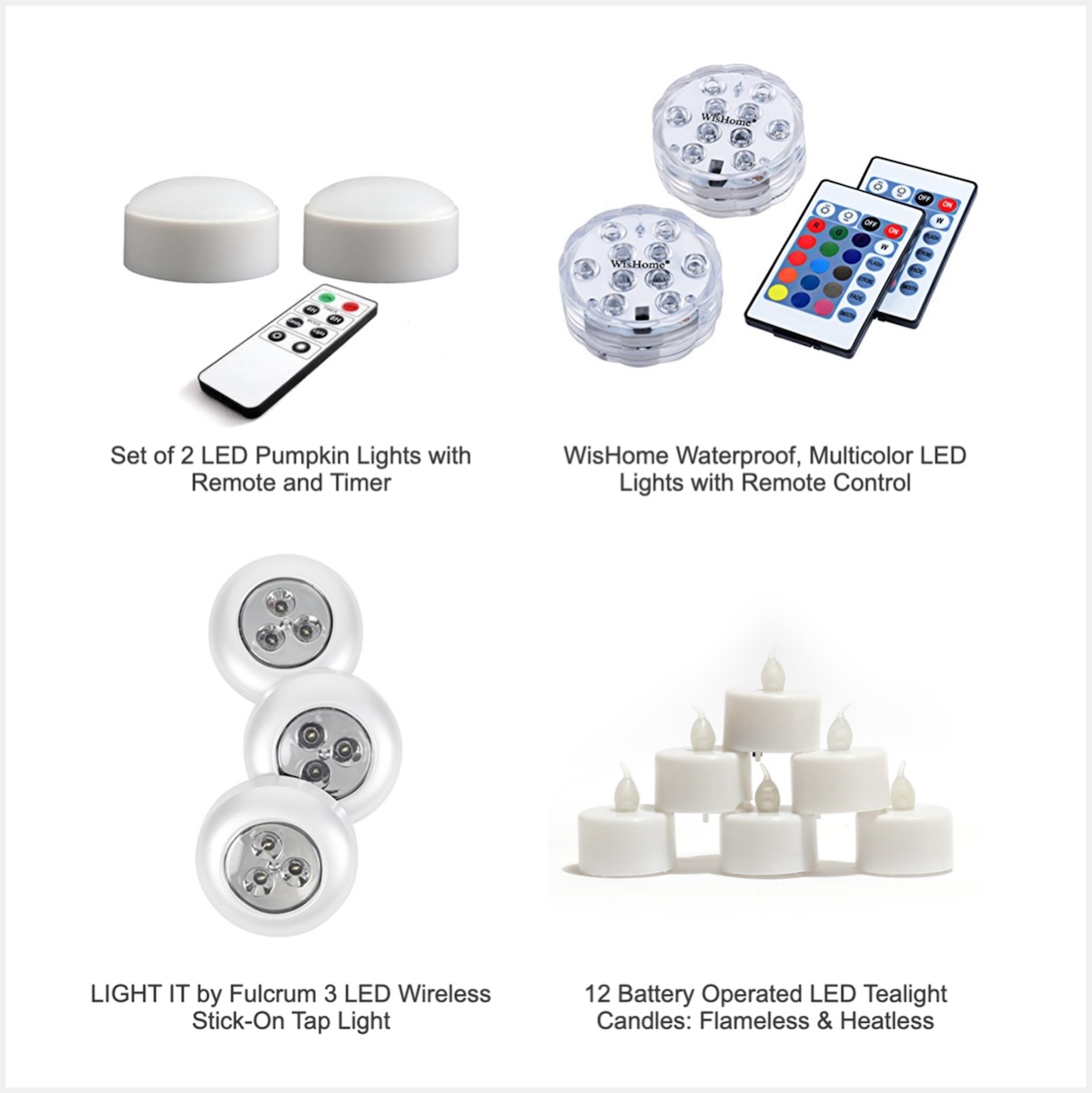 Disney Pumpkin Stencils
This is the big list! While the title and images for this post show 130 free pumpkin templates, there are actually more than 150 Disney pumpkin stencil PDFs available here!
Just follow the various links below to get to the free printable pumpkin stencils.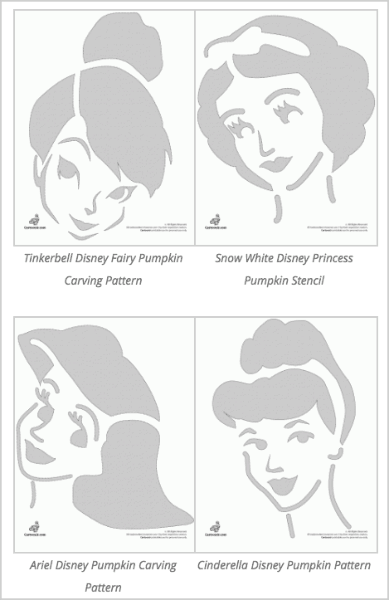 Woo Junior has 18 Disney villains, Disney princess pumpkin stencils and other Disney characters.
Disney Pixar printable pumpkin patterns
See your favorite Finding Dory pumpkin stencils! Choose from Dory, Hank and others.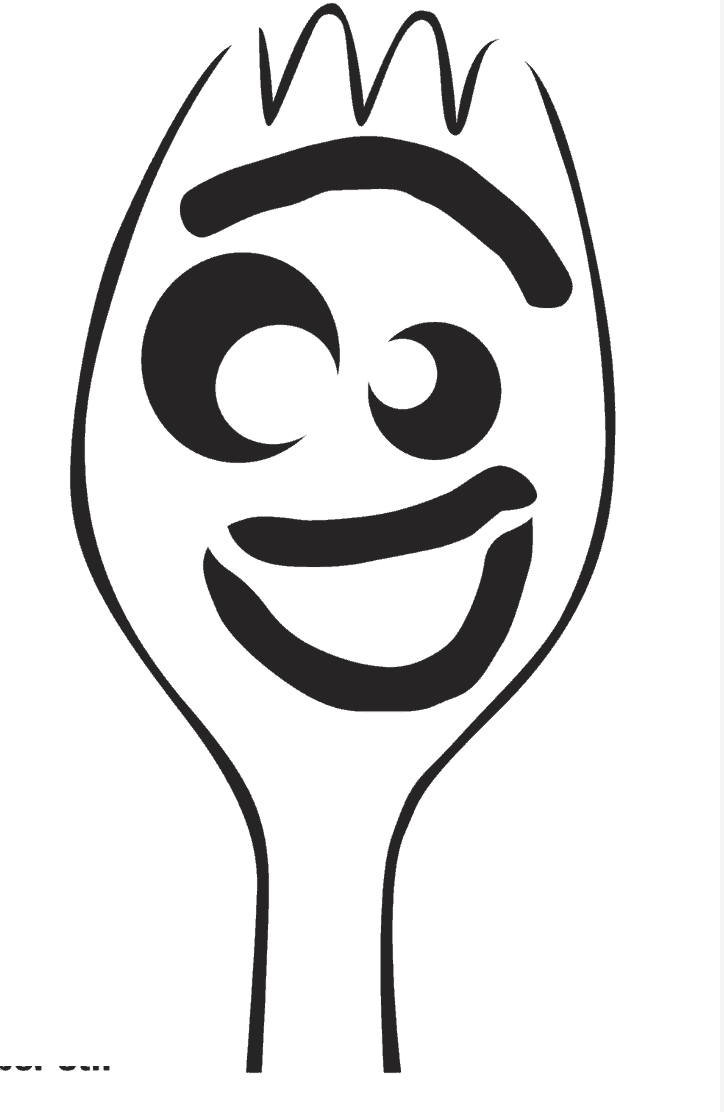 Looking for printable Toy Story pumpkin stencils? Get this printable Forky pumpkin template!
Disney villains pumpkin stencils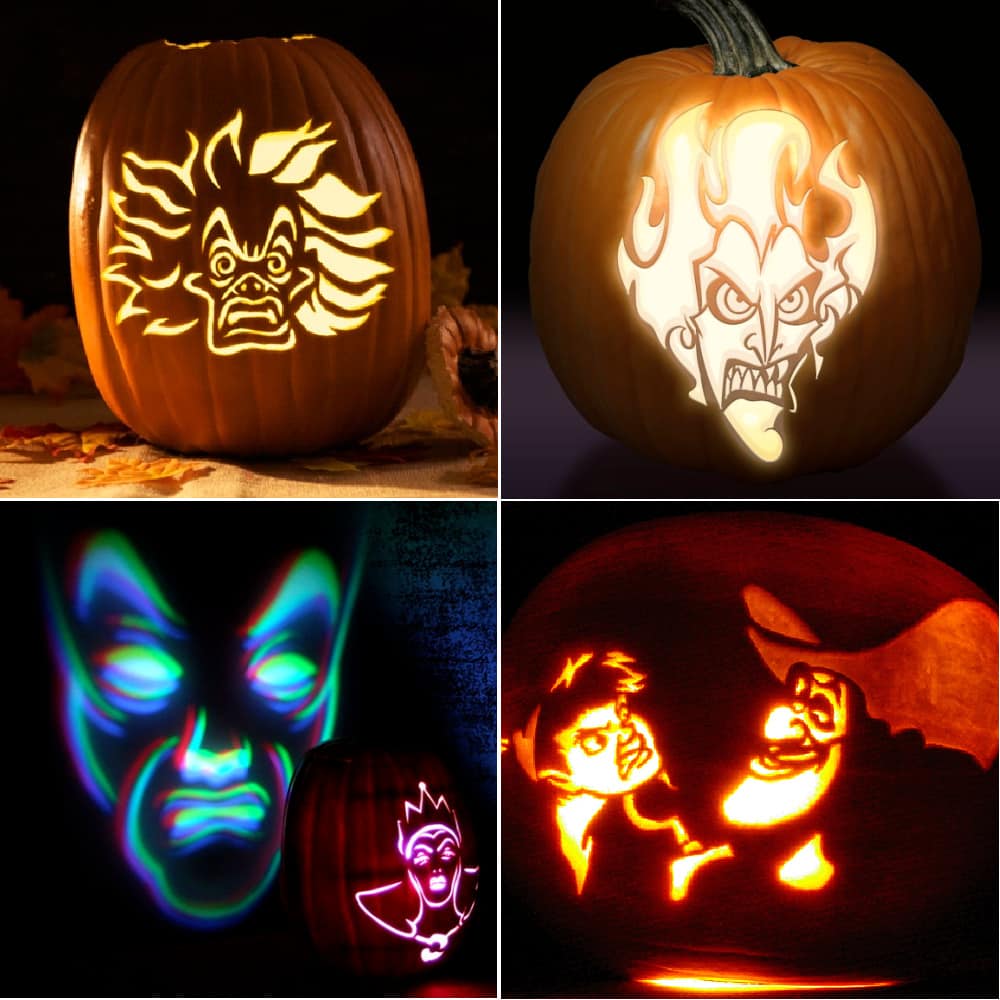 Get all the Disney Villain pumpkin stencils in one place!
Click here to get these printable pumpkin patterns of these favorite wicked Disney characters:
Ursula
Hades
Cruella de Vil
Maleficent
Maleficent's dragon
Maleficent's Fury
The old witch
The wicked queen
The Evil Queen
The Face in the Magic Mirror
The poison apple
Captain Hook
The Jolly Roger symbol
Dr. Facilier
Scar
Jafar
The Queen of Hearts
Shan Yu
Chernabog
The Horned King
Frollo
Prince John
Sir Hiss
Shere Khan
Hopper
Ratigan
Oogie Boogie
If you're not sure who some of those characters are, you'll also find explanations of who they are and what Disney movies they're from on the same page.
The Nightmare Before Christmas Pumpkin Patterns
Here are 33 seriously unique printable Jack Skellington pumpkin stencils!

Star Wars pumpkin carving stencils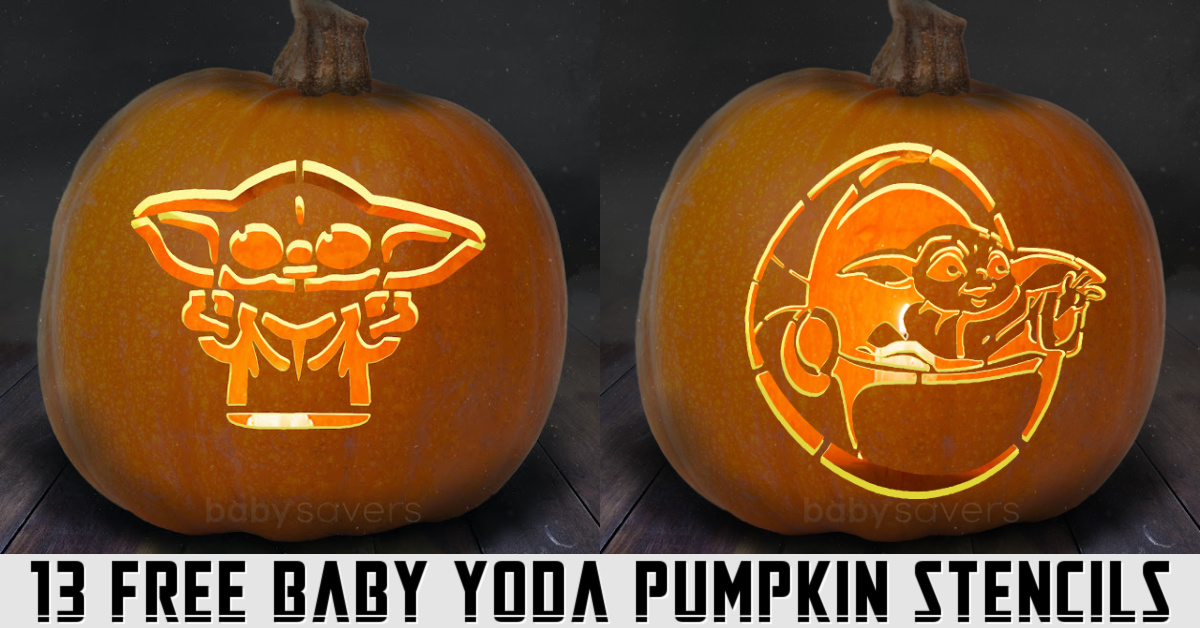 It's your favorite character from The Mandalorian on Disney Plus! Click to get 13 free Baby Yoda pumpkin stencils! You'll find the following stencils:
Easy stencils
Baby Yoda silhouettes
The Child in his carrier
Baby Yoda with The Mudhorn
Smiling Baby Yoda
Serious Baby Yoda
Baby Yoda with The Mandalorian logo
Find directions and a printable pumpkin stencil for how to make a Stormtrooper pumpkin at Starwars.com.
Marvel pumpkin stencils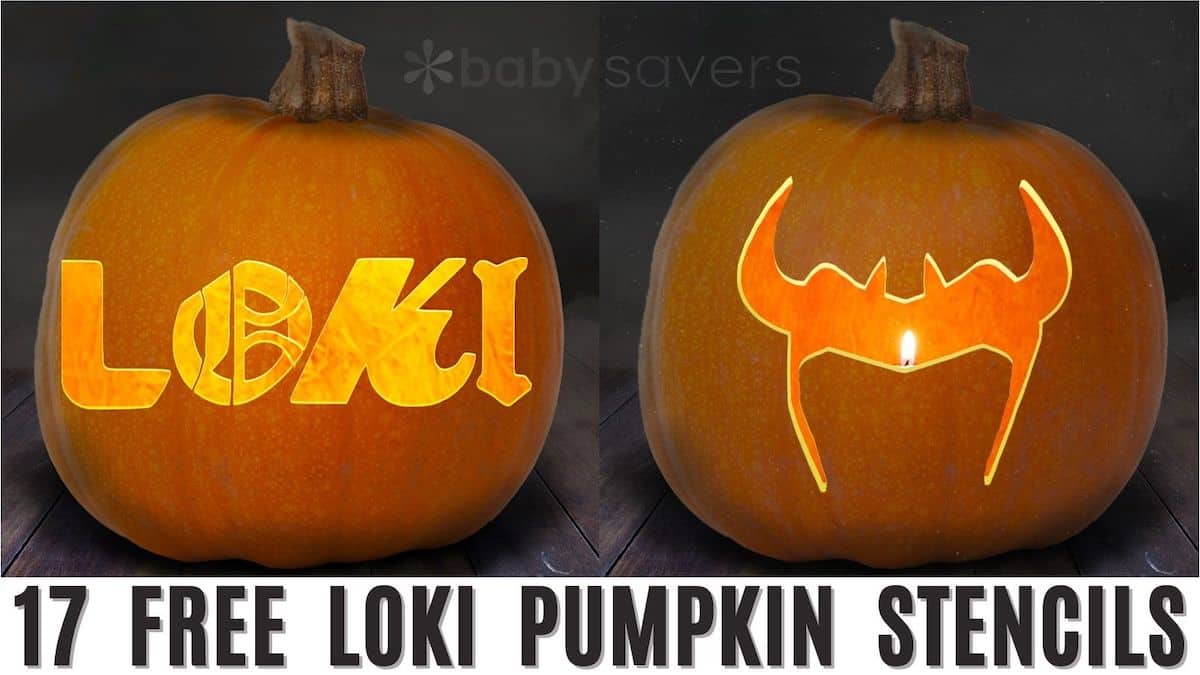 Love Marvel and Disney+? Here are 17 different Loki pumpkin stencils. There are easy patterns, silhouettes, quotes and more!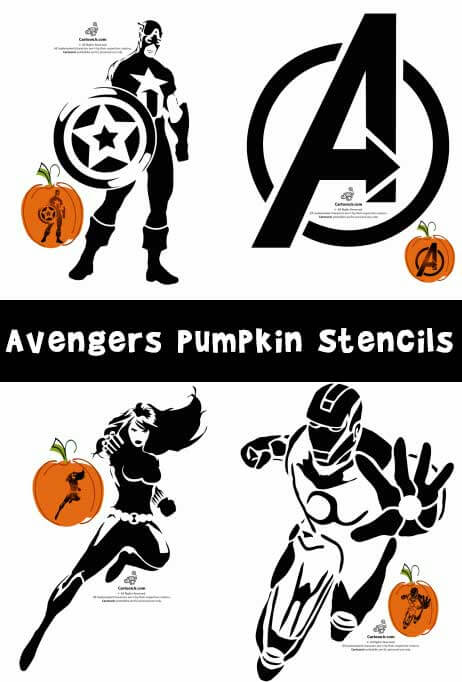 Stick around Woo Junior and find 6 Marvel pumpkin carving stencils.
Disneyland and Disney World pumpkin stencils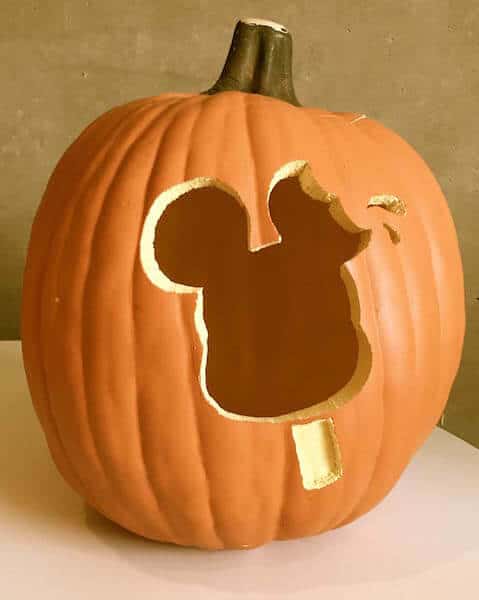 These are 2 of my my favorites! Oh My Disney has famous Disney World and Disneyland foods in pumpkin pattern form.
Pumpkin Glow's Favorite Animated Films page has 7 Disney pumpkin stencils from contemporary movies like Finding Nemo, Finding Dory, Up, Frozen and more!
Creative Types has a variety of 5 Disney pumpkin stencils, including a Tinker Bell pattern, Snow White, Chewbacca and others.
Disney Pixar Slow Cooker, 7 quartSee product details
Disney Mickey & Friends 5-Pack SocksSee product details
Disney's Beauty & the Beast Chip Ceramic MugSee product details
Disney Family House Rules PrintSee product details
Thomas Kinkade: The Disney Dreams Collection 2024 CalendarSee product details
Disney Magic Holiday Fireworks and Sound LED ProjectorSee product details
Pumpkin Glow has 3 traditional Disney pumpkin patterns including Hercules and Beauty and the Beast.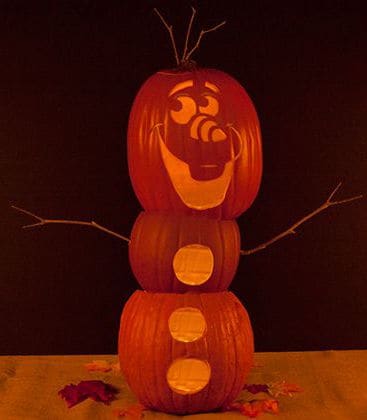 The Disney website has 8 pumpkin carving stencils for these characters:
Wreck-it Ralph
Kermit the Frog
Olaf
Jack Skellington
Ariel
Snow White
Tow Mater
Sofia the First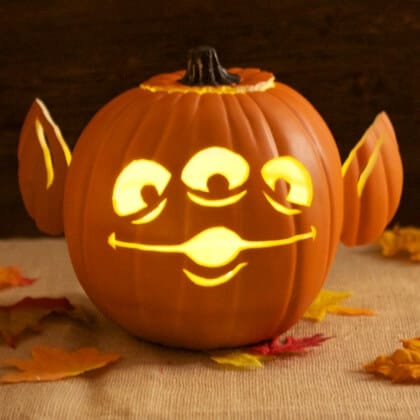 Keep reading The Disney site for 10 more Disney pumpkin patterns:
Donald Duck
Woody
Goofy
Toy Story alien
Tigger
Winnie the Pooh
Phineas
Doc McStuffins
Pretty Little Liars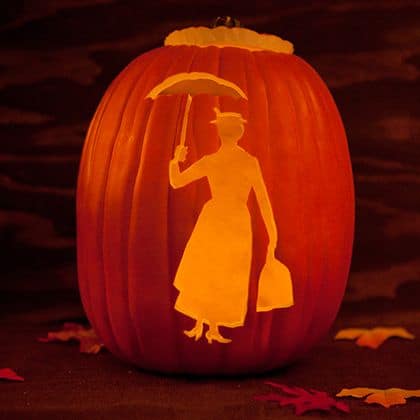 You'll also find these 10 Disney pumpkin carving stencils on the Disney website:
Rapunzel from Tangled
Jake and the Never Land Pirates
Mike Wazowski from Monsters Inc.
Cruella De Vil
Cheshire Cat
Minnie Mouse
Mary Poppins
Lightning McQueen
Sully from Monsters Inc.
Stitch from Lilo and Stitch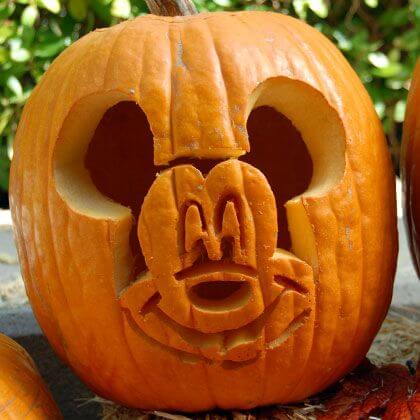 Another batch of pumpkin stencils on the Disney Family site include these 6:
Vampire Mickey Mouse
Agent P
Mickey Mouse
Tinker Bell
Perry the Platypus
Ferb
Check out Pumpkin Glow's 10 Star Wars pumpkin patterns.
Find 18 classic Disney printable pumpkin stencils on the Disney Family website!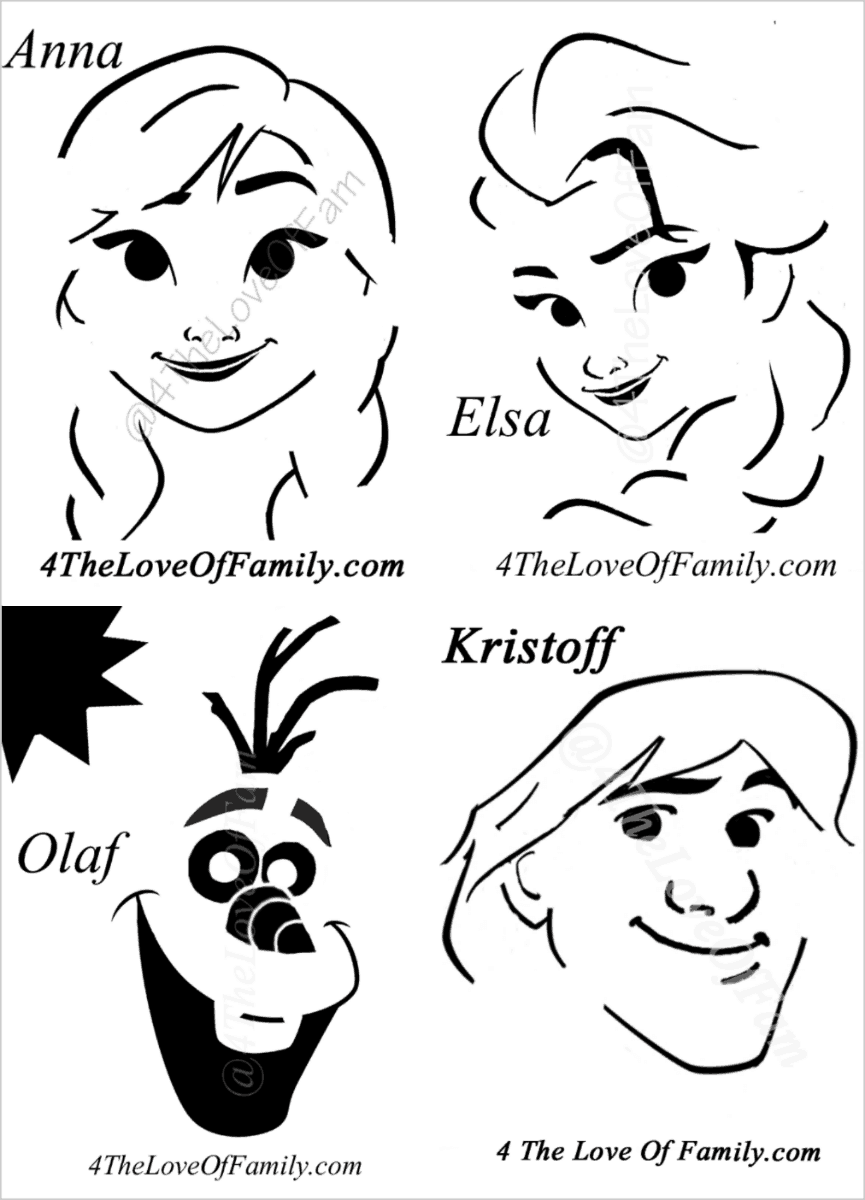 4 the Love of Family is sharing 5 printable Disney Frozen pumpkin patterns.
Ether Graphics has 5 fantastic Star Wars pumpkin stencils.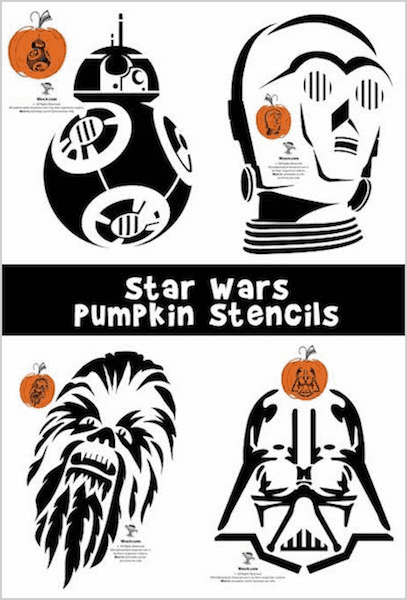 10 Star Wars pumpkin carving patterns can be found at Woo Junior.
Pumpkin Glow has 15 Disney Villain pumpkin carving stencils!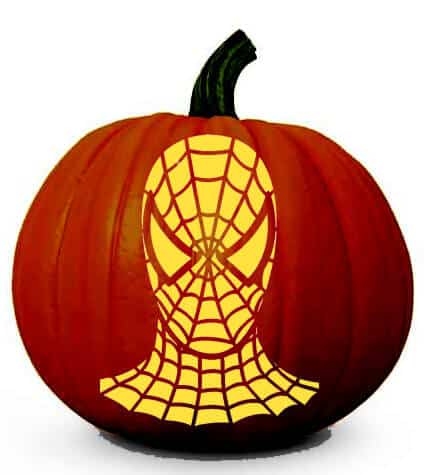 Celebrating-Halloween has a great Spiderman pumpkin pattern.
Love Hocus Pocus? Check out this amazing free Disney pumpkin stencil with the movie logo.
Here's an amazing Cheshire Cat pumpkin stencil from Alice in Wonderland.
How to do your Disney pumpkin carving
1. Clean your pumpkin inside and out.
Cut a "door" between 6 and 8 inches square in the back of your pumpkin instead of removing the stem. Scrape out the pulp and seeds, then use an antibacterial wipe to clean the outside.
2. Print your template and review it.
Print out your favorite Disney pumpkin stencil, read any instructions on it and note if there are any grey, striped or cross-hatched sections on it. Those are the areas you'll need to scrape instead of cut all the way through.
3. Trace, Transfer and Trace.
Put your stencil over a sheet of graphite transfer paper and pin it to your pumpkin. Use a ballpoint pen to trace firmly over all the lines of your stencil. This will transfer your stencil to your pumpkin.
4. Scrape the grey areas.
Remove the template and the carbon paper and trace over all carbon lines with your Sharpie.
If there are grey or marked areas in your pumpkin design, scrape the top layers of the pumpkin off without cutting all the way through the flesh. This will allow some light through without the same intensity as the fully cut parts.
5. Carve your pumpkin.
Use your sharp, pointed knife to cut along the lines you marked on your pumpkin.
6. Clean the outside of your pumpkin.
Use a wipe to clean the leftover Sharpie or carbon transfer residue from your carved pumpkin.
7. Light your pumpkin.
Finally, use a small LED push light or flashlight to light your pumpkin from the inside.
Share these Disney pumpkin stencils by pinning the image below on Pinterest! Then follow me on Pinterest!
Related: 15 unique Disney shirts only die-hard Disney World fans will understand.