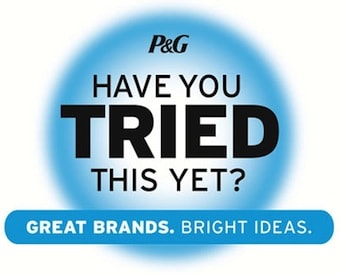 Now that Spring is officially here, the Have You Tried This Yet? program from P&G is bringing you innovative, high-performing products that will help you embrace the season.
Spring cleaning doesn't have to be an overwhelming task; it can actually be easy and simple! While you're tackling your seasonal to-do's, fill your spring cleaning arsenal with these high-performing products that will help transform your everyday routine:
Swiffer Dusters® Extender: Take a Spring break and minimize your dusting! With Swiffer Dusters® Extender you can trap & lock up to 3x more dust (vs. Feather Dusters).
Cascade® Action Pacs™: Dreading dish duty? Who doesn't? Cascade® Action Pacs™ rinses away residue while leaving dishes sparkling powering away 24-hour, stuck-on food so you don't have to!

As you're transforming your home to welcome the warmer months, on top of the cleaning, don't forget to bid farewell to the cold season! Embrace Spring by treating your family's lingering colds with Vicks® Nature Fusion™, a powerful cold symptom relief that is free of alcohol, artificial dyes and gluten allowing you to conquer those cold symptoms so you can get back to what matters most, time with the family!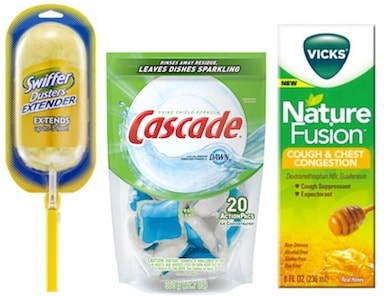 Procter & Gamble sent me some featured Have You Tried This Yet? products so I could try them out. I absolutely love Cascade Action Pacs. They're foolproof and my dishes come out of my dishwasher completely clean whenever I use them. And, although my 1960's home is lacking in high ceilings, the Swiffer Dusters Extender is still useful for getting cobwebs off of the crown moulding and out of ceiling corners that seem to magnetically attract dust!
 Watch the Innovation Come to Life!
Kari Byron, host of TV's Mythbusters, is back and wants you to check out her Have You Tried This Yet? brand demonstration videos!
Discover how Dawn® Power Clean™ can give you the power of an overnight soak in just five minutes. After you watch the video, be sure to bookmark pgtryit.com for ongoing updates and information on everything Have You Tried This Yet?
I'm so excited that I have a P&G Have You Tried This Yet? giveaway pack with the same full-size products that I received!
ENTER TO WIN A P&G HAVE YOU TRIED THIS YET GIFT PACK!
1 winner will receive all the Procter & Gamble products listed above. There are some great ways to earn extra entries into this giveaway! All mandatory and extra entries must be submitted within the Rafflecopter Giveaway box below.

a Rafflecopter giveaway


As always, if you have any trouble entering this giveaway, or if you have any questions, please contact me!
Procter & Gamble provided the products for the giveaway. I also received the same products to facilitate this post.