Looking for a Venom pumpkin carving stencil? You're in the right place! We have the best free printable Spider-Man, Carnage and Venom pumpkin patterns for a terrifying Halloween jack o lantern!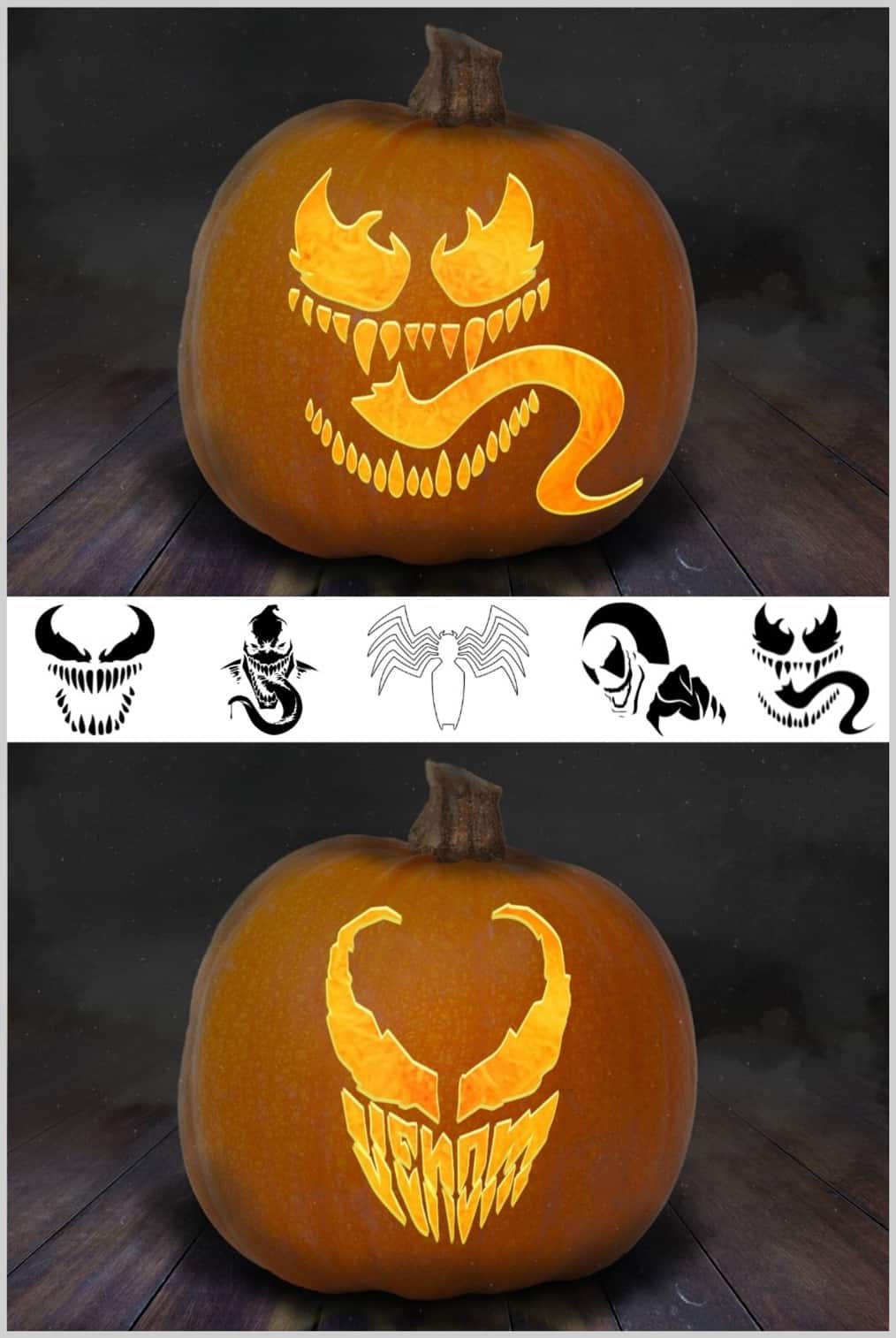 My son loves Venom. Never mind that he hasn't seen any of the movies and he's only read a just a few pages of some of the comics. His mind is set and Venom is his favorite Marvel character.
Personally, I think the character of Venom is scary, and the Venom movies, both Venom and Venom: Let There be Carnage, look terrifying. The part that interests me is that the character is part of the Spider-Man universe, but…I'm a wimp. I choose to sit out on any and all horror movies, even if it is a Marvel horror movie.
Still, like my Squid Game pumpkin carving ideas, I don't have to love the subject matter to give you exactly what you're looking for. We're crazy about pumpkin stencils here, and I see plenty of people looking for Venom pumpkin ideas when they land on our page with over 700 free pumpkin carving stencils.
Now I'm excited to add some great Venom pumpkins to our collection of Halloween jack o lantern ideas!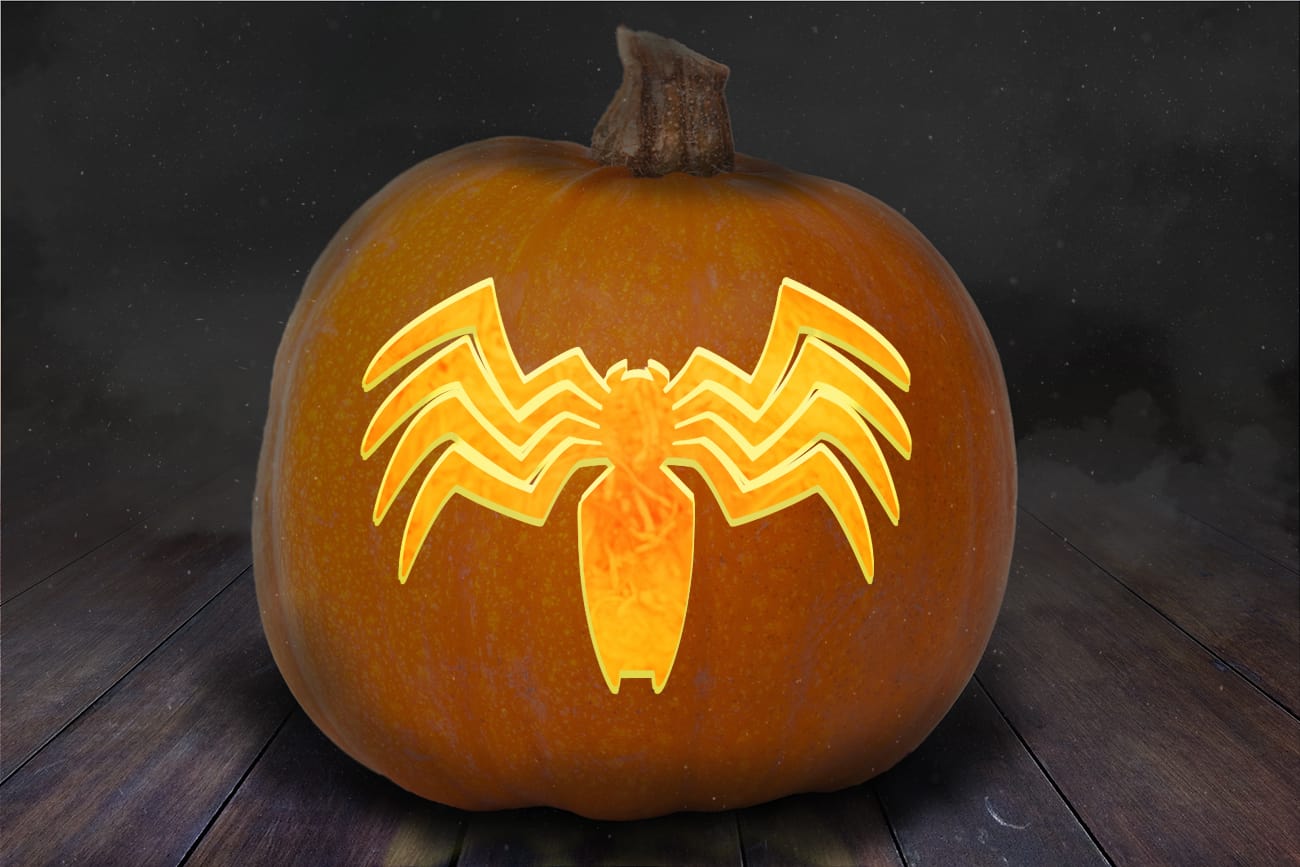 Pumpkin carving tips
I didn't plan it this way, but Baby Savers has become a destination site for anyone looking for pumpkin carving ideas. It all started with that list of 700 free pumpkin patterns, and it's grown as I've learned more and more about what others are looking for.
You're in the right place if you want a Disney pumpkin stencil. Print out a Baby Yoda pumpkin stencil or one of 17 original Loki pumpkin carving ideas. We also have lots of Disney villain pumpkin templates!
We love pop culture beyond Disney, so we have more printables for other fan favorites! Check out 60+ Harry Potter pumpkin stencils or these Pokemon pumpkin carving templates. These Hamilton pumpkin silhouettes and 87+ cat pumpkin carving stencils are always a hit, too!
How to use a printable pumpkin carving stencil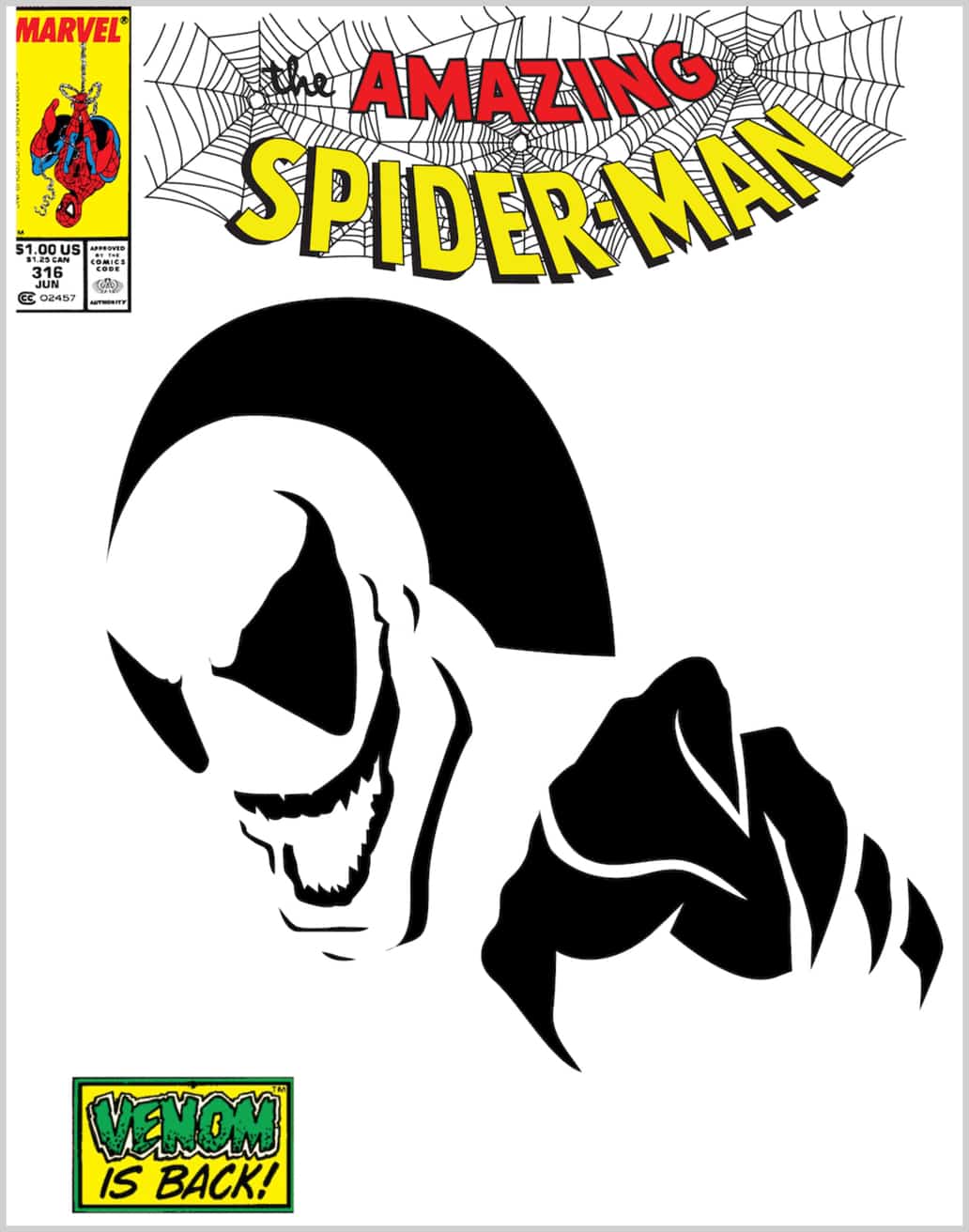 I talk about this a lot: I was lucky enough to attend a How to Carve a Pumpkin class with a professional pumpkin carver. I learned how to quickly and easily use a stencil for a professional looking pumpkin.
You can click the above link to see more details of the class I took, but I'm also sharing the quick tips that will make anyone better pumpkin carver, even if you've never used a stencil, template or printable before!
Tools and supplies
Before you start you'll need a few tools (not a cheap pumpkin carving kit). Nothing is expensive, so you should think of it like putting together your own kit that will last for years after this Halloween.
I recommend buying a small plastic storage tote for all the below supplies. Then you can pack it away with your Halloween decorations and you'll be ready for your pumpkin next year.
Tip: I recommend buying a small plastic storage tote for all the supplies listed below. Then you can pack it away with your Halloween decorations at the end of the season and be ready for your pumpkin next year.
What you'll need:
How to use a stencil to carve your pumpkin
1. Clean your pumpkin's exterior and scrape the inside
Cleaning your pumpkin from the top down is hard, so don't cut a hole around the stem. Instead, cut out a section about 7 or 8 inches square from what you've chosen to be the back of your pumpkin. Don't throw away the piece you cut out. Reach in the hole and use the old CD to scrape out the seeds and pulp, and use a wipe to clean off the outer skin.
2. Transfer the design
Align your stencil over a sheet of transfer paper and pin it to your pumpkin. Use a ballpoint pen to trace firmly over all the lines of your stencil. This will transfer your pattern to your pumpkin.
Remove the pins, template and the carbon paper, then trace over all the transferred carbon lines with your Sharpie.
3. Carve and scrape your pumpkin following the template instructions
Find any are areas to be scraped in your design (there might not be any). Those parts will glow but they'll be translucent and muted compared to the cut out sections. Use the ribbon cutter and linoleum tool to scrape just the outside skin of the pumpkin off without cutting all the way through.
Use your serrated utility knife to cut into your pumpkin following the lines you drew with your sharpie.
4. Clean off the outside
Use more wipes to get rid of remaining extra sharpie marks and any graphite that's on your pumpkin.
5. Light your jack-o-lantern
Power on the string lights and insert them through the door you carved in the back. Close up the opening with the saved pumpkin piece and put your jack-o-lantern outside.
Venom pumpkin carving stencils
There are lots of Venom and Venom-themed pumpkin patterns out there, so I'm limiting this to what I've found to be the best of the best! There are a few easy Venom pumpkin ideas, a handful of expert-level designs and plenty of in-between stencils that anyone can do.
You'll also find some Venom-related logos and icons, plus a few Carnage pumpkin stencils to make sure you get what you're looking for.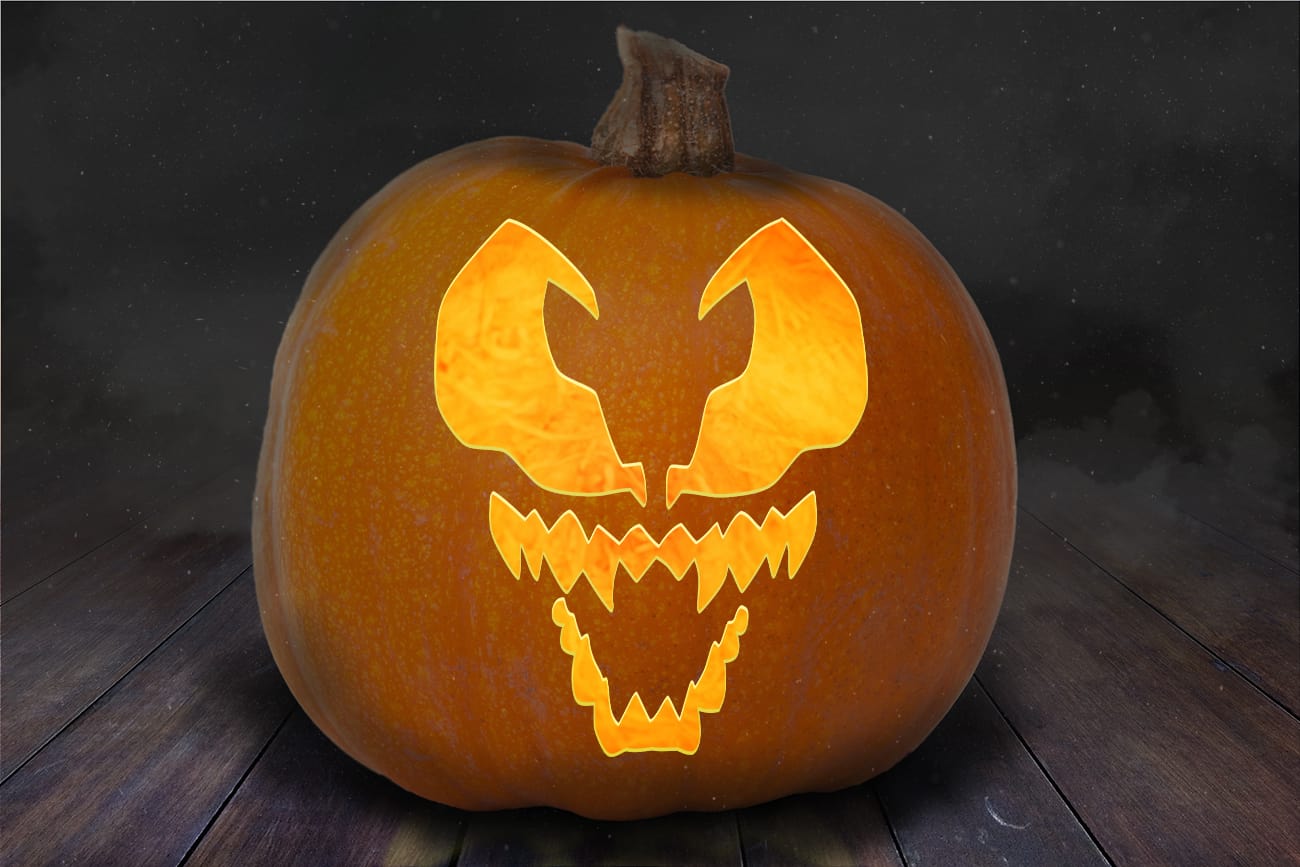 Easy Venom pumpkin stencil
This simple version of the Venom logo can be downloaded as a pumpkin stencil here.
Other Venom pumpkin carving stencils
This stencil with Venom making up the pointy teeth is one of my favorites!
Here's a Venom printable pumpkin template that will make a perfect jack o lantern!
This is a great Venom stencil that will look dramatic on a tall pumpkin.
Marvel Comics made this Venom pumpkin carving stencil.
This pumpkin idea looks easy, but all those teeth will take some time to cut out.
Similar to the one above, this Venom stencil has a few more details.
Looking for a difficult Venom pumpkin idea? Set aside some time to do this one!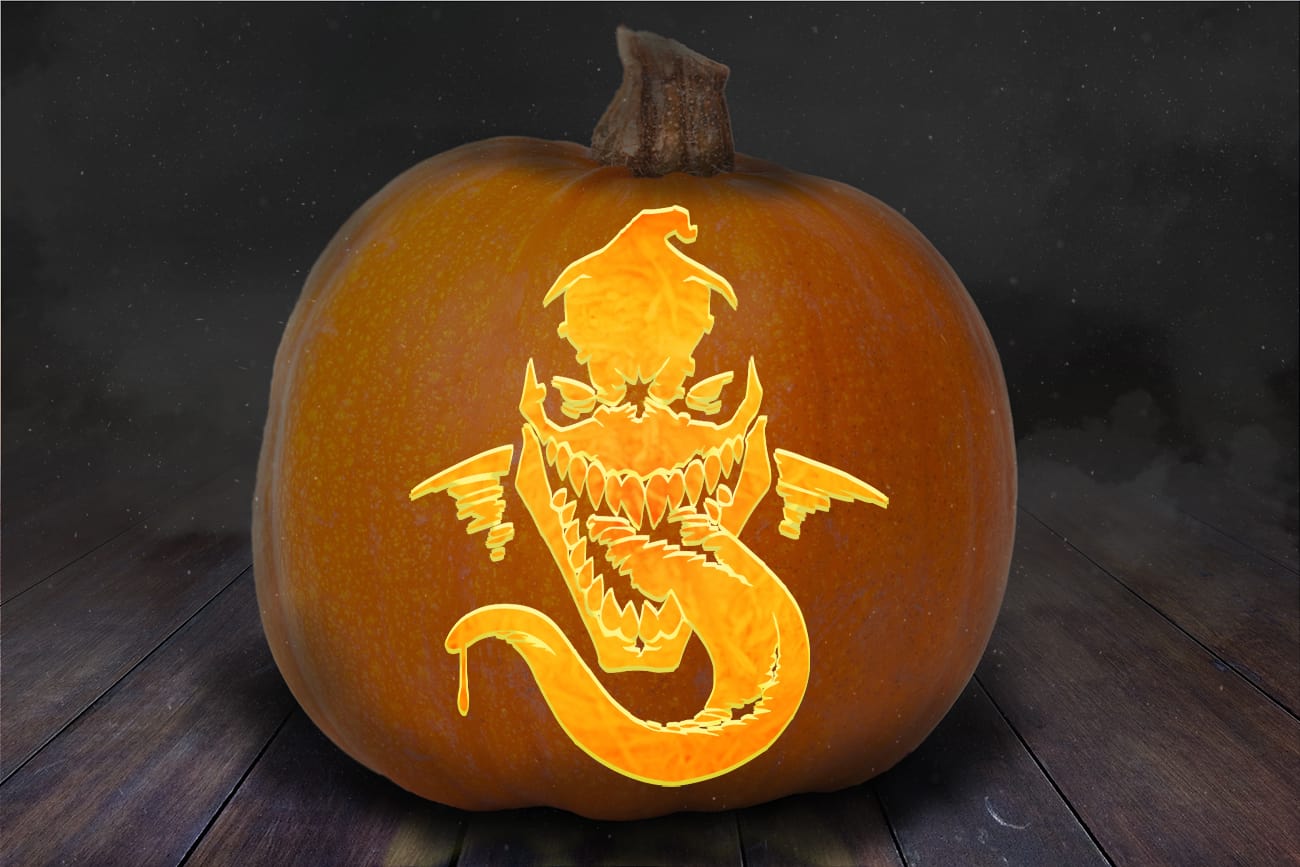 Carnage pumpkin templates
This is a great Carnage pumpkin stencil.
Check out another Carnage printable design (first shared by @MarvelChampions on Twitter).
Printable pumpkin patterns for Venom logos and symbols
Scrape the grey areas and cut out the white parts on this detailed Venom logo stencil.
Also shared in the first section, here's a Venom symbol pumpkin stencil.
More Fun Halloween Ideas
We love Halloween and I have lots of ideas to share with you! Check out the posts below to get great information about Halloween costumes, hairstyles, decorating and more!
Making costumes for Marvel fans? See how I made a DIY Spider-Man costume for girls!
Learn how to make a DIY Wreck-It Ralph Halloween costume!
How to make a super-easy DIY shark costume.
Throw the best celebration with these Halloween party ideas!
Print out this Halloween word search!
Get over 100 DIY baby Halloween costumes with tutorials and instructions!
Here are 13 DIY Halloween costumes made with tutus.
Check out our list of Halloween cupcake tutorials.
Here are 13 tutorials for Halloween hairstyles!