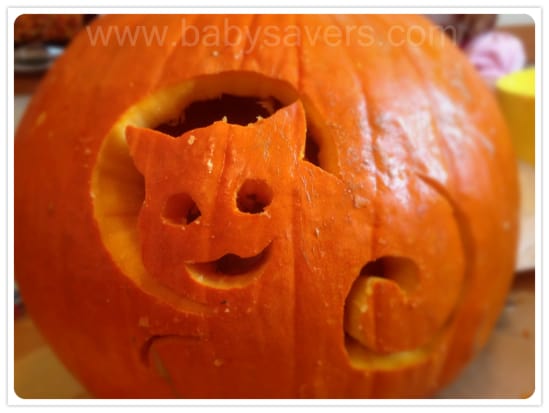 My nephew made this cat pumpkin using a pumpkin stencil!
I recently posted links to the best cat pumpkin carving stencils and over 700 FREE Halloween free pumpkin carving patterns. I just wanted to share the amazing pumpkin carving one of my nephews did using the free pumpkin stencils!
Our family just brought home two pumpkins from a local pumpkin patch and we're about to carve them up using other free printables we've found online!
Some of our favorites include Harry Potter pumpkin stencils, Disney pumpkin stencils, Minion pumpkin carving patterns, Pokemon pumpkin stencils, Disney villain pumpkin stencils, Baby Yoda pumpkin ideas and Jack Skellington pumpkin carving printables!
I think he did a great job making a unique jack-o-lantern! He used the tools that came with the Pumpkin Masters carving kit and a free pumpkin carving pattern found on their website.
Remember, Martha Stewart magazine recommends using a linoleum cutter to carve a pumpkin, and I've put together a great list of pumpkin carving tools and kits priced from $4.
Did you use any of the free pumpkin carving patterns or Pumpkin stencils? How did your Jack-O-Lantern turn out?