Looking for cheap crafts for kids? We have so many amazing and affordable creative kids activities to share with you! Use these tutorials to keep little hands busy all year long.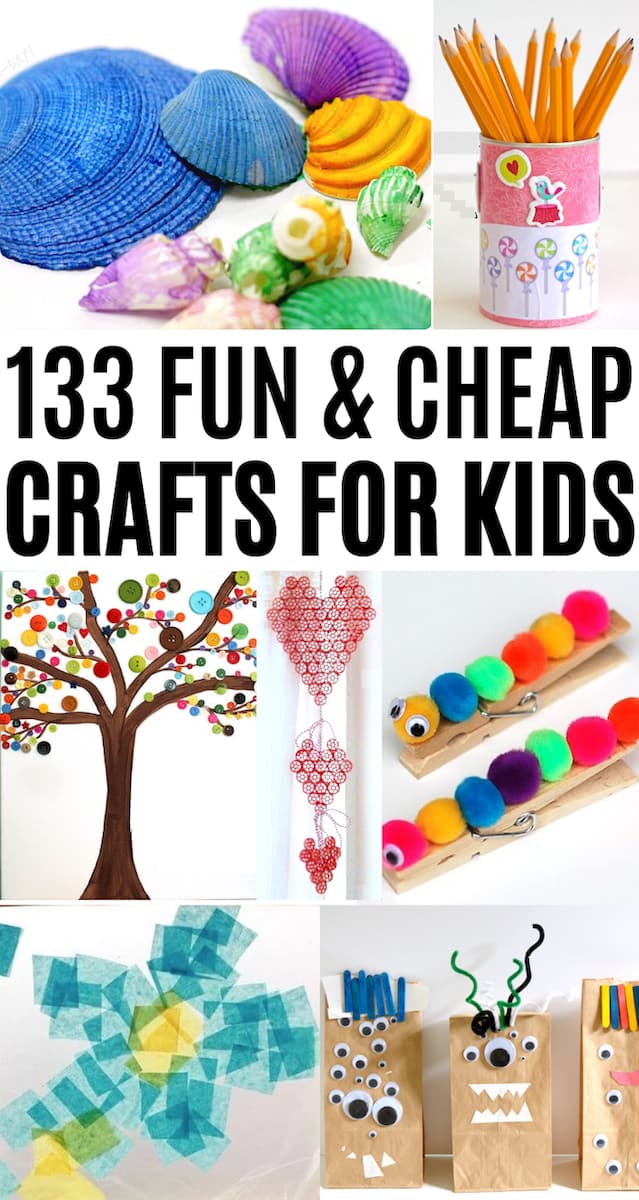 The fun days of school vacations kick off at various times throughout the year here, and I never want my kids to be bored.
I always like to be ready with easy and cheap kids crafts to make sure we have fun DIY projects ready to go. (I also love fun kids projects that provide hours of fun, like DIY kinetic sand, glow in the dark slime and homemade sensory bins!)
Are you like me? Do you pre-plan activities to keep your kids busy?
Our next day off is right around the corner, and I just realized I needed to add to my fun and crafty arsenal.
I've come up with plenty of easy kids crafts for our own use in the past. This time I turned to the internet to find new and unique projects for little hands.
After all, crafting with little kids is so much fun! I love seeing their looks of accomplishment when they finish a kids' craft that requires a new skill, and they love gifting their art project to someone they love!
I've come up with a huge list of affordable crafts for kids that will make sure those hands stay busy and their minds stay creative.
The list includes a wide variety of homemade easy craft projects. We have ideas for celebrating holidays with Mother's Day, Easter and Christmas crafts. We have seasonal DIY ideas for summer, winter, spring and fall.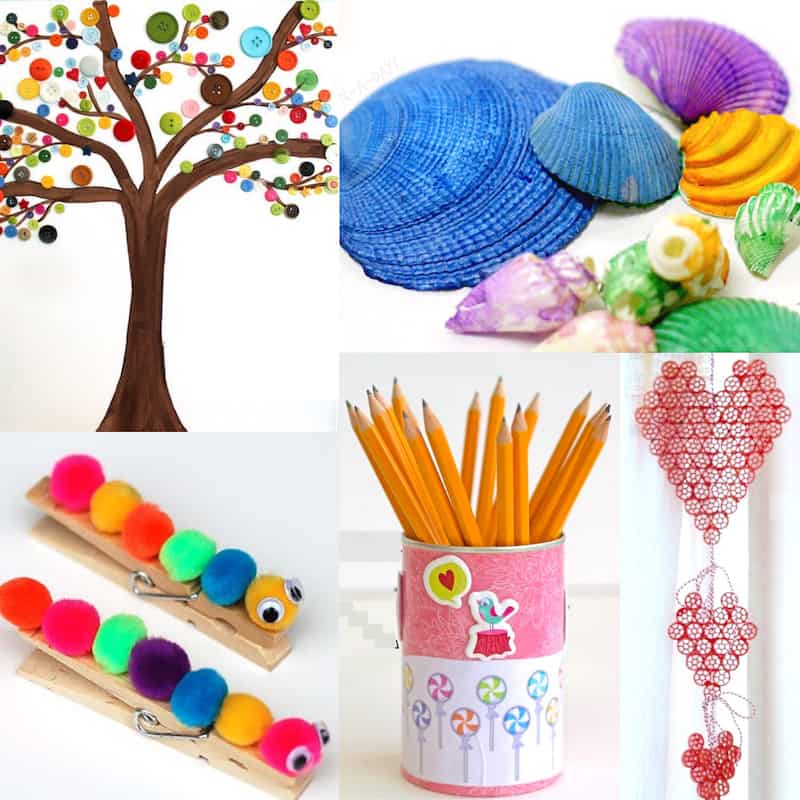 Before you get started, it's so helpful to have a stockpile of simple supplies built up. If you have a bunch of basic items, it will be so easy to get your little ones to start creating without waiting!
Start with some of these craft supply basics:
glue
coffee filters
pom poms
pipe cleaners
Mod podge
Toilet paper rolls
Acrylic paint
glitter glue
duct tape
Washi tape
food coloring
popsicle sticks
construction paper
The best part is that most of these items are small. You can keep everything in a small tote or tuck it into a closet to have all of your supplies in one place!
Take a look at all the frequently used products I found on Amazon:
Elmer's Washable No-Run School Glue, 6 Pack

1-Inch Assorted Multicolor Pompoms

Assorted Multicolor Pipe Cleaners, 324 Pieces

16 Ounce Mod Podge Sealer, Glue & Finish

Acrylic Paint Set Value Pack, 16 Colors

Elmer's Rainbow Glitter Glue Set, Assorted Colors, 31 Count

60 Rolls Washi Tape Set

Wilton Gel-Based Food Coloring, 12-Count

Crayola Construction Paper, Assorted Colors, 96 Count

Wood Craft and Popsicle Sticks, 200 Pieces

Coffee Filters, 100 Pack

The Original Duck Tape Brand, Silver

Here are 37 easy and cheap crafts for the kids to enjoy making for summer break, winter vacation or anytime in between!
A special note for distance learning/stay-at-home families: We know you can't get enough ideas for things to do at home right now!
My sister is a seasoned homeschooler and she loves doing seasonal crafts with her younger kids. At the same time, she's not afraid to look ahead to future holidays and events, especially when she's looking for something to do.
So, if one of these ideas looks like fun but the timing doesn't seem right, don't worry about it! Make what you and your kids want to make, whenever you want to make it.
133+ EASY AND CHEAP CRAFTS FOR KIDS
Try out this homemade puffy paint recipe for unique creations!
This mason jar aquarium is the perfect way for kids to explore the beauty of a fish tank without the responsibility (or the mess!).
Making a homemade geometric photo frame is an easy and cheap creation that can be displayed and used.
These painted shells are so gorgeous – it's a project I want to do with my kids!
Making this shaving cream art is such a fun sensory activity that ends in a beautiful creation.
These simple clothespin dolls are so cute, and perfect to pair with fairy tales for an interactive reading activity.
I love how simple and pretty these easy handmade princess wands are!
The Easy To Make Finger Puppets in this article are a simple origami folding technique.
I love upcycling unique projects! Check out this Shower Curtain Ring Bracelets tutorial.
Make these Recycled Easter Egg Shakers for a fun DIY craft to reuse seasonal products.
These handprint lambs are so sweet for all ages. You could also put a pom pom on each little foot to make yours a bit different.
This idea is great because your kids can use them to express their thanks in the future. Make these DIY kid's thank you cards.
I love how pretty this pipe cleaner stick bug is, and the crystals make it a fun science experiment, too! PS: You can use the same technique to make other pretty shapes. Attach some string to hang on your Christmas tree.
Put a coffee filter or two to good use when you make these butterfly magnets. I love that watercolor paint effect.
You can make changes to this golden Glitter Slime with different embellishments and colors.
Your kids can make this terra cotta pot tower and you can display it in the garden all summer.
Your crafty child will love making and decorating their own Clothespin Airplane. It's such a unique craft idea.
Pom poms make this Caterpillar Clothespin Craft extra cute.
I love a good paper plate craft! A little paint, some glue and some creativity make this dinosaur plate extra cute.
I love that there are so many fun ways to do dot painting.
I love activities that give everyday items extra life! Check out these press and Seal Sun Catchers
How cute are these turkey snack bags?
These painted bird houses sound like a complex project, but they're not. It's a great painting project a for younger kid.
Add some culture to your arts and crafts with this pretty Cinco de Mayo yarn craft (and save these Cinco de Mayo jokes for kids, too!).
Transforming popsicle sticks into bracelets is a fun way to wow your kids before they take over decorating!
How cute are these toilet paper roll monsters?
This paper bag monster is a great way to introduce paper crafts.
Button projects can be so sophisticated! Check out this button art.
This rainbow paver hop scotch is so easy and so pretty!
Perler beads go beyond the standard peg and mold routine with this great perler bead bowl.
This monster sock puppet idea is a great way to repurpose single socks!
This pool noodle horse is so clever. It's a great warm weather craft project that can be used all summer long.
These embellished hair accessories give older kids a project of their own. They look like something you'd buy in a store.
Even toddlers can make their own straw and bead necklace. I love putting everyday materials to use!
This decorated ladybug jar will give your kids the perfect place to keep their trinkets.
I want to play with this Chocolate Play Dough recipe right now.
Use items from a beach vacation to have kids make their own sandy beach frame as an end of summer craft. It also makes a great keepsake to put those vacation pics on display.
This decoupage pencil cup leaves your child with something they can use or give to someone else.
I think these popsicle stick gnomes are precious!
Take your pick from these 10 fantastic button crafts for kids.
I love all 25 of these easy Valentine crafts for kids. we also have 25 more Valentine ideas for preschoolers and toddlers!
Check out this list of simple St. Patrick's Day crafts for preschoolers.
Take a look at 20 great Easter craft ideas for preschoolers and toddlers.
Make one or more of these 30 easy Thanksgiving crafts.
I love these ideas, and can't wait for my kids' next day off to start trying them out!